START ME UP
- a bumpy trippy entrepreneurial ride!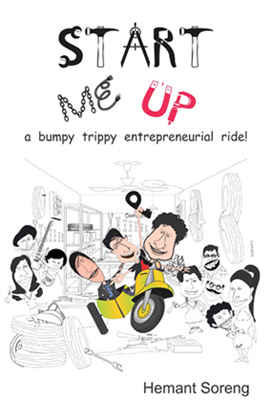 Andy wants to start a company, one of his innumerable dreams.
Ronnie, his MBA batchmate, is frustrated with his job.
KS, his techie colleague, wants to erase his earlier entrepreneurial failure.
Three different reasons for three different individuals to start a company.
Their entrepreneurial journey soon turns into a bumpy ride on a road paved with uncertainty, ethical dilemmas and failure, as they also find themselves fighting their personal demons.
Andy's hesitation in confessing his love to sweet Vidya.
Ronnie's confused and non-committal state of mind.
KS's estranged relationship with his father.
Will they achieve their dreams?
Set in the 'dot com boom & bust' era of 1999-2001,
Start Me Up
is a humorous, fast-paced and inspiring account of the journey taken by these young impulsive entrepreneurs, experiencing the exciting adrenaline rush of ups and downs, as they struggle to survive and to succeed, while having fun, loads of fun.
Buy Online at