New Release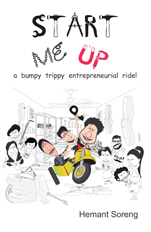 START ME UP
- a bumpy trippy entrepreneurial ride!
Andy wants to start a company, one of his innumerable dreams. Ronnie, his MBA batchmate, is frustrated with his job. KS, his techie colleague, wants to erase his earlier entrepreneurial failure.
Three different reasons for three different individuals to start a company.

Everest Base Camp Trek: A sneak "peak"
The Dzongri-Goecha La Trek in Sikkim: What a Long Strange Trip its Been
Trek to the holy grail of mountaineering - the Everest Base Camp, with long hair, no bath and only dal bhat.
Beautiful trek to Dzongri and Goecha La to view the captivating beauty of the third highest peak - Kangchenjunga.
Download Now >>
Download Now >>
Mt. Shitidhar Climbing Expedition: Zen and the Art of High- Altitude Mountaineering
Dayara Bugyal Trek:
Confessions of a Spoilt Trekker
Zen of a high-altitude summit climbing experience with Mt. Shitidhar peak in the Western Himalayan Pir Panjal range in Himachal Pradesh.
Experiences of a solo trekker (not to be confused with alpine climbing) in the heavenly Dayara Bugyal (meadow) in the Garwhal Himalayas.
Download Now >>
Download Now >>
Pindari Glacier Trek: In the beautiful Kumaon Hills
Stok Kangri: Climbing a 6000m peak

One of the most popular and beautiful treks in India in the Kumaon hills.

"It's snowing heavily.Visibility is almost zero. Should I go on or should I turn back?..."

Download Now >>
Download Now >>
Annapurna Circuit: The Holy Grail of Trekking
The beautiful Annapurna Circuit, one of the best treks in the world...unforgettable...ever-surprising and surreal.
Download Now >>