Hemant Soreng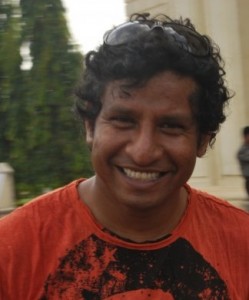 Hemant Albert Soreng is a serial entrepreneur and a marketing professional. He has more than 17 years of work experience primarily in the internet and digital domain with strong exposure in Marketing Communications, E- commerce, Web solutions, Analytics and CRM.
This experience spans across different types of organizations in the digital space in leadership positions including marketing organization – Lenovo, multinational advertising & digital agencies – HTA, Ogilvy & Starcom, and Internet start-ups – BridgeOverTW, DBS Internet Services & eDeltaC Communications.
He has been an early entrepreneur in the digital marketing domain. He was the CEO and co-founder of eDeltaC Communications, a digital marketing agency, setup in 2000.  eDeltaC was one of the first digital marketing companies in India and was eventually sold to Ogilvy after two years of profitable operations.
He was introduced to the Internet as early as 1995 in his business school; and he went on to write a research paper "Internet Marketing in India" as part of his dissertation. Since then he decided to convert this passion to his profession.
He is an active member of the digital marketing fraternity in India. He is a regular speaker and contributor in various forums. He is a Guest Faculty at various Business Schools teaching different aspects of Digital Marketing.
He closely follows the trends worldwide, which were particularly useful in his previous role at Lenovo, where he was involved in global digital marketing initiatives.
He lives in Bangalore, India. His interests include trekking & mountaineering (in the Himalayas), running (marathons), cycling and net surfing – exploring new technologies & trends online. He is an avid blogger and writes about digital marketing & technology, trekking, mountaineering, travel, running among other topics.
He went to school in Delhi at Sardar Patel Vidyalaya.
He is an engineering graduate from Delhi College of Engineering (1995) in Electronics & Communications and has an MBA from Indian Institute of Management – Bangalore (1997).