What would it feel like to be at the Center of the Universe?
But isn't what humanity has felt for ages?
We still do, don't we?
All we need is a 'trip', well…to the Himalayas and stand in front of the tall majestic mountains.  We will feel differently, more humble and less egoistic.
And now while you are taking this 'trip', you could also go to the Centre of the Universe (spoken like a true travel salesman ;))
According to Hindu, Jain and Buddhist cosmology Mount Meru, the sacred five-peaked mountain is considered to be the center of all the physical, metaphysical and spiritual universes.
In fact, the entire region is sacred and holy.  Adjacent to the peak in close proximity is the magnificent Shivling mountain (named after Shiva's linga or the phallus) standing high at 6,543 m/21,467 ft looking down a large flat land at that altitude (4,462 m/11,640 ft) called Tapovan, which means the forest of penance or spiritual practice.
If you go further down the mountain through a dangerously steep and long patch infamous for frequent landslides you will be staring right at a glacier shaped like cow's snout and eponymously named so as Gaumukh in Sanskrit. This is one of the holiest places for the Hindus as this is the origin of Bhagirathi one of the rivers that form the holy River Ganges. You walk a few kilometers down is the holy town of Gangotri, one of the Char Dhams (four topmost holy places for the Hindus).  Truly, it's a spiritual and religious expedition more than a mountain trek.
Welcome to Dev Bhoomi (land of the Gods).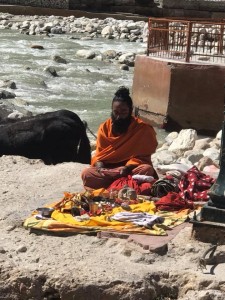 However, when Javier Cang (Javy) messaged me from Philippines this was not on his mind and neither mine. Our reference was the documentary Meru based on the first ascent one of its peak, Shark's fin that was steep and super technical, by Conrad Anker, Jimmy Chin and Renan Ozturk.
This was in the first week of July, 2017 and I had just landed in London (with friends for a U2 concert) and was making my way through the immigration. Thanks to the free airport Wi-Fi and the long queue we chatted enough to confirm that three of them would be coming for Meru Base Camp Trek later that year in October.
And very soon in three months the three of them became twelve  including Tapas and me from Rustik Travel, the organizers of the trek.
Day 1/14 Oct, 2017: Drive from Dehradun to Gangotri (3,100 m/10,200 ft): 250 km/11 hrs
I hate road journeys esp. in the mountains. Ask me to walk or hike the distance in whatever terrain, I'll do it. But traveling in a vehicle through the winding and curvy mountain roads it gets to me.
Most of us rested well the night before in Dehradun. However, our friends from the Philippines, five of them – Javy, Paolo, Enzo, Gabriel (Gab) and Priscilla took a back-breaking drive through the night from Delhi (just after landing in India) to Dehradun. They reached early morning surprisingly in one piece esp. after getting involved in an accident  (fortunately a minor one) when their driver dozed off for a bit. Phew !!!
Anyways, here they were ready for another long drive but in good company of other trek mates – esp. the jovial Mandeep (Mandy), his 14-year old son Manraaj, 16-year old nephew Jaineet, Krishnan and Hema.
It was indeed a long drive from Dehradun to Gangotri and we would need all the fun and jokes to keep us awake esp. the drivers.
Many trekkers break this journey at Uttarkashi, which is along the way around 140 km from Dehradun. However, we stopped there for lunch and picked up equipment from the prestigious Nehru Institute of Mountaineering (NIM).
Soon, we were off and reached Gangotri late in the evening as we felt the cold and the lack of oxygen that was an indicator of what was to come.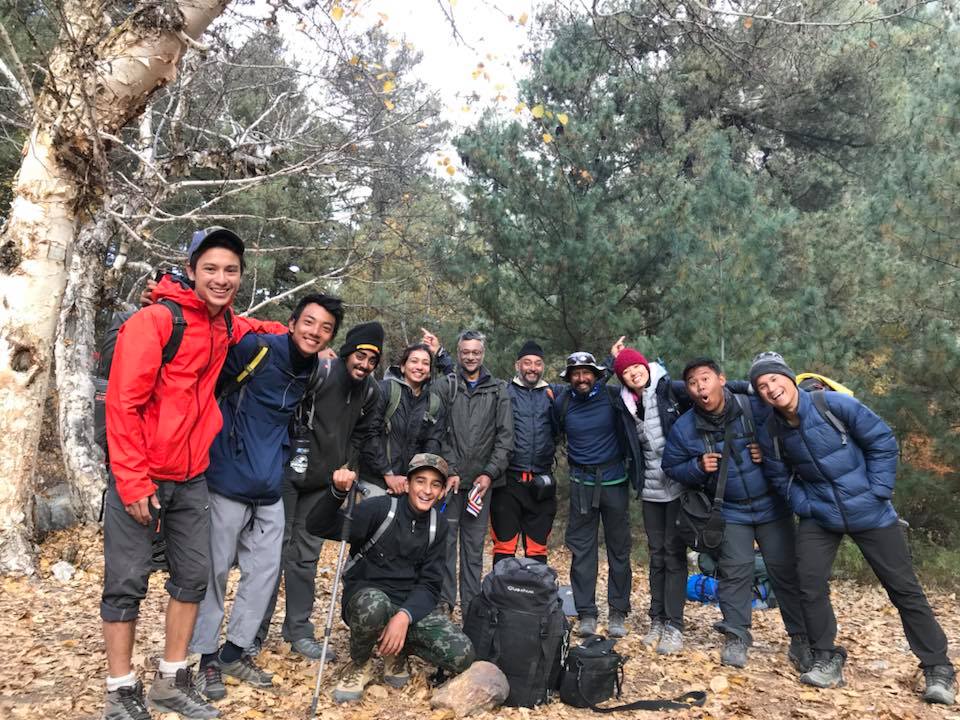 Day 2/ 15 Oct 2017: Gangotri to Chirbasa (3,585 m/11,761 ft): 9 km/ 6 hrs
Everyone woke up upbeat and after breakfast we started walking towards Chirbasa led by our lead guide Ashik, the name that also means 'lover' in Hindi. Instinctively, he was the butt (not figuratively speaking) of many jokes throughout the trek as he was interrogated constantly for his amorous ways esp. by the younger lot – Manraaj and Jaineet.
We passed through the checkpoint and gave them an account of our group. We were a huge group of around 35 folks including guides, helpers, cook, porters and us trekkers.
There is a well-laid out path that gradually ascends and on the right the river Bhagirathi keeps us trekkers constant company as it flows from its origin in our direction.  Also giving us constant company were the pilgrims and saffron clad sadhus who were headed only till Gaumukh. There were also the occasional trekkers who were coming back and informed us about the condition of the path up ahead, which was not so promising due the recent landslides during the monsoons.
We were initially planning to trek beyond Chirbasa towards Bhojbasa, but the altitude and the distance got to many of us and we eventually camped at Chirbasa. However, the tiredness vanished at the campsite as everyone took out their cameras and explored the campsite, while shooting the river and the majestic peaks of Bhagirathi 1,2 and 3.
Day 3/16 Oct, 2017:  Chirbasa to Bhojbasa (3,795 m/12,450 ft): 5 km/3-4 hrs. Acclimatization walk to Gaumukh.
Today was the acclimatization day.  We walked leisurely to Bhojbasa and then took an acclimatization walk to Gaumukh and saw the glacier the genesis of the most holy river Ganges. But it was just unrecognizable. Nowhere it looked like "Gaumukh" or "the snout of a cow". As we had seen in pictures on the Internet. Tapas who had been here ten years ago further added that the glacier itself has receded at least 500 m. Blame it on the global warming, pollution or the crowds, these were not good signs. Lately, the entire area had been cleaned up, many squatters (read fake sadhus) were asked to leave and number of permits per day to visit/trek drastically reduced.  These were positive steps taken by the authorities and hope things improved there.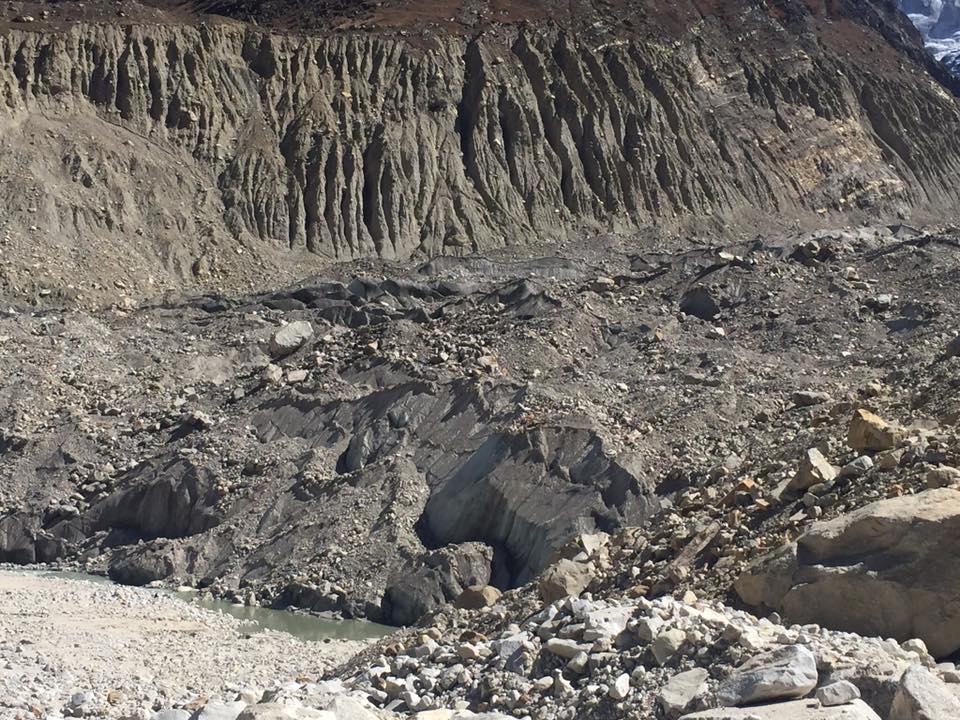 The water from the mini streams originating from the glacier was the source for our water canteens along the way. It is the tastiest water I have ever had, purest form of mineral water.
At Gaumukh the good-looking boys from Philippines modeled for a bit for Mountain Hardwear, the brand that had part-sponsored this expedition. Apparently, they were professional photographers – Enzo and Paolo and esp. Javy and Gab were social media phenomenon back home.
I felt good trekking with celebrities. 😀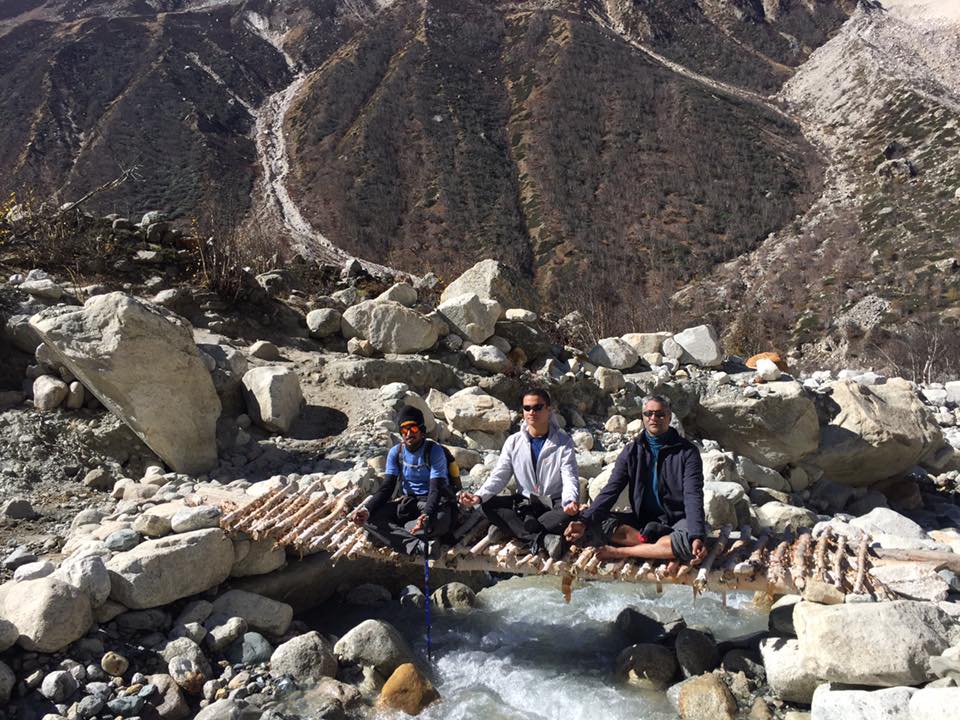 As it became dark the temperatures fell drastically, but in the dining tent it was the opposite with warm discussions accompanied with hot tea, coffee and snacks. The staff was spoiling us with some delicious food, and it was good enough fuel for the photographers to continue their nocturnal activities…err… night photography.
Day 4/17 Oct, 2017:  Bhojbasa to Tapovan (4,463 m/14,640 ft): 10 km/7-8 hrs
Today was the day I was dreading not because of the distance or the altitude we had to climb to but because there was a steep long climb that had no path at all (or rather had been destroyed by the landslides recently). So once we crossed the river on a small rickety makeshift wooden bridge we started scrambling up the moraine and loose gravel. It took an enormous effort from each one of us coupled with motivational lying from our guide Ashik continuously yet falsely reminding us that the destination is just an hour away. It took us around seven of those hours to reach our destination.
As we walked towards this huge flat land called Tapovan surrounded on all the sides by these tall majestic snow capped mountains we knew that all that effort was totally worth it.
Personally, this was the most beautiful campsite I have ever been to (and I have been to many places in the mountains).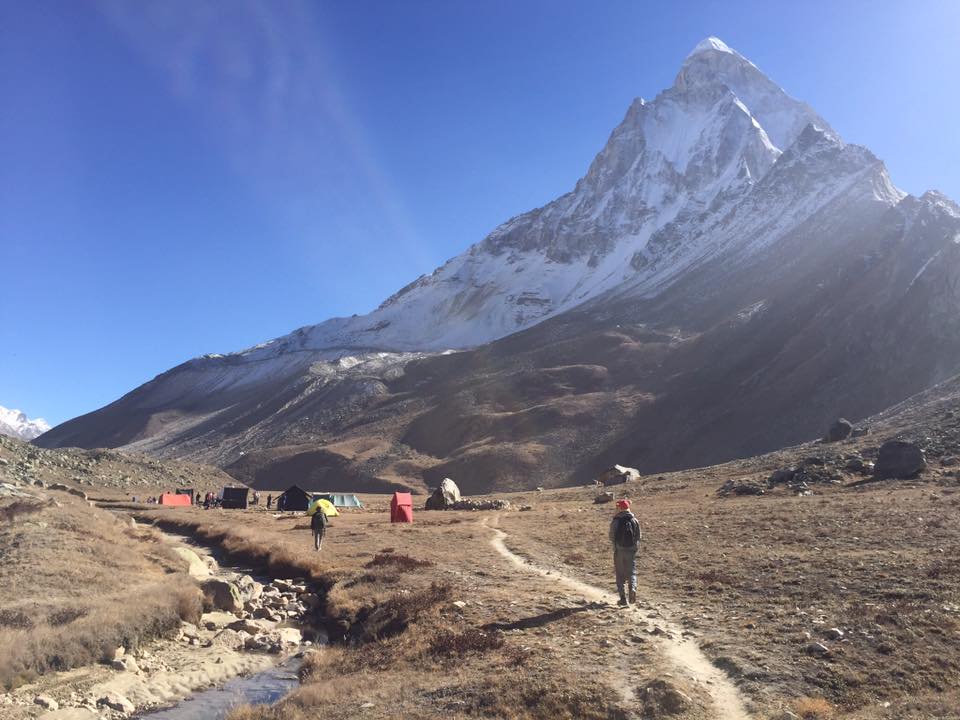 After reaching the campsite, everyone went berserk with their cameras. Tapas and I walked around soaking in the views and the natural ambience.
In the evening, I checked everyone's vitals – pulse rate, oxygen levels.
Except for a few normal headaches everyone was feeling fine. Everyone was tired and haggard except for Priscilla who was fresh as ever. Didn't know how she managed it everyday during the trek.
Day 5/18 Oct, 2017: Tapovan
Next morning, I woke up with a song in my head, "Raindrops keep falling on my head…". In reality, I wake up with the pointy icicles falling on my head. The moisture on the tent had seeped in and had frozen into icicles. It was indeed a very cold night with the mercury dropping down to around minus 10 degrees Celsius. I know that as I had checked in the night while trying to fight the typical camper's dilemma when the nature cruelly decided to call inconveniently in the middle of the night in freezing cold.
It was a beautiful morning when I stepped out and I could see the tripods and the cameras set against the sunrise over Bhagirathi. The photographers were at work non-stop.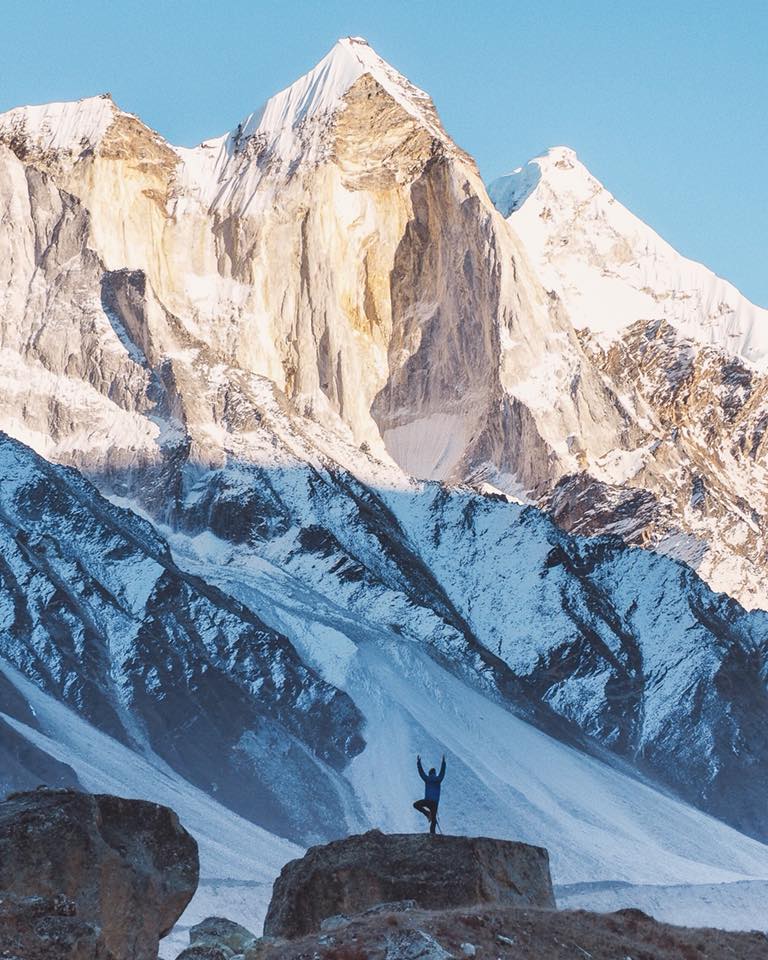 Today's original plan was to climb Baby Shivling (5,606 m/18,390 ft), but that was unanimously overruled by a quick vote by everyone who was still recovering from yesterday's adventurous climb. We decided to hike up towards Shivling at a vantage point of around 5,100 m to have a clear view of other beautiful peaks such as Kedar Dome.  We took the equipment with us – ropes, harnesses etc.
Closer to the vantage point we decided to stop as the altitude was getting to everyone. This was the highest altitude everyone in the group had been to. Ashik went on to demonstrate climbing techniques with ropes and everyone enthusiastically participated.
We climbed down leisurely and walked into the camp to see the Father-Son duo (Mandy and Manraaj) peacefully sunbathing bare-chested a la Salman Khan.  It was a surreally hilarious sight. 😀
Later in the evening we went and met a sadhu who lived in his tiny hut. He was called the Mauni Baba as he hadn't spoken in nine years as part of his sadhana (spiritual practice). He offered us tea and communicated with hand gestures, written notes and whispers (?).
Later in the night I had a new tent mate, as Tapas decided to head back and Krishnan was evicted by Hema from the tent that they were sharing.  Hema, who was a doctor and Krishnan's long-time trekking buddy, wanted some peace and quiet in the trek. And she did get that eventually.
Soon, our tent became the noisiest tent in the nights as both of us joined in the nightly chorus. Though I have a theory about how natural snoring is, as our ancestors needed it as defense mechanism against wild animals while they were sleeping.
Like always nobody believed this theory.
Day 6/19 Oct, 2017: Tapovan to Chirbasa
We woke up early, as we had to pack up and dismantle the camp to head down.  We took customary photographs with our respective countries' flag and the banner, all orchestrated by the in-house art director Mandy, who incidentally is a known senior advertising executive.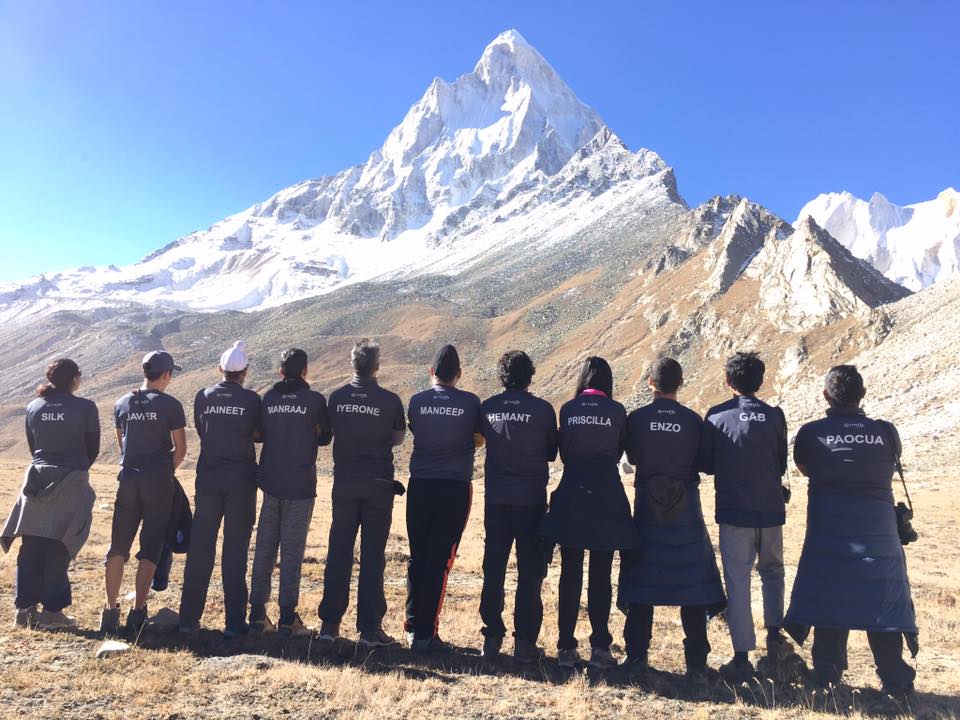 We started walking down and especially very cautiously at the treacherous path that we had scrambled up. I was at the back as always bringing up the rear as we saw mini landslides as we somehow managed to get down with some minor slips but without major incidents. As we reached the bottom, I saw Ashik and others near the river waving at us furiously to come fast. We quickened our pace and as we approached them we discovered that the bridge had broken the night before and we would have to cross the river walking. Ashik was still aggressively waving at us to hurry up and I could realize why. The water level was rising at an alarming rate as the morning sun became stronger melting the ice at the Gaumukh glacier. The water that was at knee level was now at waist level by the time the last one of us crossed over, with the bottom half of our bodies completely numb being exposed to the freezing glacial river water.
We crossed over in the nick of time as the water levels had risen quite a bit.
It was an amazing adventure. This was turning out to be an awesome trek indeed.
Later in the night at that relatively lower altitude campsite at Chirbasa everybody's spirits were lifted that the talking point shifted to stories of different kind of spirits.
I had a tough time sleeping that night. Not because of the ghost stories. C'mon it was just cold.
Day 7/20 Oct, 2017: Chirbasa to Uttarkashi
The next day the incentive of a hot shower and clean bed energized everyone and we reached Gangotri in record time. It was the day the temple will be closed for the season. There was a grand ceremony marking the occasion accompanied by delicious free food at the temple organized by the Indian Army. It was an amazing experience. As we drove towards Uttarkashi, the ceremony was being celebrated in various villages and towns we crossed.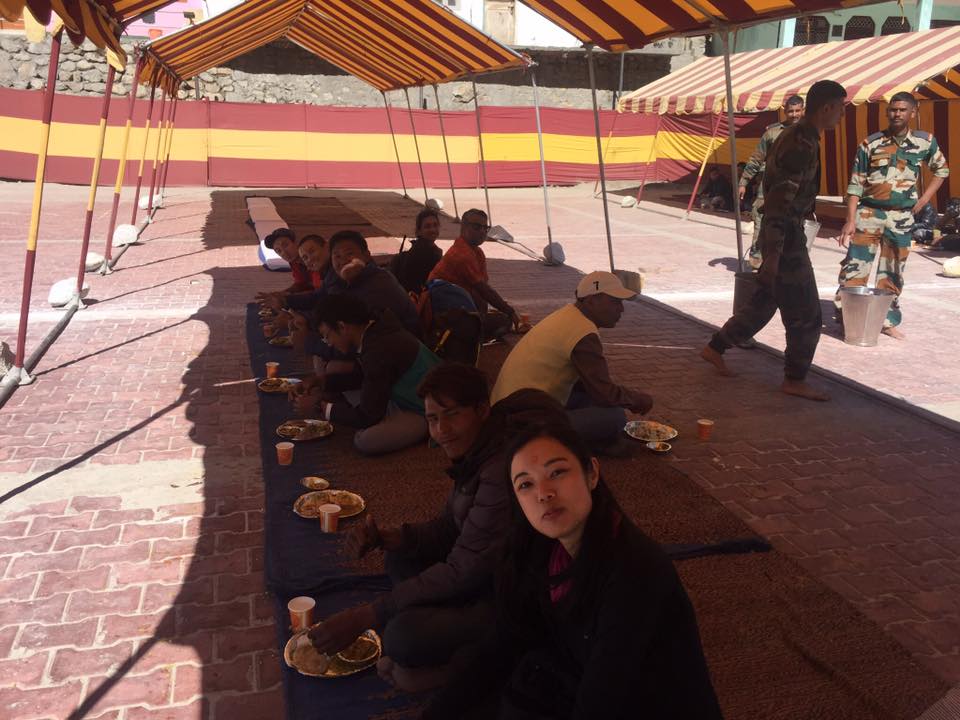 Along the way we stopped at a place that was the source of hot springs. We took that opportunity to jump in after days of staying bathless, as we also washed our sins away. 😉
We reached the hotel late in the afternoon and soon big plans were afoot for the mega party later in the night. The young guns – Manraaj and Jaineet tasked to procure alcohol managed to do so efficiently in a place where it was banned. Mandy finally took out his stash of some awesome liquor that he had been saving up throughout the trek for this night. Along with some sweat-breaking super-spicy food accompanied with jokes and stories we called it a night as we wearily walked to our rooms.  Though some of us were lucky enough to carried to our rooms esp. Javy thanks to the effects of the liquid diet he had. 😀
Day 8/21 Oct, 2017: Uttarkashi to Dehradun
We woke up hungover and tired after chasing a mouse the entire night esp. Priscilla and Paolo (that's another story :)).
We drove to Dehradun stopping for breakfast along the way. Later in the evening we met up again one last time as a group for dinner reminiscing the awesome experience we had during the trek.