Mt. Shitidhar Climbing Expedition: Zen and the Art of High-Altitude Mountaineering
Phaedrus, why do you climb mountains? 
I am tempted to reply with Bear Grylls' (of Man vs. Wild TV series fame) response to a similar question – "if you ask this question, you will not understand."
However, I keep mum and ponder.
Do I really have the answer or reasons?
I thought I did.
I think I do.
"Somewhere between the bottom of the climb and the summit is the answer to the mystery why we climb." – Greg Child, Australian mountaineer.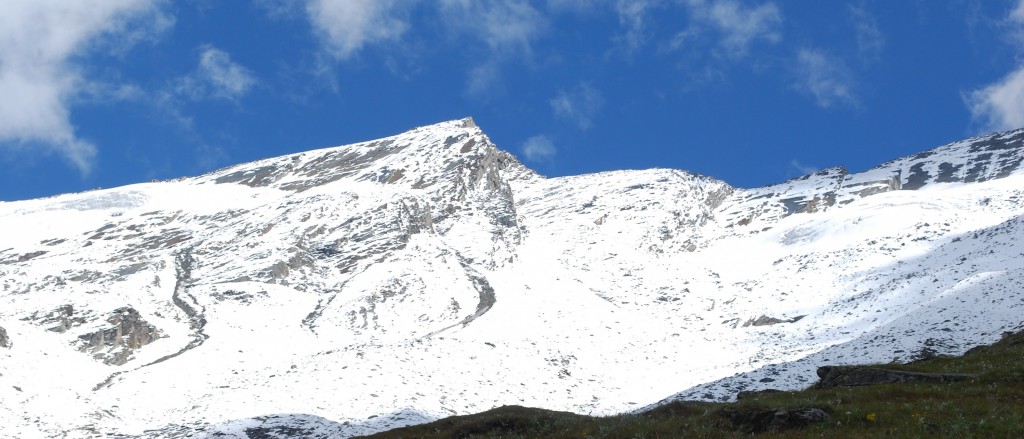 Day 1: 15th September 2012: Delhi (305 m/1,000 ft) to Manali (2,050 m/6,726 ft)
I am really not looking forward to this 14 hour bus ride from Delhi to Manali, since I have this glorious history of motion sickness in such long vehicular rides through the mountains. The queasy feeling is eased a bit as I meet my expedition mates at the starting point of the ride – Majnu-ka-tila (I am so tempted to put you through a PJ, but guess I will pass).
The expedition was organized by the team now that co-founded Rustik Travel, a sustainable experiential travel company.
Sunand, who is also the expedition leader and a veteran of many expeditions and treks including the tough Stok Kangri (6137 m/20,165 ft ) climb with me the previous year.
Akash, the kid from the Stok Kangri climb, now transformed into a boy/man (we hope!!!)
Saby, a doughty trekker and veteran of many expeditions incl. the tough Everest Base Camp & Kala Pathar Trek.
It's a comfort to have friends, seasoned trekkers part of the expedition team. Also this expedition is special. We have dedicated this climbing expedition to the rights of the girl child in association with CRY. All of us are looking forward to promote the cause while climbing Mt. Shitidhar.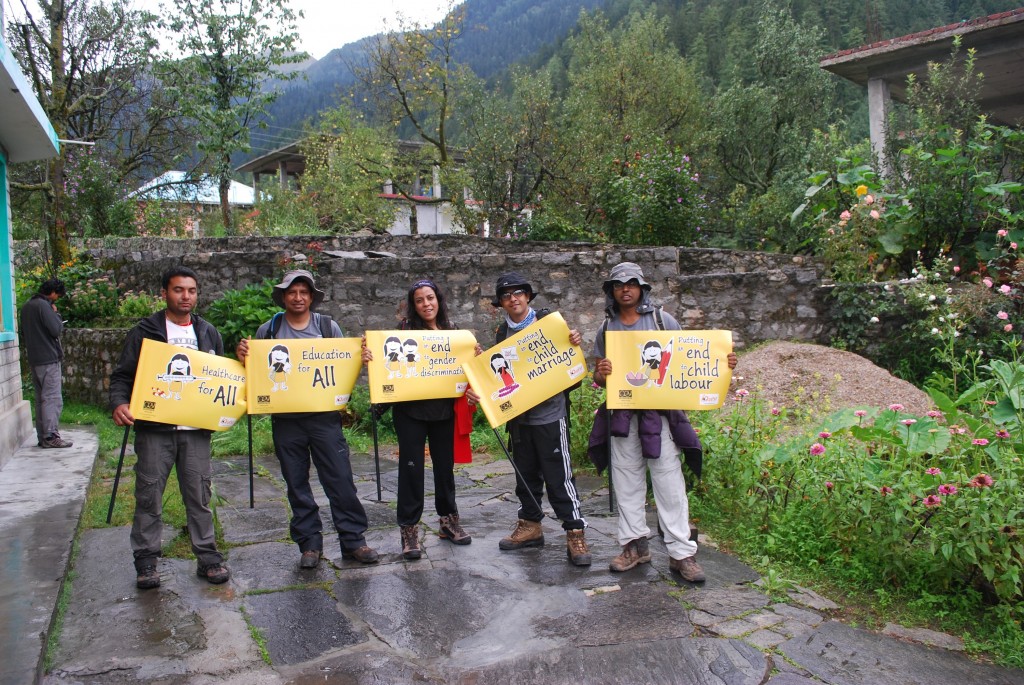 Not much is written or documented about this beautiful peak, which makes it much more elusive and untouched by the vagaries of modern day commercial trekking. Except that it is ensconced in the Western Himalayan Pir Panjal range in Himachal Pradesh. Around 5300 m/ 17,400 feet in height and co-ordinates – 32° 22'3.36″N 77° 05'12″E, it is not among the highest, but the beautiful trek to the base camp is breathtaking and the final grueling summit climb is definitely not for the weak-hearted.
The summit altitude doesn't excite us. All of us have climbed above 5300m, more than 6,100m in fact (Stok Kangri).
But as per the old mountain saying –  "each mountain is different, and it is a folly to compare them or feel overconfident from earlier successful higher altitude climbs".
I am least worried at this point in time as the bus starts off. It's a luxurious Volvo (still don't give a damn).  The endless jokes (read PJs) from Akash and Sunand are not helping much, till I hear Abhishek Bachchan speaking "Hum aapko maa banana chahte hain" (when translated in Bol Bachchan (BB) style : we want you to make a mother) followed by hilarious rantings from the would-be "Maa"/mother (Archana Puran Singh in this case). The movie "Bol Bachchan" is being shown in the bus (at our request as I realized).  What follows is two hours of mindless entertainment, crude English with cruder Hindi translations and really sad but funny jokes – the mood, which will become the mainstay of our entire trip glued together by mainly by the resident expedition jokers – Akash and Sunand.
Hermann Buhl, the legendary alpine climber once said," mountains have a way of dealing with overconfidence."
I guess coming to the mountains again and again is my way of checking my arrogance and overconfidence. Whenever I am in front of these tall overpowering Himalayan peaks I am reduced to a nobody, a powerless midget.
A necessary humbling experience.
Day 2: 16th September 2012: Manali – Jagatsukh (2,050 m/6,726 ft)
We reach Manali. I am relieved, as I do not feel any effects of motion sickness.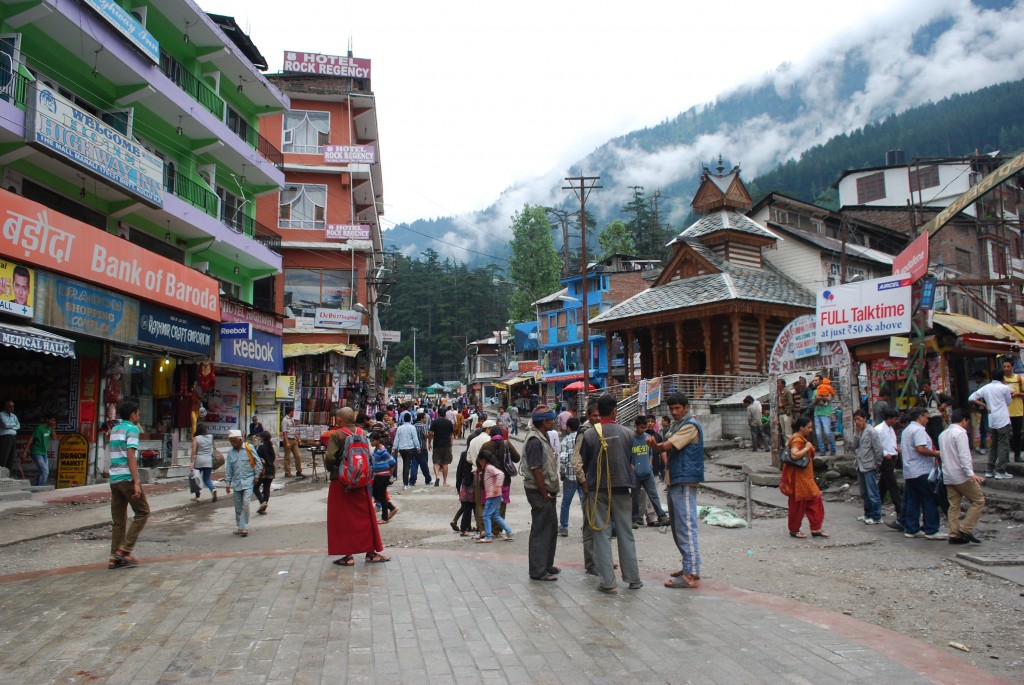 Soon the four of us are crammed into an Alto with our heavy rucksacks as we make our way to the homestay. Jagatsukh ("world happiness" when translated in English) was the village, 7 km from Manali, where the homestay is located.  Happiness actually overwhelms us when we reach this beautiful hamlet lined with ripe Apple orchards surrounded by the majestic Himalayas. I for one decide, there and then, that I will come here in the near future to settle down.
At the homestay we meet our expedition crew Deepak (lead guide), Raju (guide) Ravi (cook), Rohit, Vipin and Vishal. Young, sprightly lads all of them. Later in the evening we dine at Deepak's in-laws place – home cooked food with the local dish call "siddhu" (no similarity or relation with the mad turbaned commentator).
Whenever I travel esp. to the mountains I meet so many people, so many beautiful and nice people. There's so much to learn from the way they live, simply. It makes me wonder what kind of life I am leading. Am I really living?
Day 3: 17th September 2012: Manali (2,050 m/6,726 ft) to Solang Valley (2350 m/7,710 ft)
Akash has already unleashed the anthem for the expedition –  "dil cheer ke dekh, tera hi naam hoga" – (Bol Bachchan style translation: "tear my heart to see your name etched in it") – a long-forgotten and cheesy (definitely) song  (by Kumar Sanu) from the nineties of some random movie called Rang with a random hero (no offense, Kamal Sadanah sir).
With this "auspicious" start we start walking from the famous Hidimba temple in Manali in the direction of our first camping site in Solang valley.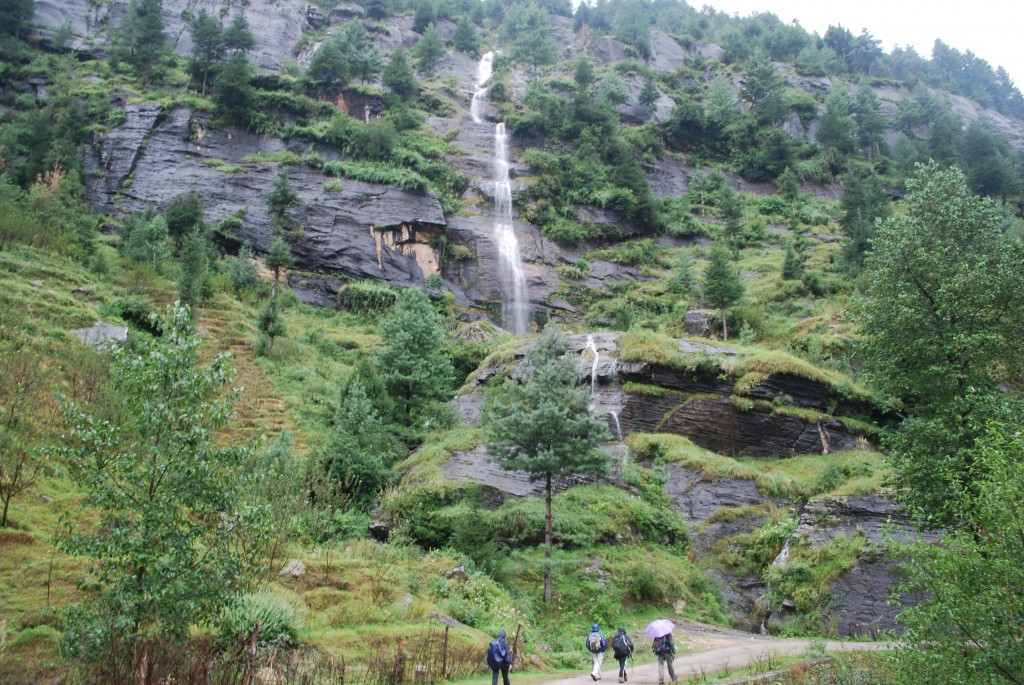 The route (of around 10 km) is mainly flat through tarred and un-tarred roads, villages, through the apple orchards and weed fields (yes, you read that right). As we pose with the "produce" from these fields, we talk about a place call Manala. Yes, from the name you can guess it will be near Manali, actually a day's ride.
Manala village is a secluded hamlet inhabited by a tribe supposed to have descended from Alexander's Greek army as can be seen from the Greco-Aryan physical features of the villagers. The village is run according strict laws laid down by their God Jamlu, and the entire economy runs on marijuana cultivation. Extremely superstitious, the villagers avoid physical contact from the outsiders, who incidentally are not welcome there.
We are reminded of the checks on tourists carrying dope, as we hurriedly throw away those plants and instead go for a different plant (fruit rather) altogether – we pluck the ripe apples from the trees. I haven't had such juiciest and delicious apples in my whole life.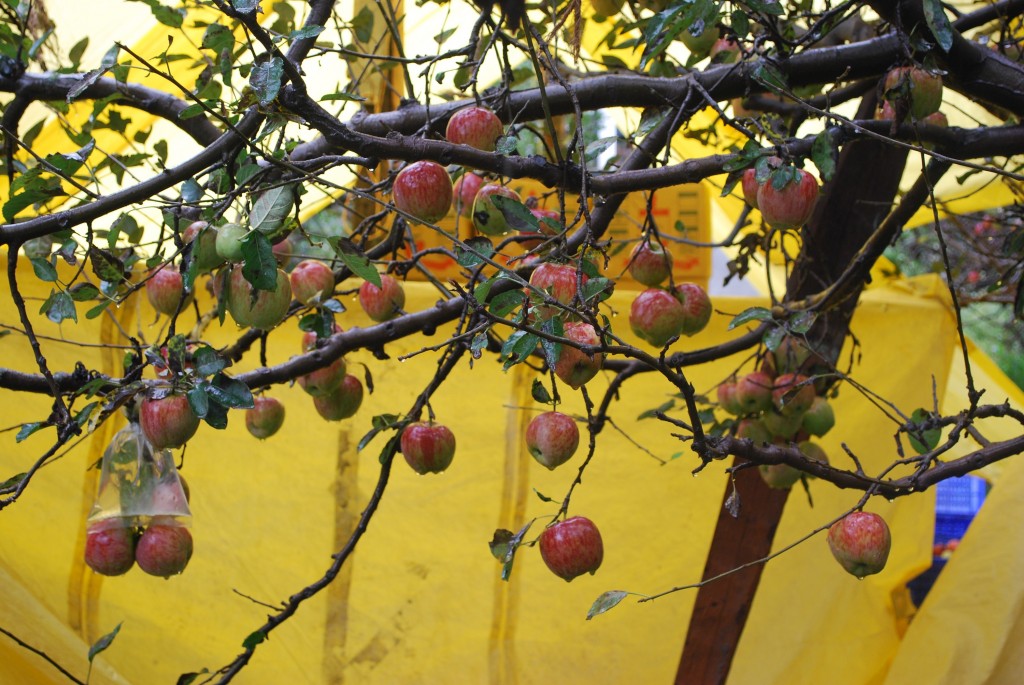 We savour the taste as we walk in the rain. Its been raining ever since we started, but I am feeling protected with my new all-weather jacket and trousers. However, somehow, my modesty is not that well protected as I realize that these new Quechua all-weather trousers are slipping down from my waist. The strapping mechanism is evidently not practical.
Somehow we reach the camp. It has taken us 4 hours during which we passed through Old Manali, Ghoshal, Shanag and Burwa villages.
The campsite is a large flat ground with many tents meant for large groups. As we settle down in our tents, the rain also takes a breather. I scour the area with my keen sense of vision…not for the view…but for spots, which are hidden, from common vision for performing the necessary morning ritual (well…it can by anytime ritual actually).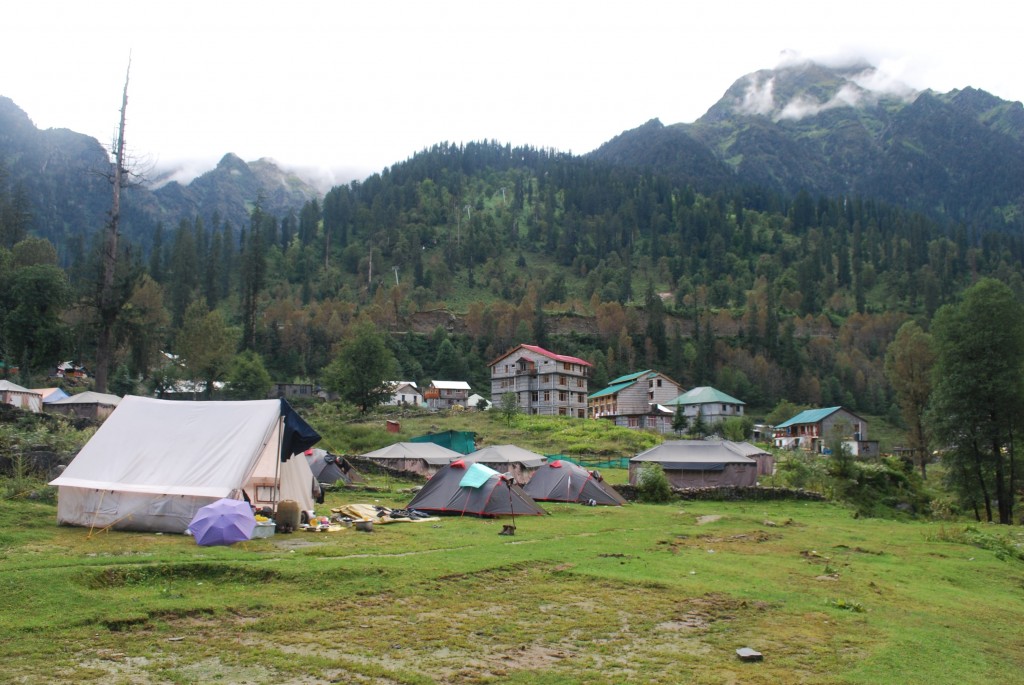 Summiting a peak for me is not a line to strike off in the unending bucket list. It's not an achievement or a medal I am striving for. Its not glory I am after. I do not know what the result is going to be. I don't think I care. I will just do my karma, that is, climb mountains.
Day 4: 18th September 2012: Solang Valley (2350 m/7,710 ft)
Its 4 a.m. I wake up suddenly hearing loud sounds of thunder, which continue non-stop bringing with them a huge downpour.
After breakfast, we decide not to move camps and stay put in Solang as the rain continues unabated.
I decide to read Tolkien's Hobbit on my Kindle in my tent as I am named Kindle baba by the group.
In the afternoon the rain stops and we step out for a walk and some photo sessions.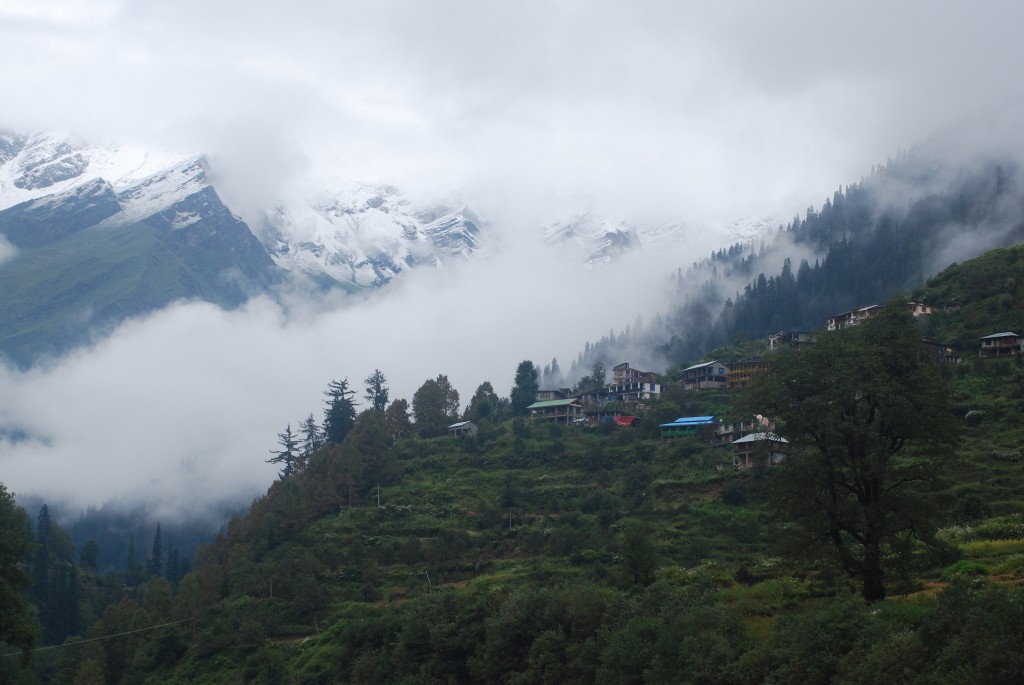 The walk is brisk and short as the rain resumes. We were warned earlier of the late monsoons and unrelenting rains this year across Himachal. The mood reflects the weather – gloomy. We do not want yet another day to be wasted tomorrow.
Later in the night, inside the tent, I check my Tissot T-Touch (my trusted companion in treks). The temperature inside the tent is a bearable 15 degrees Celsius.
"He who climbs upon the highest mountains laughs at all tragedies, real or imaginary."    — Friedrich Nietzsche.
I hope I am getting there. I think I am getting there.
Day 5: 19th September 2012: Solang Valley (2350 m/7,710 ft) to Base Camp-Lohali (3250 m/10,663 ft)
We wake up to a dry day (no pun intended). Not too bright with the overcast clouds, but nevertheless no rains. At 8 a.m. we start walking on the tarred road towards Dhundy.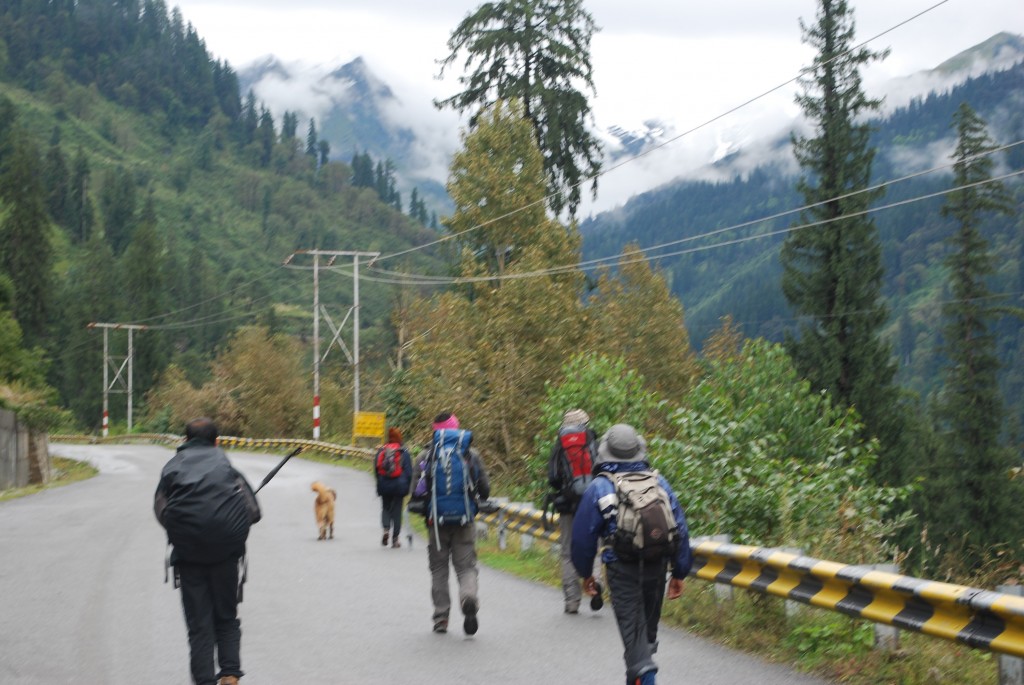 The road has been restricted to traffic as a 9 km tunnel is being built towards Rohtang pass, which when built will bypass at least 50 km or 2 hrs of drive time. The area is sealed, as this sensitive project is managed by the Indian Army. However, we walk past the army check-post confidently. We walk for a comfortable 7 km on the road. There is no other trekking or climbing group headed that way.  There are very few usually. This gives me some satisfaction, as I am now able to write that I took the road less traveled. (heh!)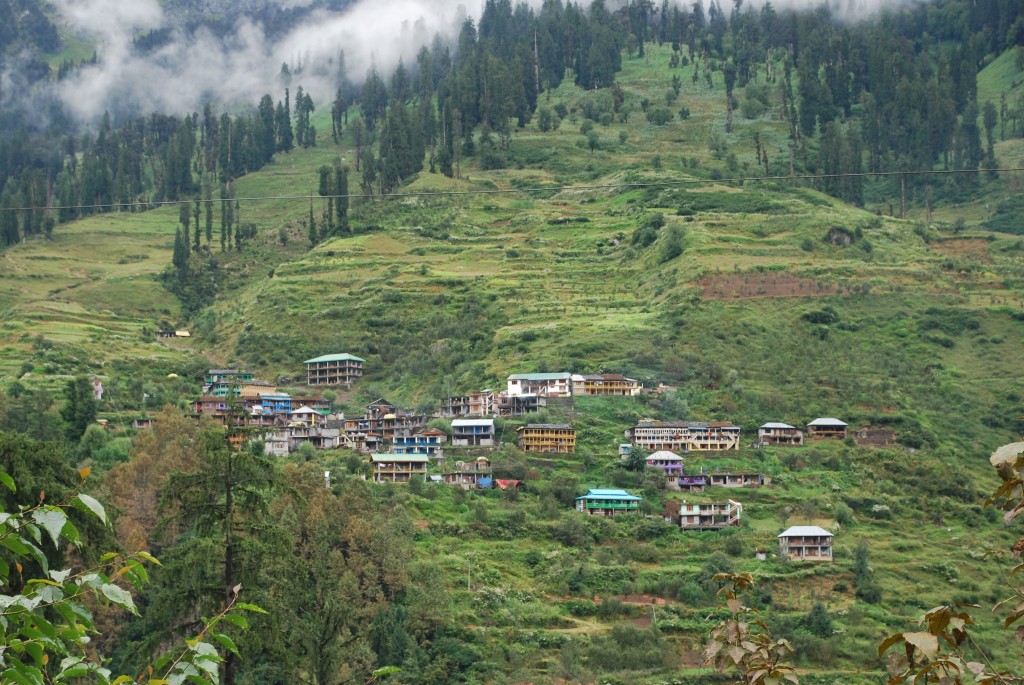 At Dhundy, the civilization in the form of hectic construction work for a dam & the tunnel ends along with the road as we enter the Alpine forest.
We walk next to the mighty river Beas and climb through the thick green forest crossing multiple streams and wetting our shoes in the process (ok some of us). Across the river is the Bakkarthach campsite (named after the goats – bakkar), which seemed more than occupied. The students and instructors of the mountaineering institute in Manali (ABVIMAS) are camping there.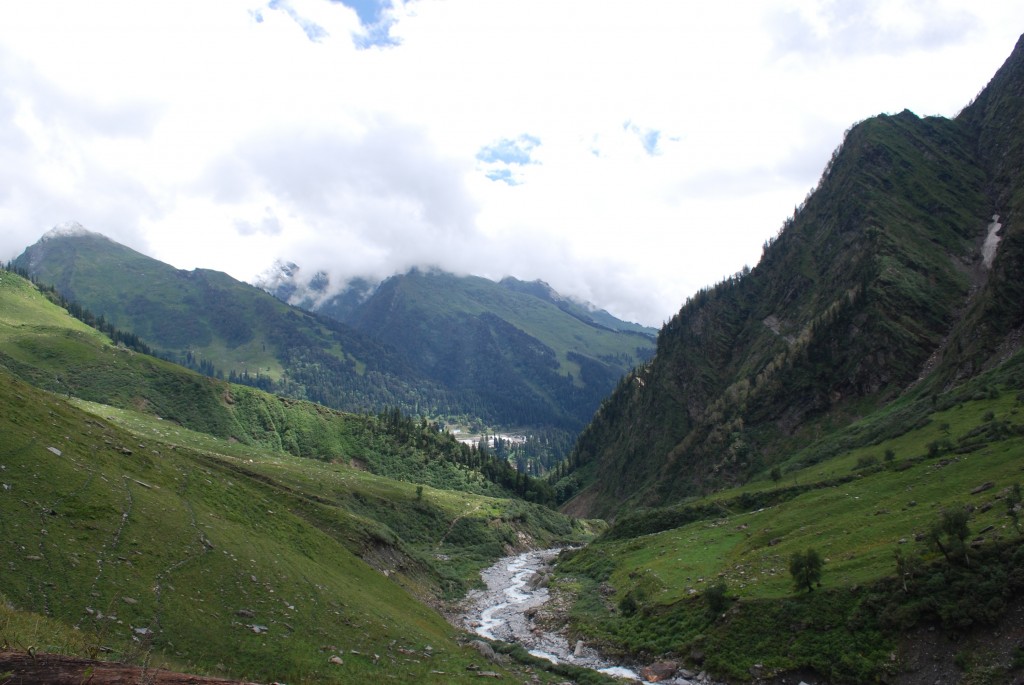 Our pace quickens (the boys' I mean) as Raju informs us that we are nearing "Lady Leg".
A formation of the mountain and ridge with years of erosion looks like a lady's leg. In this remote place, even that is an incentive.
Soon we reach our campsite as we cross a wide stream. It took us around five hours from Solang.  The campsite is a meadow with hundreds of sheeps grazing.  I strike a conversation with the shepherd who informs me that there were more than 900 of them. We do a quick math on the value of the herd (which is significant) and I am almost tempted to ask him if there is a daughter for our eligible (?) bachelor, Sunand. The shepherd also informs me of another group attempting to summit Mt. Shitidhar, which came in two days ago.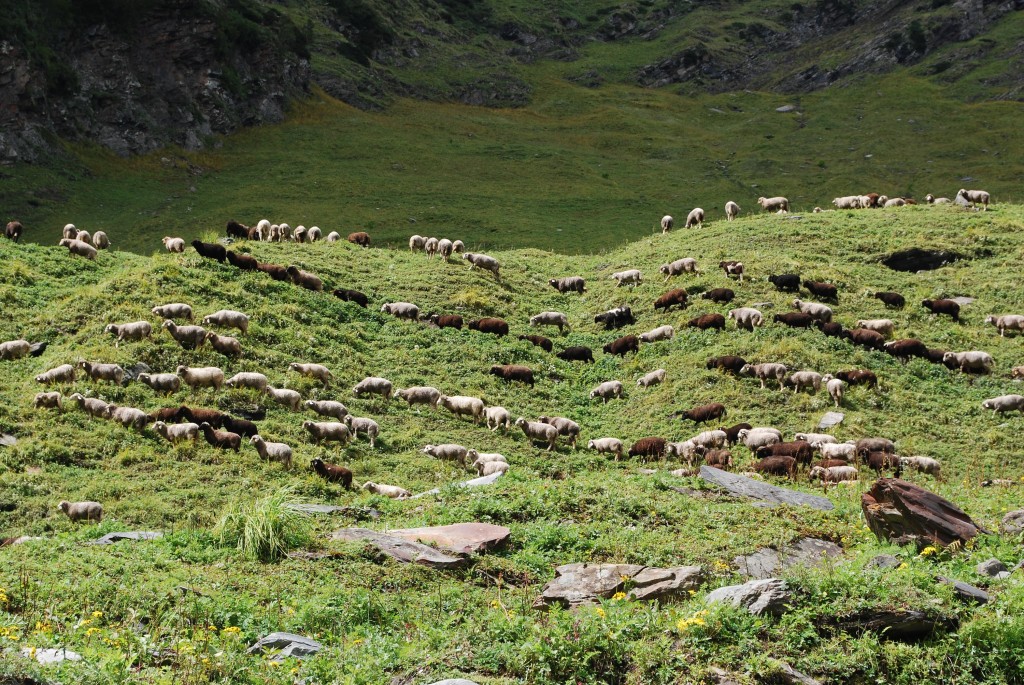 Later in the afternoon, we go out for an acclimatization walk. It is more of a climb actually as we negotiate the steepness of the terrain traversing through mountains climbing to a gully (or pass at 3,700 m/12,139 ft). Sitting on the edge of the gully we look down at the beautifully blue Beas Kund (lake) formed from the many streams from the Beas glacier before transforming into the legendary river Beas (named after the Rishi (Sage) Beas from the ancient times). Beas Kund is transparent (deep blue from a distance) and very deep.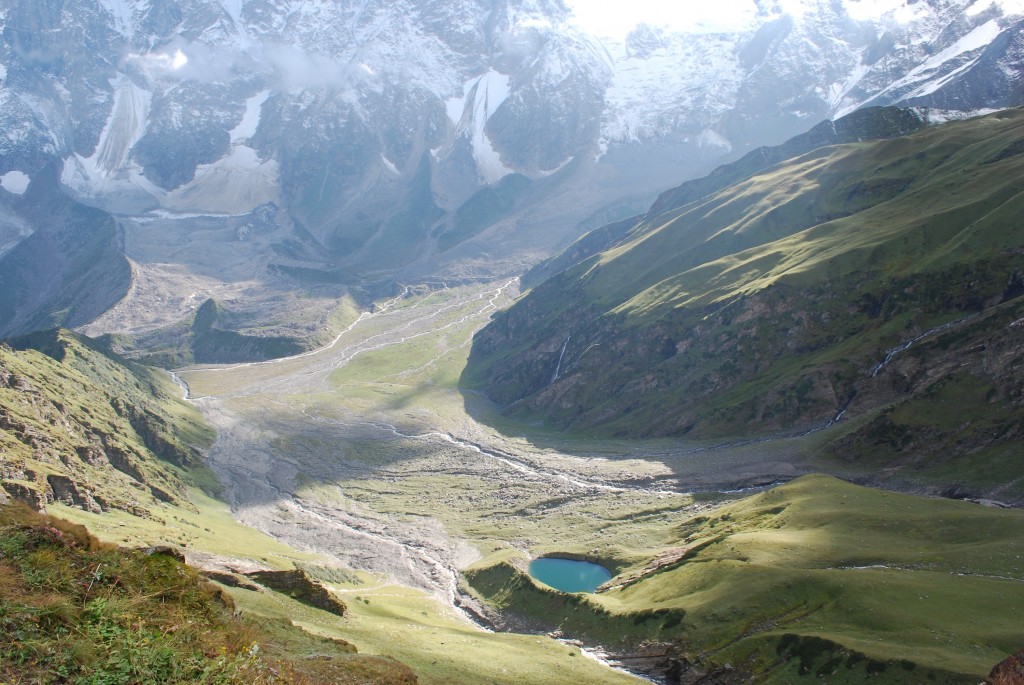 On the right of the gully westwards we could see our destination for the first time – Mt. Shitidhar. The peak is more of a long narrow ridge than a typical conical summit and is thus aptly named in the local dialect – Shiti (sharp) Dhar (edge/ridge).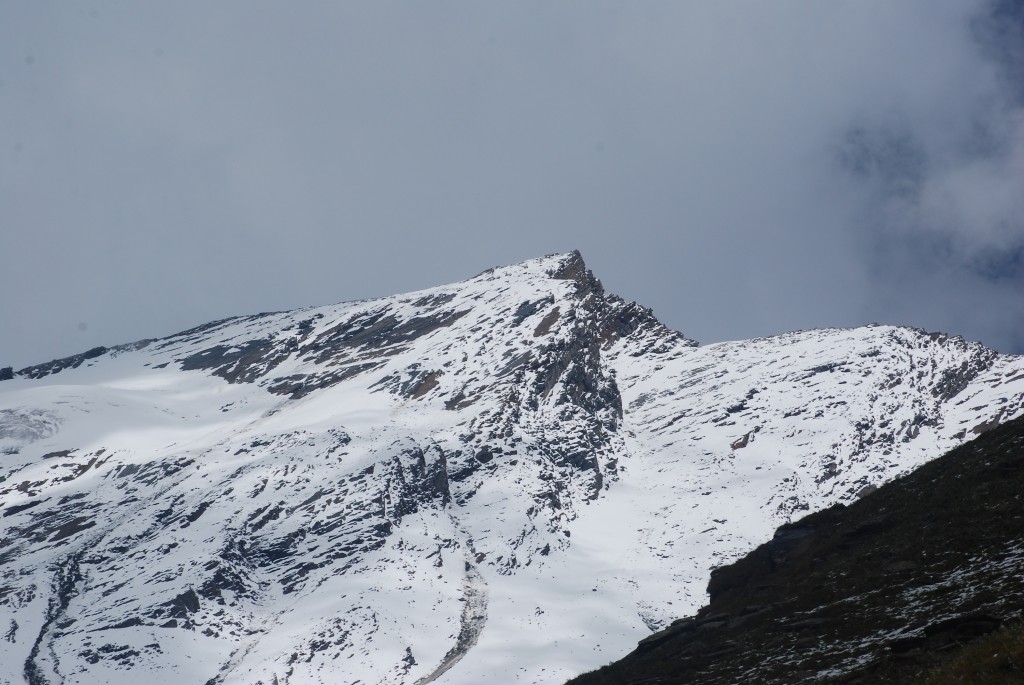 The peak is flanked by Friendship peak on the right and Ladakhi & Manali on the left. They form part of the Pir Panjal range which extends up to three major peaks we see in the east at a distance – Indrasan, Deo Tibba and Indrakila.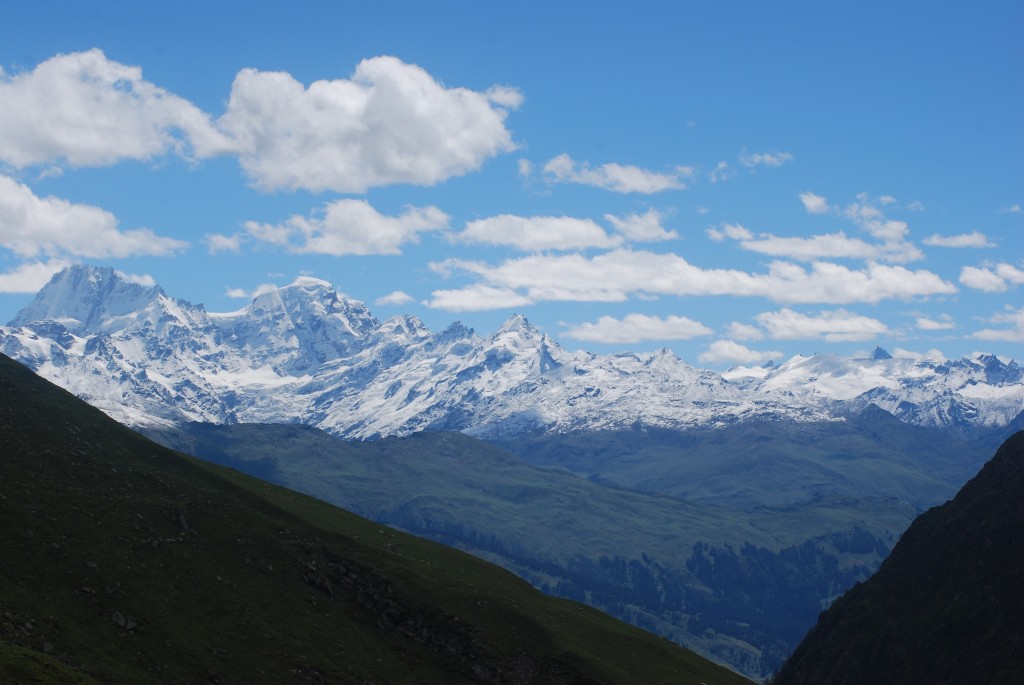 Back at the camp, we are constantly overwhelmed by the mighty Dhauladhar range with the imposing Hanuman TIbba in the North flanked by the seven sisters (ummm…these are just the seven peaks and named likewise). We see and hear the mighty roar of an avalanche falling down with tons of ice from an unnamed peak adjacent to Hanuman Tibba. I feel the adrenaline flowing through my veins (and just that please!!).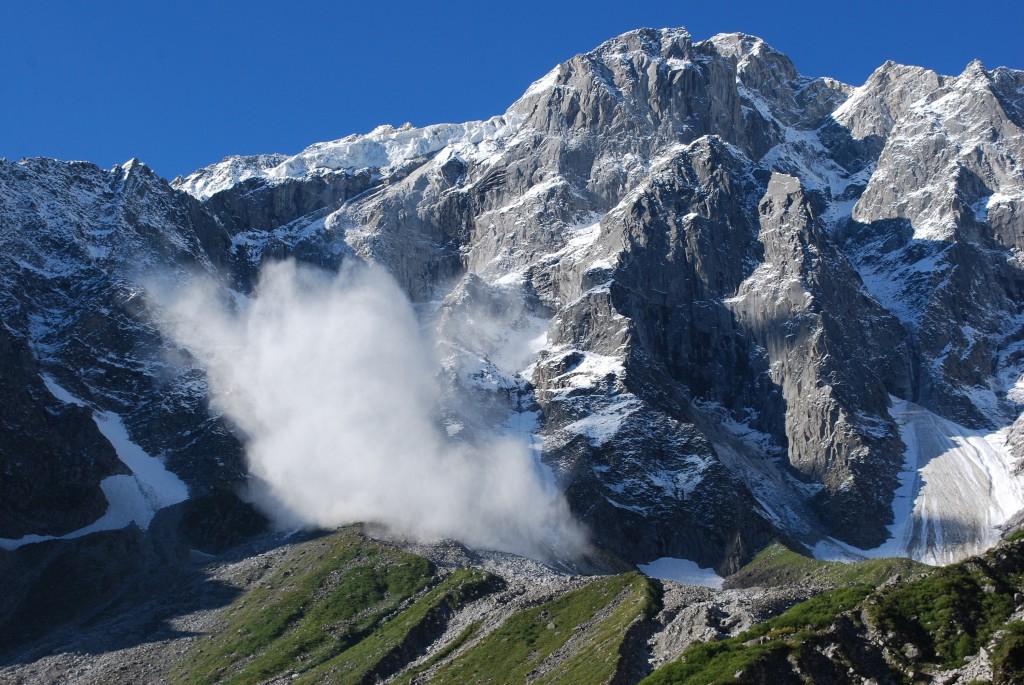 The loo scene has improved quite a bit, as there is a loo tent, which has been erected. All we have to do is cover our (mis)deeds with the soil after the act.
"I live not in myself, but I become portion of that around me; and to me high mountains are a feeling, but the hum of human cities torture."   This quote by Lord Byron so completes my quest for that elusive answer.
Day 6: 20th September 2012: Base Camp-Lohali (3250 m/10,663 ft)
There is a slight logistics problem as the horses will not be able to carry load to the high-camp, the starting point for the summit attempt.
Deepak, the lead guide joins in from Manali with another porter and we decide to go over to set up an advance base camp at Lady Leg instead.
We go for another acclimatization walk.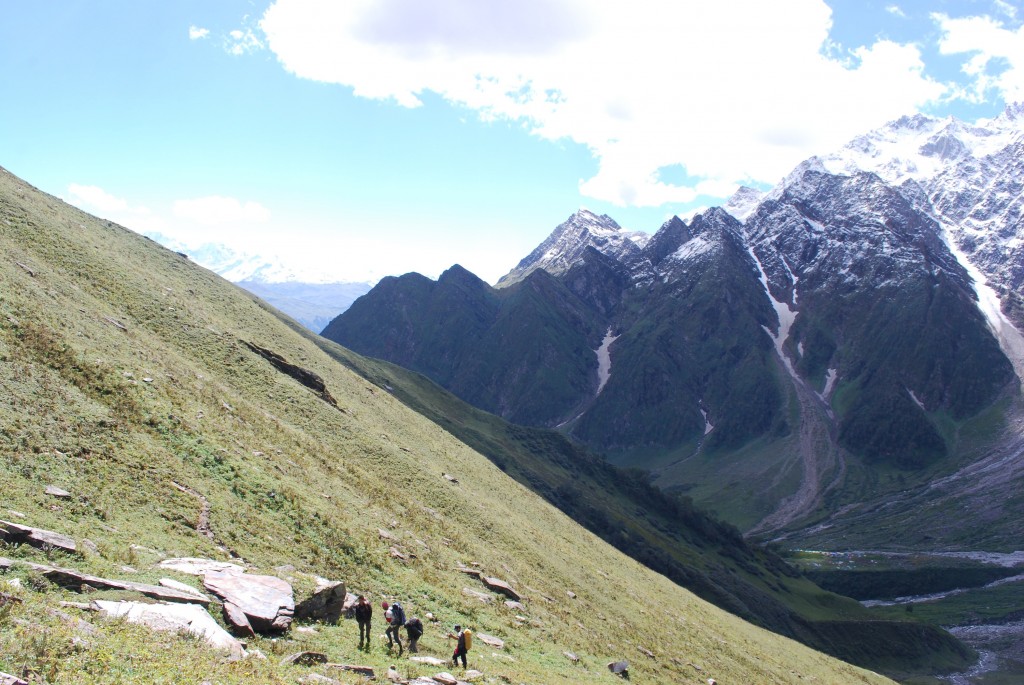 In the evening we have visitors in our camp. Misha, Lev and Vladimir – three climbers from Israel have setup camp close by. They are going the Alpine Climbing (self-sufficient manner) way of attempting Friendship peak (5400 m/17,772 ft) followed by the dangerously tough Hanuman Tibba (6004 m/19,698 ft).
Over sugarless cardamom bland tea (prepared by Misha) we discuss various routes for Hanuman Tibba, life in Israel & India, common passion – climbing, visa access for them & restrictions for us, and Kim Kardashian (naah!! that one we didn't).
We decide to retire early even though the bright starlit sky with a beautiful Milky Way hue seemed enticing for an hour of stargazing, but it was very cold to attempt that venture.
I finally finish reading the Hobbit.
Late in the night, we hear sound of another avalanche.
The temperature inside the tent is 12 degrees Celsius.
"The most beautiful thing we can experience is the mysterious."    — Albert Einstein.
This is what I feel most of the time. The unexplainable feeling.
Day 7: 21st September 2012: Base Camp-Lohali (3250 m/10,663 ft) to Advance Base Camp – Lady Leg Campsite (3700 m/12,139 ft)
We wake up lazily and lethargically and start around 10 a.m. towards the Advance Base Camp at Lady Leg. It takes us less than two hours to the reach the campsite.
The words fail me as I try to describe the campsite, one of the most beautiful I have seen. It is a green meadow next to the stream covered with a variety of colourful wildflowers.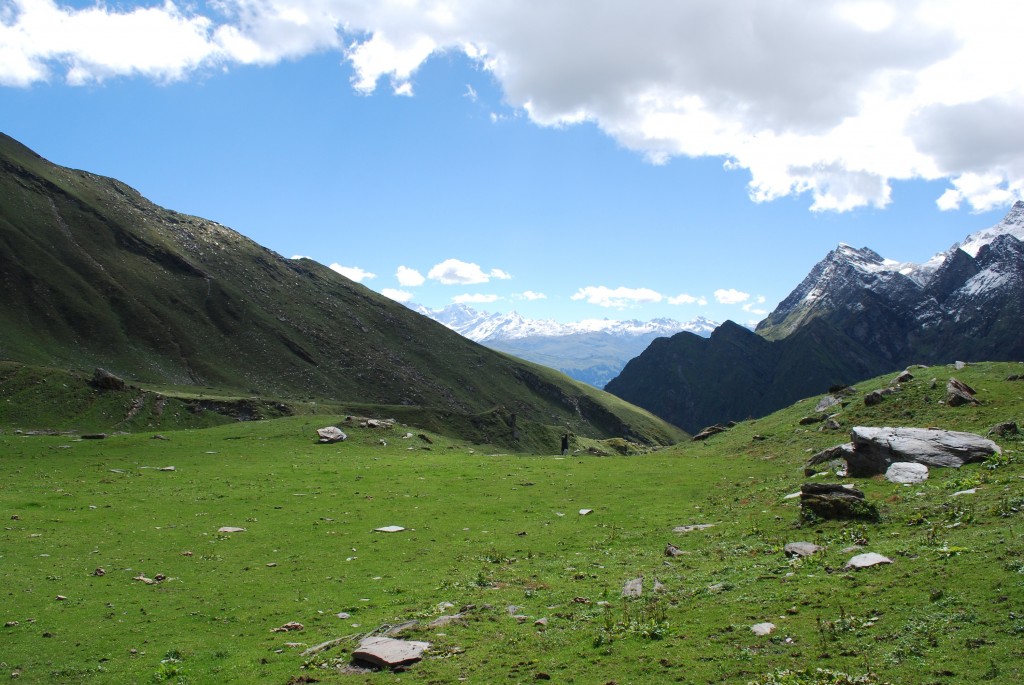 The entire campsite is surrounded with the snow-capped peaks from Pir Panjal and Dhauladhar range, which seems to be very near. Friendship peak is clearly visible.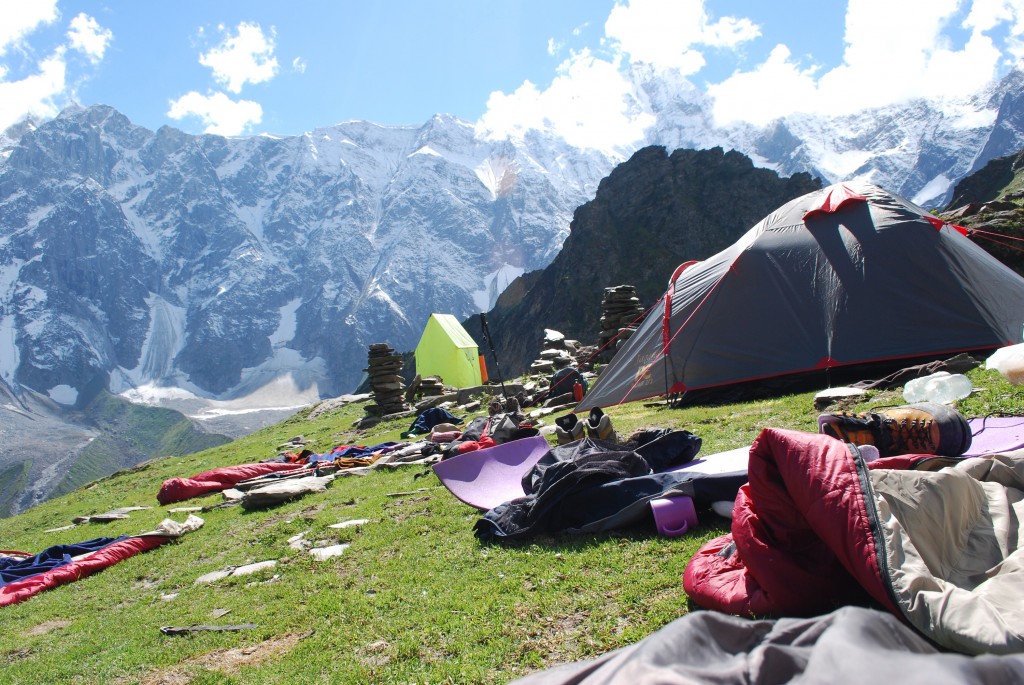 The team is so excited with the place that spontaneous dance happens. (Censored/not sharing on request from Sunand & Akash).
I go berserk with my DSLR capturing the panoramic views over and over again.
In the afternoon we voluntarily and sincerely climb 300 m, going with the golden rule of acclimatization – climbing high and sleeping low.
It was bleddy steep as we find out while coming down.
It is a sunny day as I "dry clean" myself (this is the 4th day of no bathing, three more days to go :)).
We meet the Israeli climbers again on their way to the high-camp for Friendship peak munching on cornflakes (for lunch !!!). I am amazed at the alpine climbing madness – each of them carrying 25 kg of rucksacks and surviving on little food.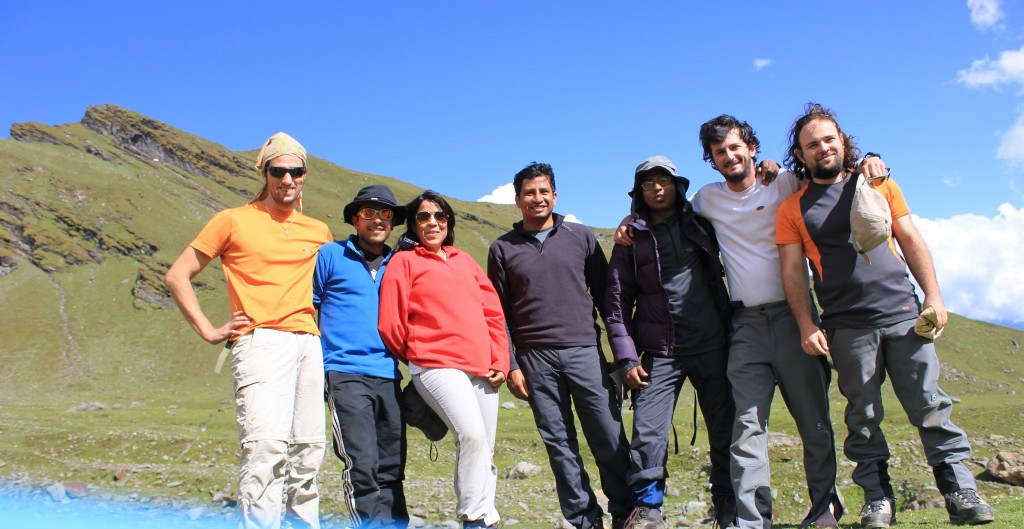 What adventure!! Isn't it??
Just then, hot pakoras and popcorns are served to us courtesy our awesome cook, Ravi.
I decide there and then that I will stick to this good-food expedition type of climbing.
Its cold, but we sit and chat in the dining tent. All of us are wary of the big summit climb ahead of us.
Akash has been reading Bear Grylls' autobiography – "Mud, Sweat and Tears". He narrates his adventures. Motivational, no doubt. But, the anxiety of the upcoming climb remains.
Later in the night, I wake up with the sound – a huge roar of an avalanche. It goes on for quite a while. This is a big one. We hope silently that the three Israeli climbers attempting the Friendship peak summit are safe.
The temperature inside the tent is 7 degrees Celsius.
There is an 11th century Indian saying, "Traveler's will cross many rivers and climb many mountains. Plainsmen may always live within a valley. But only those seeking truth will ever reach the summit." 
I wonder what that truth is. But it is out there. I know.
Day 8: 22nd September 2012: Advance Base Camp – Lady Leg Campsite (3700 m/12,139 ft)
to Summit High-Camp (4500 m/14,764 ft)
We start early, at 7 a.m. sharp.  Deepak, the lead guide has informed (or warned) us that if we make it to the summit high-camp in one piece today, then we could climb the summit later in the night. He has estimated that it will take us seven hours.
We are more determined than ever. More cheerful than ever. Akash and Sunand are bursting with songs, the anthem dil cheer ke dekh is now on my lips as well.
We quickly climb up to the gully and start walking down traversing through the mountains.
At a distance we see a sea of trekkers walking in a line in what seemed to be a very long ridge going up to the base of Mt. Shitidhar. These trekkers (from the Mountaineering institute, Manali), maybe some 100 of them comprise of students from the the basic and advanced mountaineering courses. They had started from the Bakkarthach camp at 4:30 a.m. and were headed to the base of the mountain. Few of them (from the advanced course) were attempting to summit the Mt. Shitidhar peak.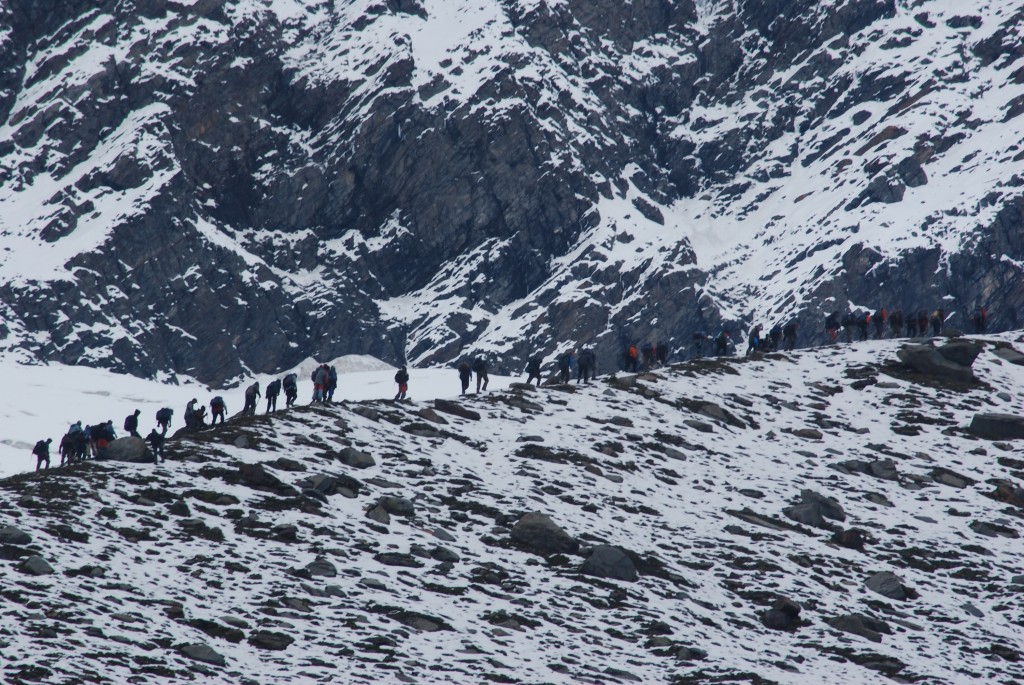 We walk continuously crossing multiple streams and traversing endlessly with some ease (an overstatement actually) till we hit the snowline. Now, walking on snow (and ice) is a different ball game altogether. Our pace slows down drastically as we fell many times. Earlier snow walking experience didn't do much for me as my bums become wet and cold and sore from the relentless falling.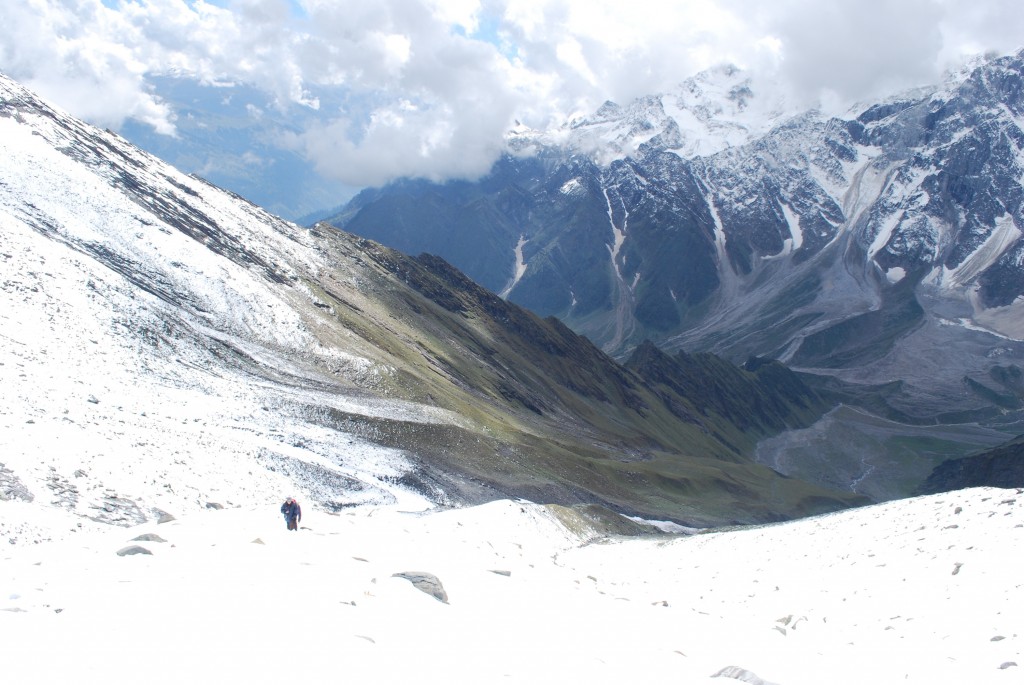 Finally, we come very close to the ridge, which by the way is called the "Rape Ridge" and aptly named so as we discover it on our own maneuvering and negotiating while walking. We meet many students who are coming on their way back. Akash has eyes for only a few of them esp. the one from Brazil. We shake hands, encourage each other, pose together for pictures – a climbing camaraderie seems to have been forged.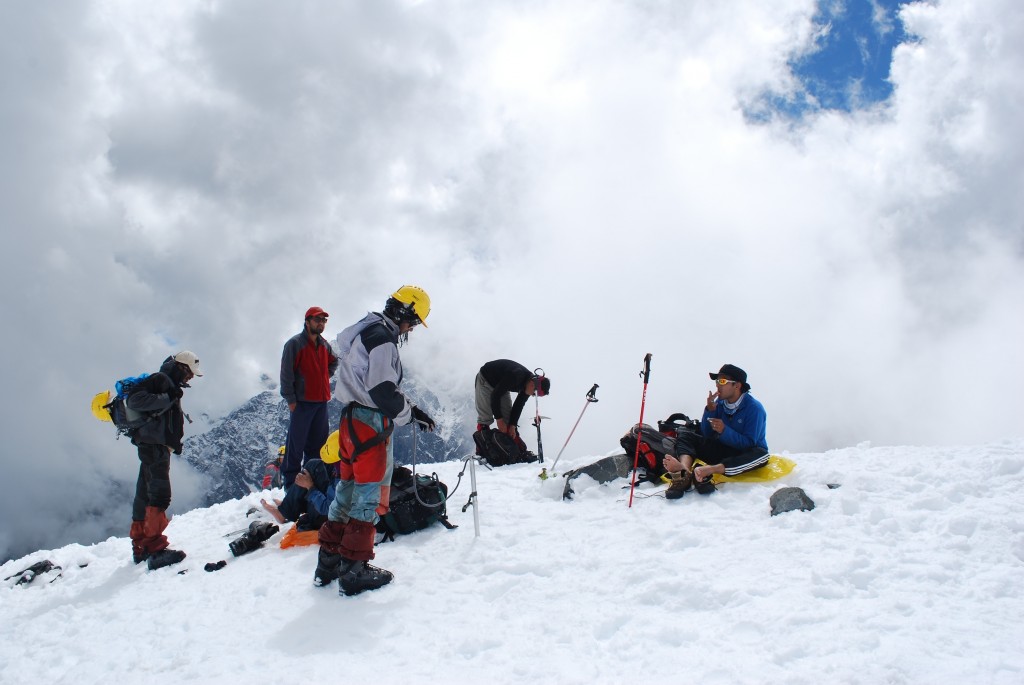 In the meantime, our expedition crew overtake us (as they have bee doing throughout the trek) and have set the high-camp (only two tents –  kitchen and a sleeping tent for the four of us).
It is freezing and to make matter worse it starts to snow. Somehow we reach the tent and gulp in some hot tea, which helps me regain some of the consciousness of many of my frozen and numb body parts.
Deepak is happy with our pace. We have taken only 5 hours instead of the expected 7 hours to reach the high-camp.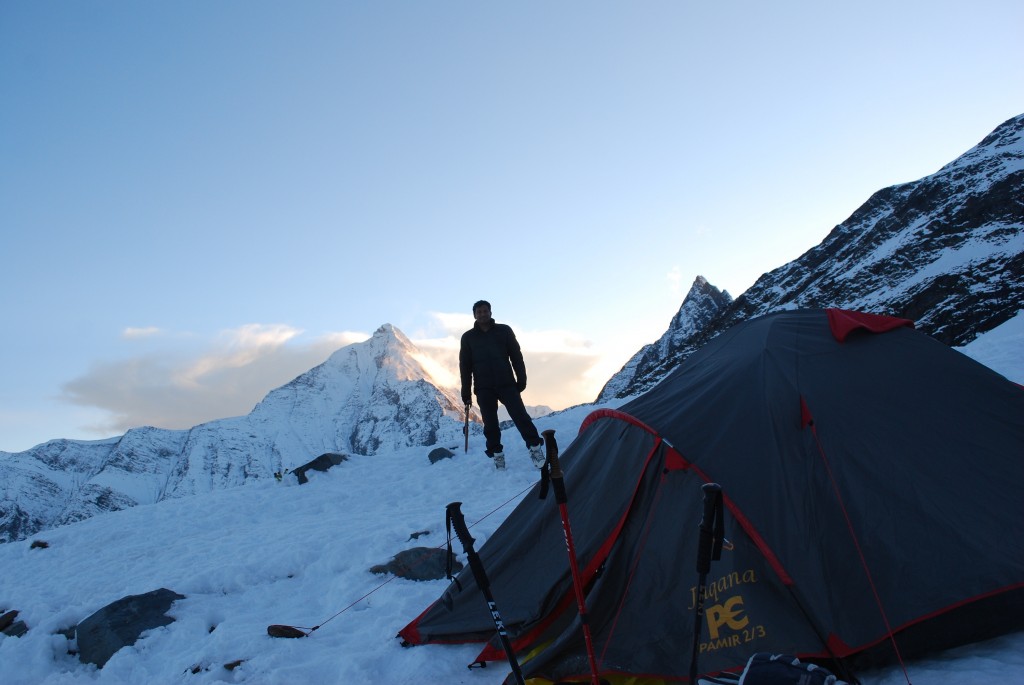 We discuss the plan to summit.
The plan is simple (easier said than done) – we start at 2 a.m. Reach the summit in 4-6 hours and then come back to the high camp. Have breakfast and then head to the advance base camp.
Approvals and acknowledgements in the form of hmmm….ummm…come out. Emphatic yesses or cheerful singing or even the anthem seems to have been forgotten.
We come to know that the earlier group trying to summit Mt. Shitidhar has failed twice in the summit attempt. The three Israeli climbers also couldn't make it to the top of Friendship peak.
Seriousness has overwhelmed the mood of the camp. After all summit climbing is not a joke.
We prepare ourselves mentally and also technically as we test our snow boots (Koflachs) climbing and walking down in the snow with the help of the ice axe.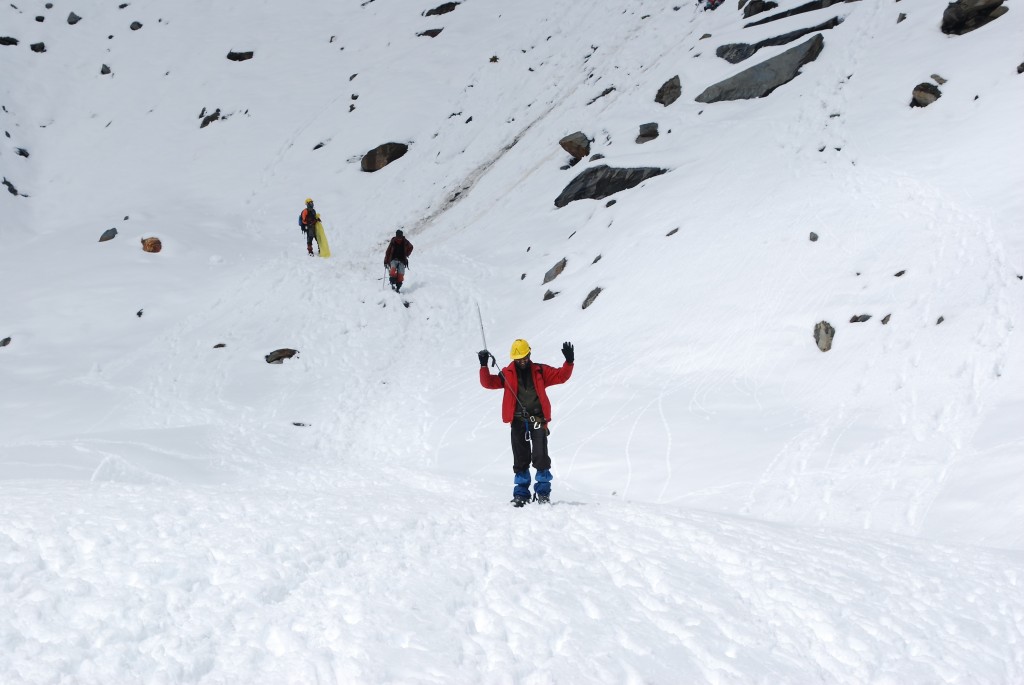 Dinner is served early at 6 p.m. and immediately the four of us cram into the cramped tent meant for two to get some sleep before the climb.
There is snow all around outside the tent. In fact we have camped on snow, which means that we are literally sleeping on the snow. Even for water our cook Ravi is melting snow on the stove.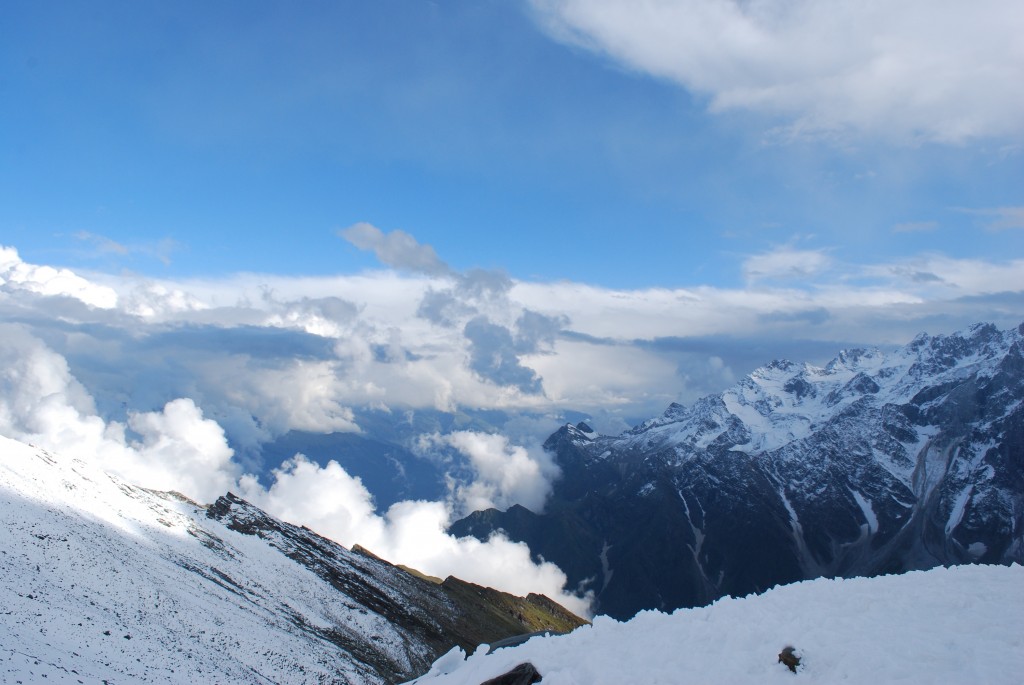 It is really cold out there. But thanks to the natural body temperatures of the four of us, it is a tad bit warmer inside the tent and much warmer inside the sleeping bag.
There is a pin drop silence inside the tent with the exception of our rhythmic breathing as we sleep (or try to sleep).
I am not one bit sleepy as I listen to old Hindi RD Burman songs.
This is déjà vu for me.
The night before any big climb, I do not get any sleep. And I always listen to the RD Burman hits. Ok this time I am also listening to some old Hindi patriotic songs.
I keep an eye on the watch. It's been two hours now.
Its pitch dark. And it's unnervingly silent. (Lull before the storm?)
The others seem to have slept.
Should I take out my kindle and read? It puts me to sleep faster. I have just started reading this interesting book by Marcus Chown – "Quantum theory cannot hurt you." It cannot hurt me, but I just hope that it puts me to sleep.
It's too cold to take my arm out of the sleeping bag to take out my kindle so I drop the idea.
Two hours pass by with more tossing and turning.
In addition to the rhythmic breathing I can hear snores as well. My mates are having a good sleep. @#*$%
I haven't drunk much water on purpose as I do not want to go out frequently for the loo break. (Tho' its advisable to keep on hydrating at higher altitudes)
More hours of tossing and turning pass by till I hear singing in the adjacent kitchen tent – where the support staff is sleeping.
I hear them singing.
"Jaago, pahad chadne ke liye uth jao." (Wake up. Get up to climb the mountain).
It is clearly meant for the four of us as I look at my watch. Its 1:30 a.m.
"It's always further than it looks.
It's always taller than it looks.
And it's always harder than it looks."    — The 3 rules of mountaineering.
These are so much similar to my goals in life.
Day 9: 23rd September 2012: Summit day – Summit High-Camp (4500 m/14,764 ft) to Mt. Shitidhar Peak (5300 m/17,400 ft) to Advance Base Camp – Lady Leg Campsite (3700 m/12,139 ft)
1:30 a.m.
I check my Tissot. Its bl**dy 1:30 a.m. I haven't slept one  @#*&* wink.
The other three have a similar experience. We jokingly accuse each other of snoring and sleeping peacefully.
1:40 a.m.
However, I am ready and raring to go. Never felt such confidence in any of my previous climbs. I am the first one to come out of the tent to a definite sub-zero temperature.
The temperature inside the tent was 5 degrees Celsius.
2:00 a.m.
I am all geared up with snowboots, gaiters and harness. I decided to wear five layers on top and two below. Its cold and one need to keep the chest warm.
My daypack is very light consisting of my DSLR, some energy bars and dry fruits, one extra pair of socks and one bottle of water. We would melt snow, in case the water runs out. (I have learned from my previous mistake during the Stok Kangri where I lugged 3 litres).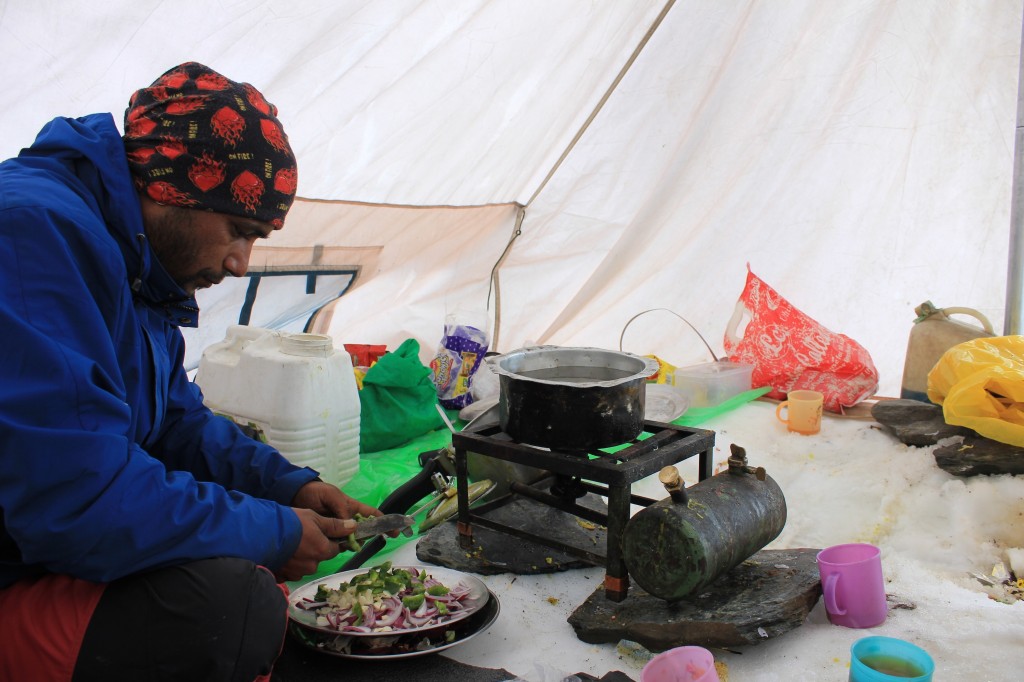 2:15 a.m.
I sip the hot tea and force myself with something to eat while I wait for the others to get ready.
Deepak discusses the route with us. We have to climb 800 m to reach the summit.
50 degree incline straight climb to the rock face (300 m) -> turn right traversing on the snowy mountain slope (100 m) -> 60 degree incline climb (250 m) -> steep ice wall climb 75 degree incline (150 m) -> Mt. Shitidhar peak
2:30 a.m.
Sunand, our expedition leader, makes his customary motivating speech, which is surprisingly short.
We switch on our headlights. We are on our way.
The weather is good. The snow is hard to walk so we have decided not to carry the crampons. The conditions are perfect for the climb. Deepak informs us.
Deepak and Raju lead the way followed by the four of us with Vishal behind us.
2:45 a.m.
We climb on a 50 degree incline straight up from the high-camp towards a noticeable rock face, which we saw during the day. Now our vision is limited to the footsteps the guides are making on the snow.
I mechanically follow their footsteps.
I count my steps before stopping for a short breather.
1, 2, 3. 4…….50. Yes, 50 steps at a time, is what I have aimed and I am taking it as well.
3:00 a.m.
Half an hour has passed. We have been climbing constantly. I have been looking at the altimeter on my watch constantly. Yes, we have climbed 100 m.
I announce it to the group enthusiastically.
The group responds un-enthusiastically.
The altitude and cold is getting to us already. I think.
3:30 a.m.
Altimeter reads 4700 m. We have climbed 200 m in one hour. Another 600 m to go. Announcement happens from me with silent acknowledgement from the group.
Deepak, however, is happy with the pace.
He reckons that we should reach the top in next three hours.
Nobody says anything. The climb is getting tougher with each step.
1, 2, 3. 4…….40. Its now 40 steps at a time.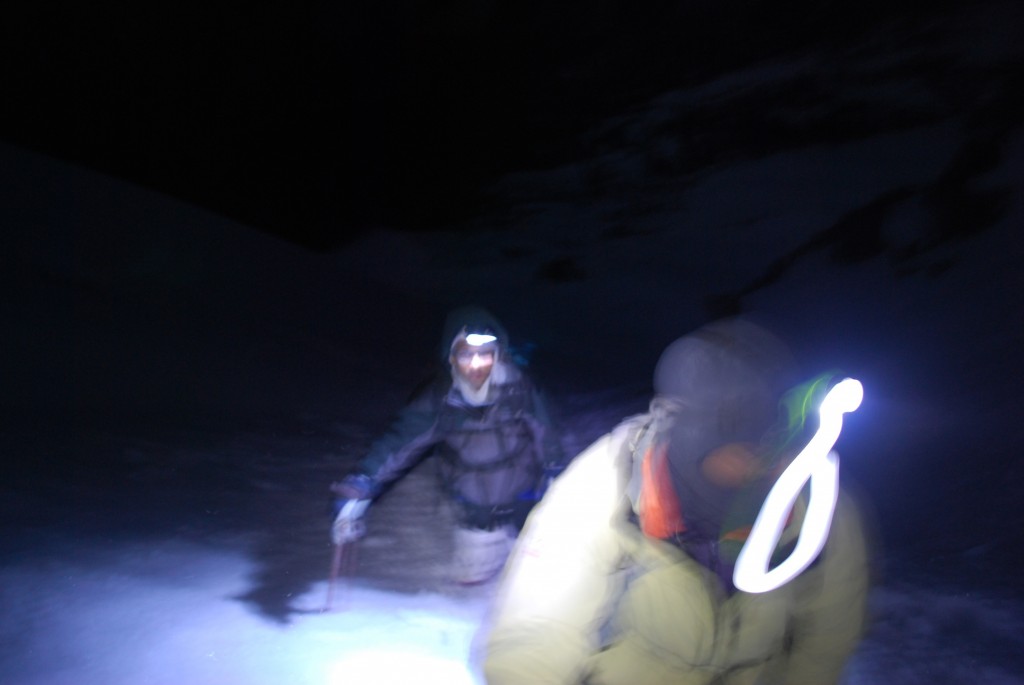 3:35 a.m.
Still no sign of the rock-face.
Deepak and Raju are maintaining a good pace at the front followed by me, Sunand and Akash in that order. Saby is behind us by quite a distance trudging along together with Vishal.
3:40 a.m.
Saby calls out to us. She wants to turn back.
A gritty climber that she is doesn't want to slow down the group.
A tough decision indeed as she sacrifices her chance to summit the peak.
Who says mountaineering is an individual sport/activity?
Each individual's life (actually) is dependent on the teammates.
The stakes couldn't be higher.
Saby turns back with Vishal.
We continue climbing mechanically.
Raju now comes behind the group while Deepak leads.
3:55 a.m.
We are at the rock-face, which is the only non-white surface visible. Everywhere else is the white snow visible even in the dark. We have climbed 300 m. Another announcement and most importantly water break.
I take out the granola energy bar and share it with Sunand and Akash. They take small pieces. Eating anything is least in anyone of our minds. But one needs to keep on munching and keep on drinking water.
4:05 a.m.
We are now traversing right from the rock-face. We cross past remains of an avalanche, which happened a week ago.
I silently pray that we do not encounter any avalanche tonight.
I continue climbing.
1, 2, 3. 4…….30. Its now 30 steps at a time.
4:10 a.m.
We have climbed past a hidden crevasse, not hidden to Deepak's keen sense of vision in that dim headlight lit path.
4:15 a.m.
Finally the traversing ends. The altimeter reads 4800 m. We have climbed 400 m.
We are half-way there.
400 m more to go.
4:30 a.m.
Its more than half-way in terms of effort as the incline of the mountain slope becomes steeper more than 60 degrees.
1, 2, 3. 4…….20.
4:45 a.m.
Altimeter says 5000 m. I announce it to a lukewarm response. 300 m more to go.
1, 2, 3. 4…….15.
4:55 a.m.
It's getting difficult with each step on the snow. We stop for a breather. I take out my camera. I remove my gloves. Its dark. I do not get good shots. I realize my fingertips have become numb.
I panic as I frantically rub my fingers. Put them below my armpits for some body heat. Its not helping much.
Deepak urges me to carry on. I start moving fearing frostbite. The blood circulation generated from the walking reaches my fingertips and the numbness fades away.
It is extremely cold. I realize that now. I keep on wiggling my toes inside the heavy snow boot and keep on changing my grip on the ice axe to prevent frostbite (something which I almost got during the Stok Kangri climb while gripping onto the ice axe for far too long in one position).
"Hours slide by like minutes. The accumulated clutter of day-to-day existence — the lapses of conscience, the unpaid bills, the bungled opportunities, the dust under the couch, the inescapable prison of your genes — all of it is temporarily forgotten, crowded from your thoughts by an overpowering clarity of purpose by the seriousness of the task at hand."    — Jon Krakauer, Into the Wild.
5:15 a.m.
1, 2, 3. 4…….10. Huff !! Puff !! Water break. Climb ahead.
Damn!! Deepak is climbing very fast. I am struggling to keep pace with him.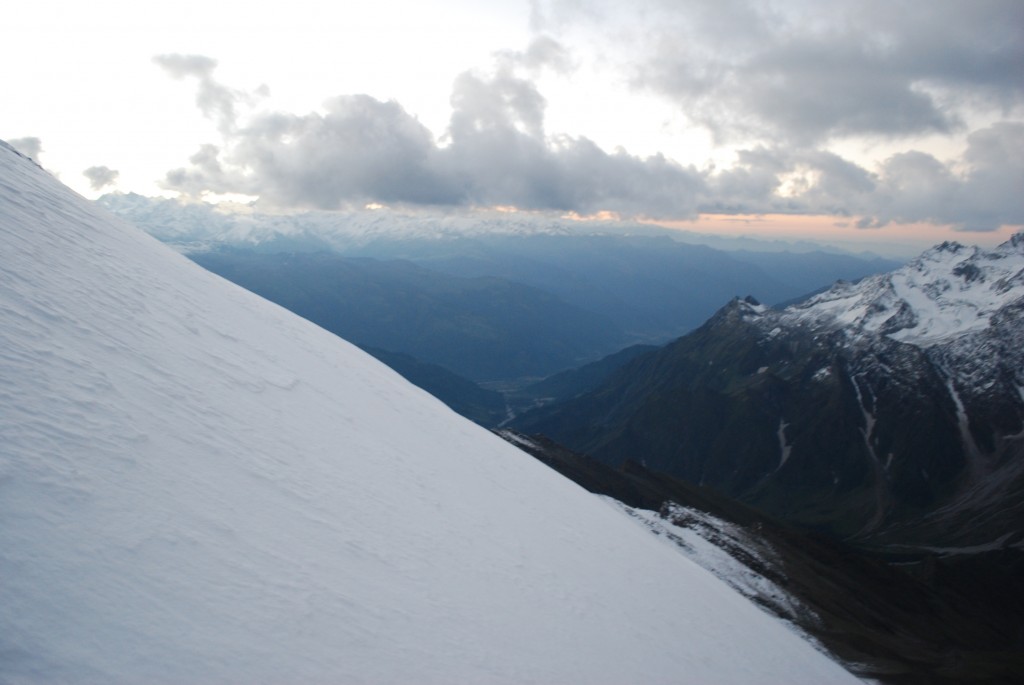 5:35 a.m.
Altimeter reads 5150m. We are almost there.
The dawn has broken. There is faint daylight all around as I can see the whiteness of the snow all around.
I can see the summit.
But what is this steep wall between us?
It's more than 75 degree snow & ice wall separating us from the top.
Deepak had warned us about this.
Deepak and Raju in the meantime have climbed ahead and fixed a rope using a snow bar.
We are supposed to climb using this rope.
I take some pictures while my fingertips get numb again.
5:55 a.m.
We climb using the rope anchoring the snow boots and ice axe into the snow. One slip and any of us will slide down to the bottom. We are not even roped to each other to arrest each other's fall, if that happens.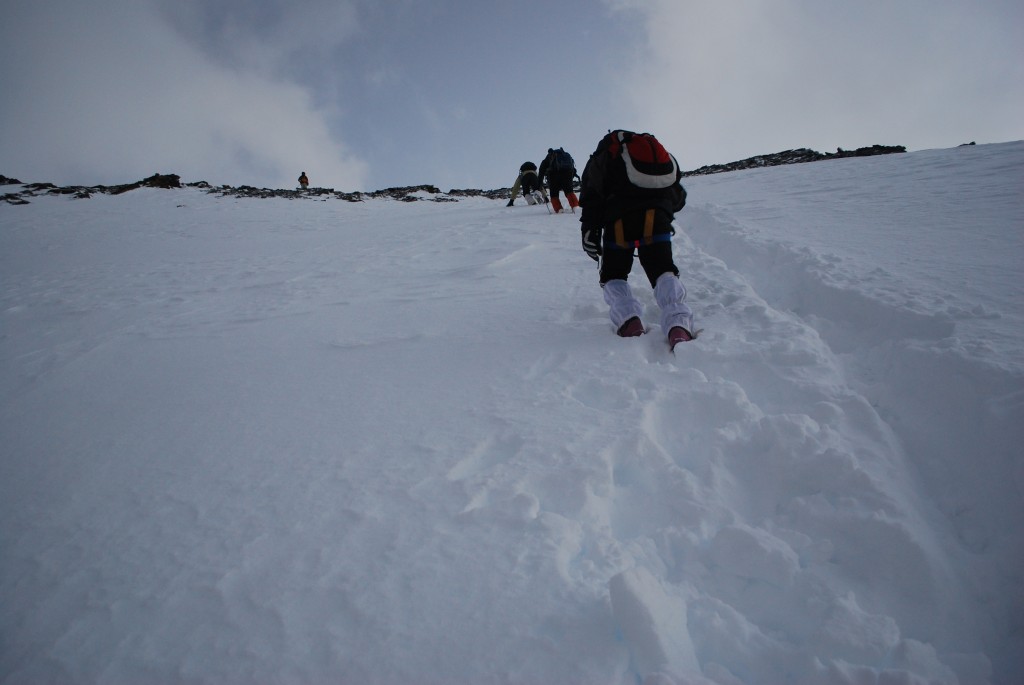 6:15 a.m.
Finally, we are at the end of the ice wall as the flat rocky summit strewn with ice and snow appears.
We have taken less than the estimated four hours from the high-camp to do it.
We are at the top of Mt. Shitidhar.
It finally dawns on me.
We did it.
But there are no exuberant high-fives, no shouts of joy or much needed warm hugs.
The cheesy expedition anthem, which Akash had promised to sing at the summit, is forgotten.
Everybody is tired and overwhelmed with the high-speed winds and freezing temperature. Akash checks for mobile network but gives up in that bone-chilling cold.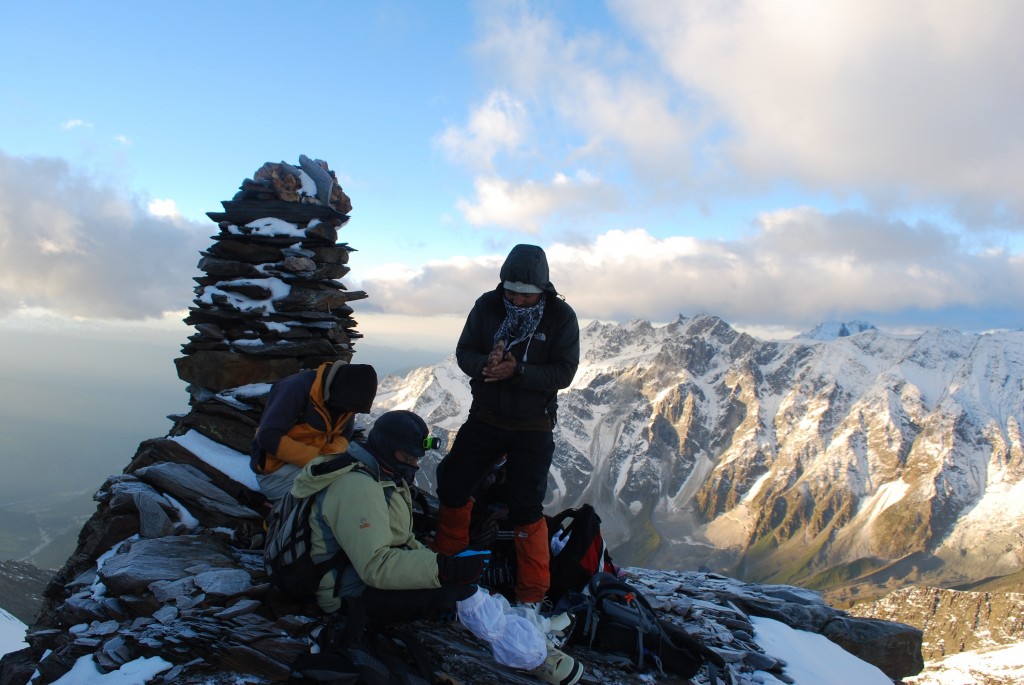 We stand next to a small makeshift temple made of rocks indicating the top of the summit and mechanically pose for pictures with the different flags we are carrying.
I go berserk with the camera shooting anything and everything in sight. The view is breathtaking as I see the pictures now.
We sing the Indian national anthem respectfully (while shivering endlessly).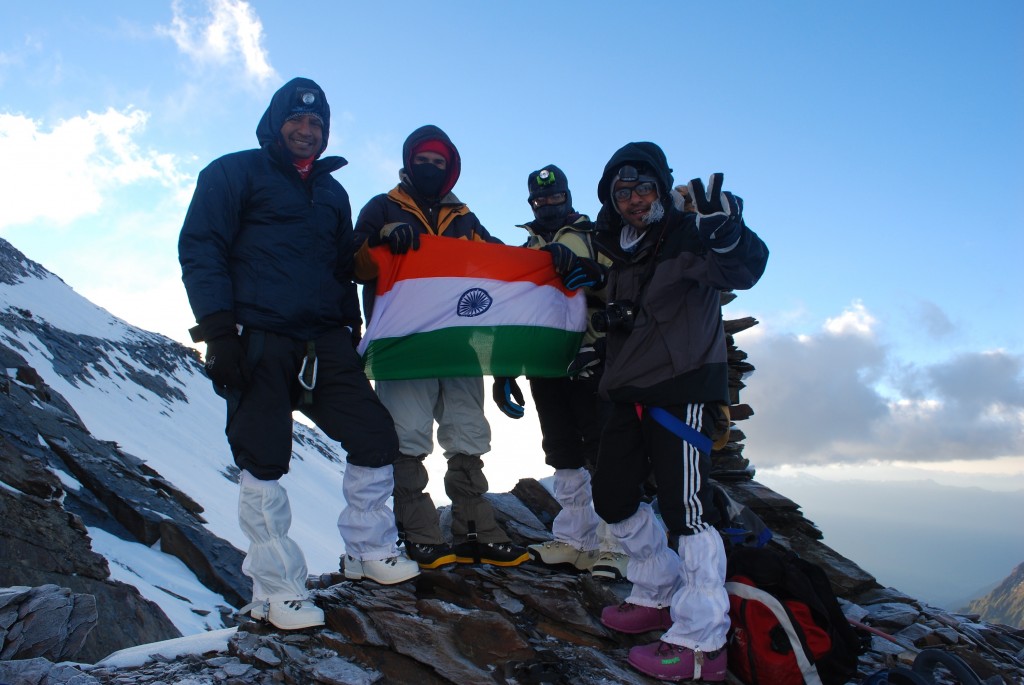 6:30 a.m.
We are ready to climb down.
All those months of methodical preparation, days of arduous trekking and last few hours of strenuous climbing to spend measly 15 min on the top???
6:45 a.m.
Sunand and Akash have gone ahead with Deepak.
Raju is with me. The glare from the snow is now hitting my eyes. I wear my snow goggles to avoid snow blindness.
I am struggling to climb down as I slip and fall many times.
The success of a climb is not measured by reaching the top, but by coming down safely. Most of the deaths of climbers in the mountains have happened while coming down from the summit.
I remember this fact as I start taking measured steps.
I see Sunand rappelling down the ice wall. Akash is next to go.
And what!!!!!
The rope comes loose as the snow bar comes off the snow.
There are shouts all around as I see Akash tumbling down with multiple somersaults down the ice wall.
He has stopped falling.
He is not moving…at all.
Climbers die on the mountains all the time. But why do they still climb?
Death is another journey. It is up to one to openly accept it and prepare for it.
Bhagavad Geeta reminds us, "As man discards old clothes for the new ones, so the dweller in the body, the soul, leaving aside the worn-out bodies, enters into new bodies."
I think I have accepted my impending mortality. And I sincerely hope that I die on the mountains. I do not want to die of a heart attack, drinking beer, eating potato chips and watching cricket on TV. (The last line borrowed from legendary climber Willi Unsoeld, who lost his daughter Nanda Devi (named after the mountain) in an expedition to climb, ironically, Nanda Devi and three years later died climbing Mt. Rainier, a peak which he had climbed many times before.
6:50 a.m.
Deepak rushes down.
I am way behind with Raju to know if Akash is fine.
We shout and wave.
We see Akash waving back.
With much difficulty I climb down to where he has fallen. They are taking a breather.
It seems that he is fine except for a few bruises.
It dawns on us later that he was extremely lucky. If he had tumbled down to the rocks or the ice axe had hit him while falling, it would've been fatal.
7:00 a.m.
I climb down with the usual technique of anchoring the foot with the snow boot heel in the snow. I have some experience in snow walking but somehow I am not very successful this time.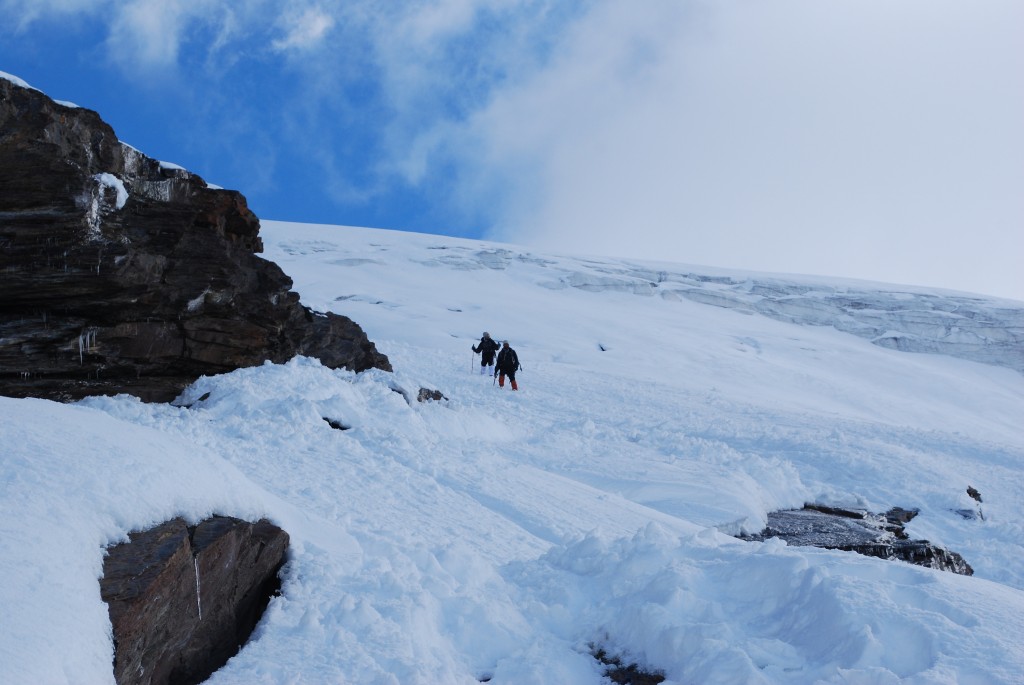 7:15 a.m.
Deepak asks us to slide down the snow on our bums.
Sunand is the first to go. It seems fun.
I go next sliding down the snowy slope on my bum controlling the speed with the ice axe.
It's thrilling as I slide down with amazing speed.
It's awesome fun too.
7:45 a.m.
We have been snow gliding and walking down for sometime now. We are below the rock face. We spend time shooting our videos snow gliding and giving random interviews.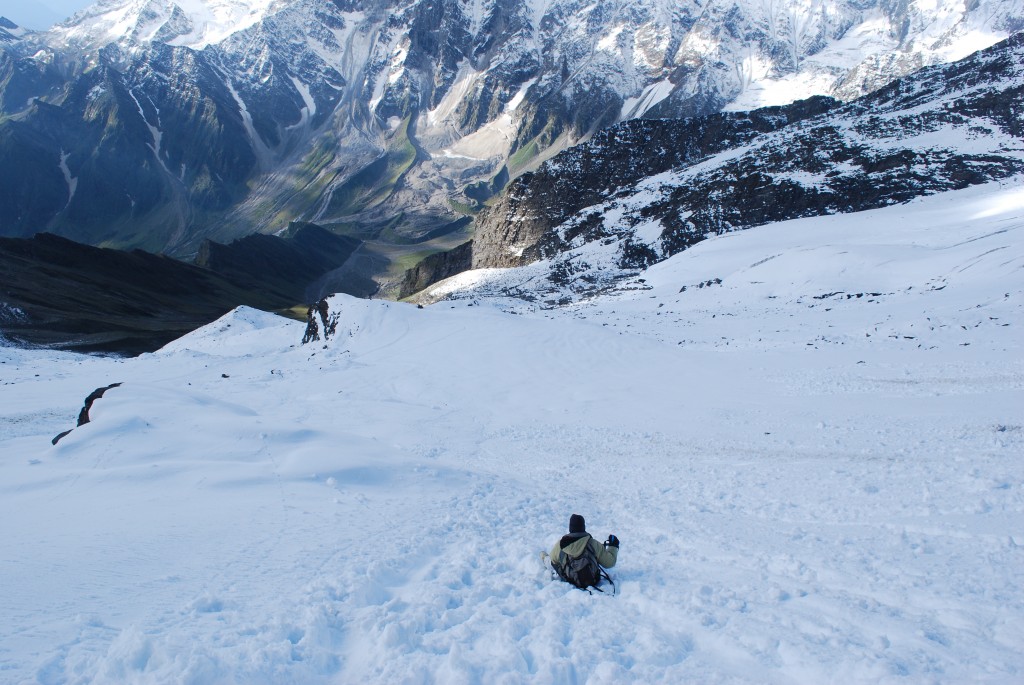 8:00 a.m.
Akash and Sunand continue with random interviews of each other as I move ahead towards the high-camp.
8:30 a.m.
I finally reach the high-camp after a six hour high-altitude exhilarating experience (or ordeal in some parts).
Deepak and Raju have reached ahead of me.
I am welcomed by Saby and the expedition crew with some hot tea as well.
I am cold and exhausted as I sit inside the kitchen tent thinking actually nothing. My mind is blank. The entire experience and its significance hits me as I write this post.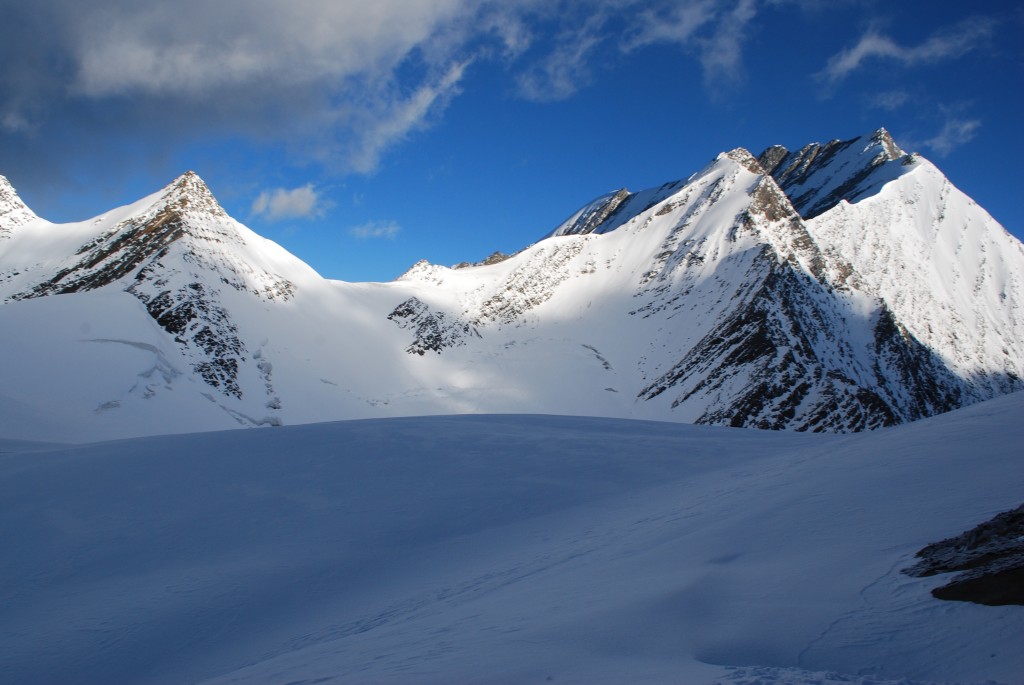 8:50 a.m.
Akash and Sunand reach the high-camp. The high-altitude summit silence has suddenly transformed into a vociferous shout and cry of joy and excitement as high-fives and hugs happen all round initiated by them.
We have done it! We have done it! There are cries all around.
But the day is not over yet as we have to head back to the advance base camp at Lady Leg.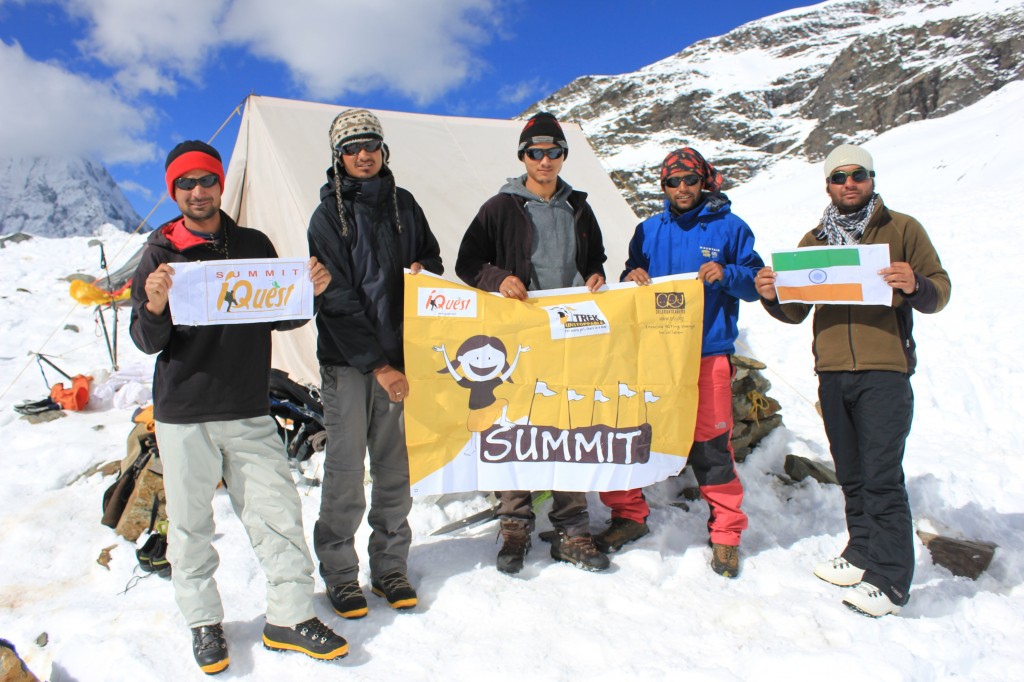 10:00 a.m.
After the breakfast we remove our snow boots and slip into our trekking shoes and start walking down the "Rape Ridge".
Now, Rape Ridge is more than 1 km long ridge sloping down from the high camp to the grasslands nearing the Beas kund.
Walking on this long narrow ridge with loose rocks and gravel, melting (read slippery) snow & ice is best described by Vishal, one of our expedition crew – "yaha pe Sir bade bade logo ka rape ho chuka hain"
(A controlled translation of this statement is – "many top climbers have found it difficult to negotiate this ridge")
Two hours later we find that we are still struggling to walk down on the ridge after multiple falls resulting in painful impact on the various body parts esp. the soft and padded behind (not so soft anymore after the falls).
Finally, one and a half hours later after crossing multiple streams and traversing through the various mountains we reach the advance base camp totally exhausted.
We skip the hot lunch and hit the sleeping bags to wake up for a quick dinner to sleep off again.
I am reminded of this beautiful quote by Robert M. Pirsig, "The only zen thoughts you can find on a mountain summit are those you brought yourself."
Day 10: 24th  September 2012: Advance Base Camp – Lady Leg Campsite (3700 m/12,139 ft) to Manali – Jagatsukh (2,050 m/6,726 ft)
We wake up to a bright new day with a hangover of previous day's summit climb euphoria and aching exhaustion.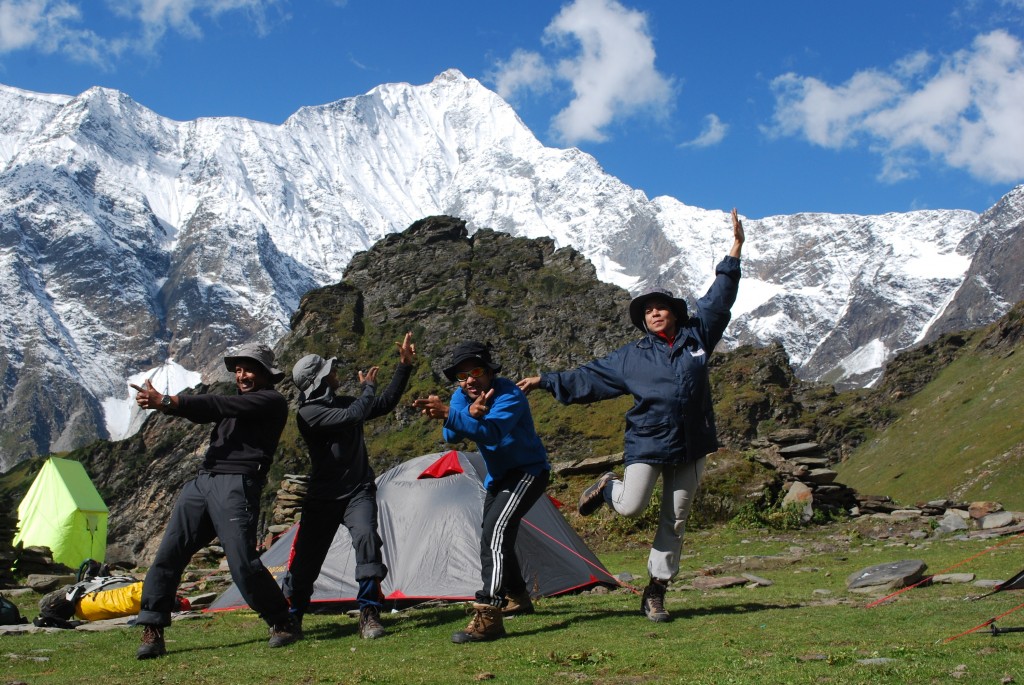 We retrace our path from the advance base camp to the base camp at Lohali to Dhundy where we meet the tarred road.
I put this extraneous walk in only one sentence (above) but it was more than that as it took us around three hours to reach there with aching knee joints and other body parts.
We start walking unwillingly on the flat tarred road leading to Solang – a distance of 8 km.
Half-way through we are lucky to get a lift in a government vehicle by the kind middle-aged driver who is listening to if you can believe it – 'Satisfaction' by DJ Benny Benassi.
WHOA!!!!
We reach Solang and after a long wait for the rest of our crew we drive to Jagtasukh, where hot water is waiting for us for a much needed cleanup and bath.
Errr…the geyser was not exactly working when we reached so it is cold water…but a bath nevertheless.
The evening ends with victory drink…drinks actually with the expedition crew and song & dance esp. to the inimitable Altaf Raja's  "Hum to thehre pardesi" (the song when translated in Bol Bachchan style – "we are after all foreigners") sung repeatedly.
The expedition anthem is again revived by Akash, who by the way is covered yet again by the media for summiting Mt. Shitidhar with the headline (translated BB style again) "Akash kisses Akash"
We (esp. his fiancée) are confused as to who this other Akash is?
Back in the plains, I guess this low altitude is getting to us. We don't belong here.
However, I am still confused for a different reason – the persistently unanswered question.
 So, why do you climb mountains Phaedrus?
This time I smile and reply without any hesitation.
"If you ask this question, you will not understand."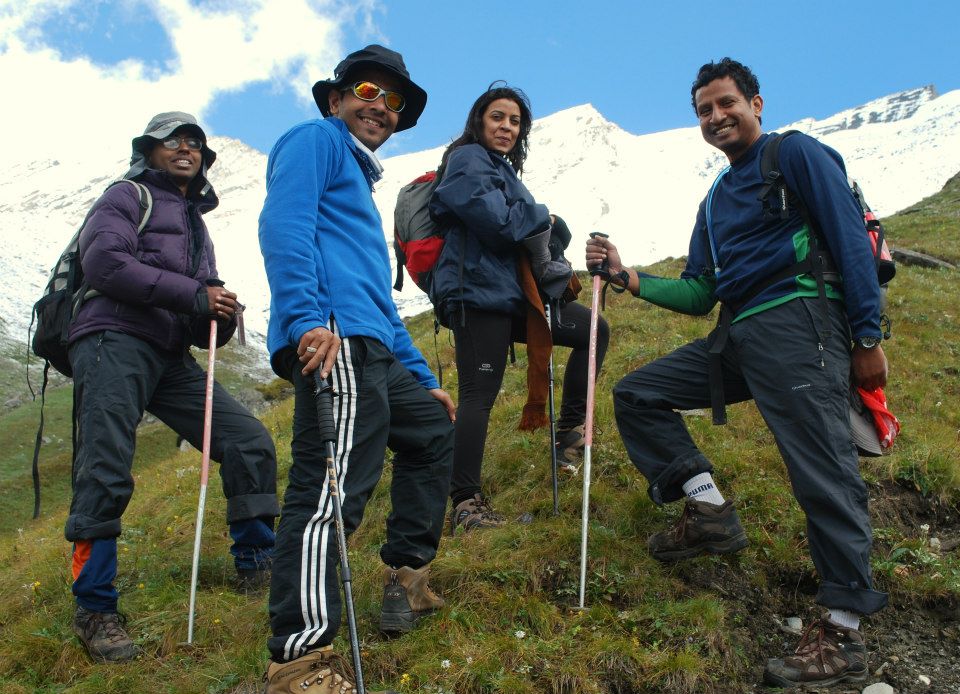 Mt. Shitidhar Expedition Team (Sep 2012)
(With due credits to Plato, Robert M. Pirsig et. al.)

Download the ebook- Mt. Shitidhar Climbing Expedition: Zen and the Art of High-Altitude Mountaineering