Kumaon, May 2007. After having done short duration weekend treks and mainly in low altitude (read around Mumbai and Bangalore) I was yearning for trekking in the Himalayas. I also hated the fact that while living in Delhi for so long I have not trekked in the neighbourly hills of the majestic mountain range. So to make amends, now in Bangalore, I decided to start with an easy trek. This was the year 2007. It shouldn't be a difficult trek, I was warned. After a bit of net surfing and comparing different treks I was confident that Pindari glacier was the one. Little did I know how it would turn out to be for us we stood on the steps of this great Himalayan mountain range in Kumaon.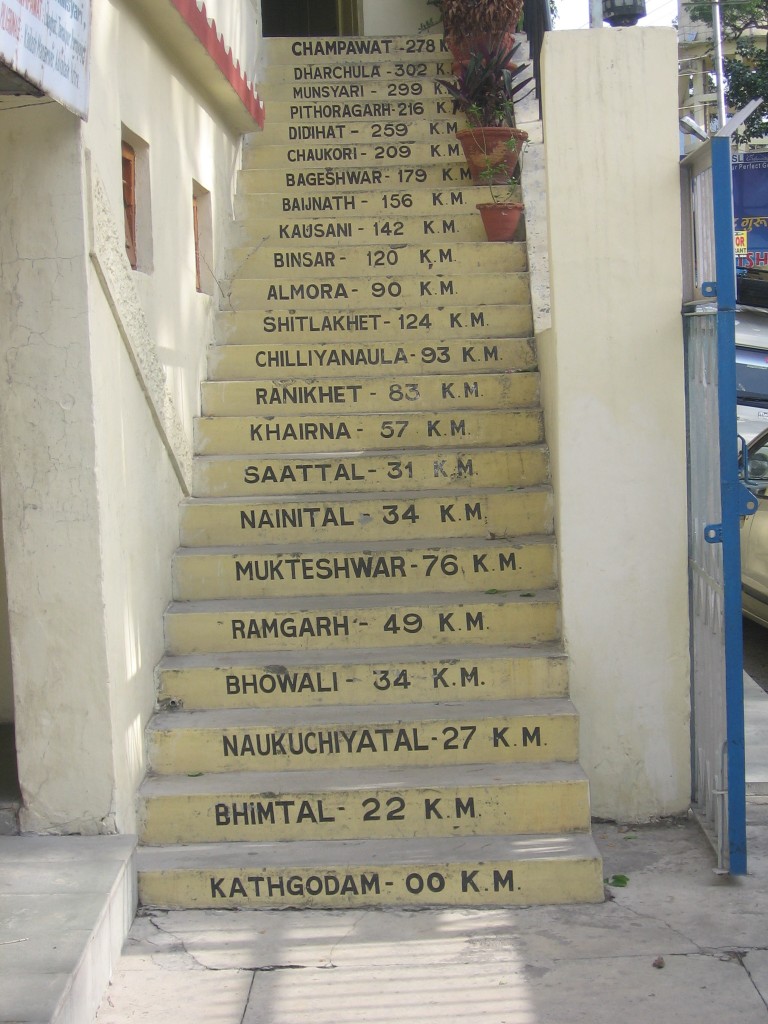 Pindari glacier is found in the upper reaches of the Kumaon Himalayas, to the southeast of Nanda Devi, Nanda Kot. The glacier flows to the south for about 3 km and gives rise to the Pindari River. The glacier trail provides for a 90 km round trip trek that can be done in six days easily (or so we, unfit city slickers thought). The main peaks near the glacier are Nandakot(6880mts.), Nandakhat (6611mts.), Pawalidwar(6663mts.), Balijuri(5922mts.) and Changuch (6322mts.).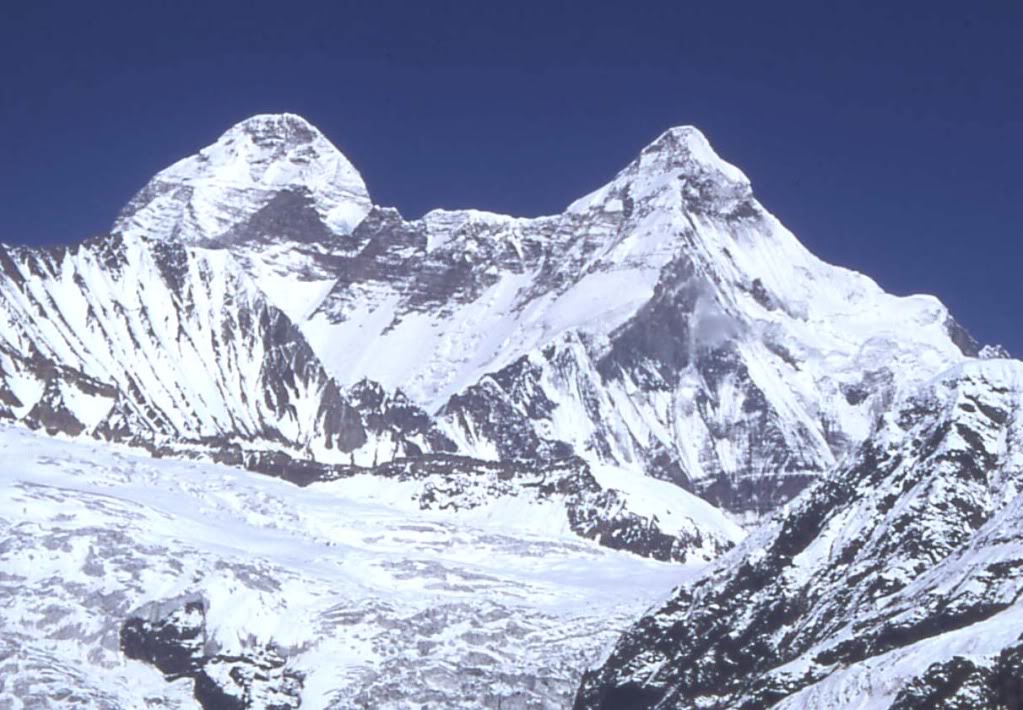 I got the itinerary and bookings done by KMVN, one of the smartest decisions I made during the entire trip.
However, one of the "unsmartest" decisions was to travel the crowded train during summer vacations (it was the month of May) and risking going without reservation (got it in the last moment). The train was delayed and we reached Kathgodam late evening as everywhere around us was pitch dark and no auto rickshaws in sight. However, we eventually found one and we found our hotel. Next day we reached Bageshwar.
Day 1: Bageshwar
This was first day of our trek itinerary (as you must've noticed the title "Day 1"). We stayed at the KMVN guesthouse, which was very nice with a comfortable room with a TV (this idiot box is an important factor for the choice of a room), although most of the time there was no electricity and therefore no TV. Sigh!!!
Day 2: Bageshwar to Loharkhet (40 km by car, 3 km trek)
We took a car to Loharkhet and had some nice delicious (although oily) pakoras and chhole bhature on the way, which had some effects on my digestive system couple of hours later. At Saung, we met our guide along with him we had to climb up towards the trekker's hut at Loharkhet for another tiring 15 minutes.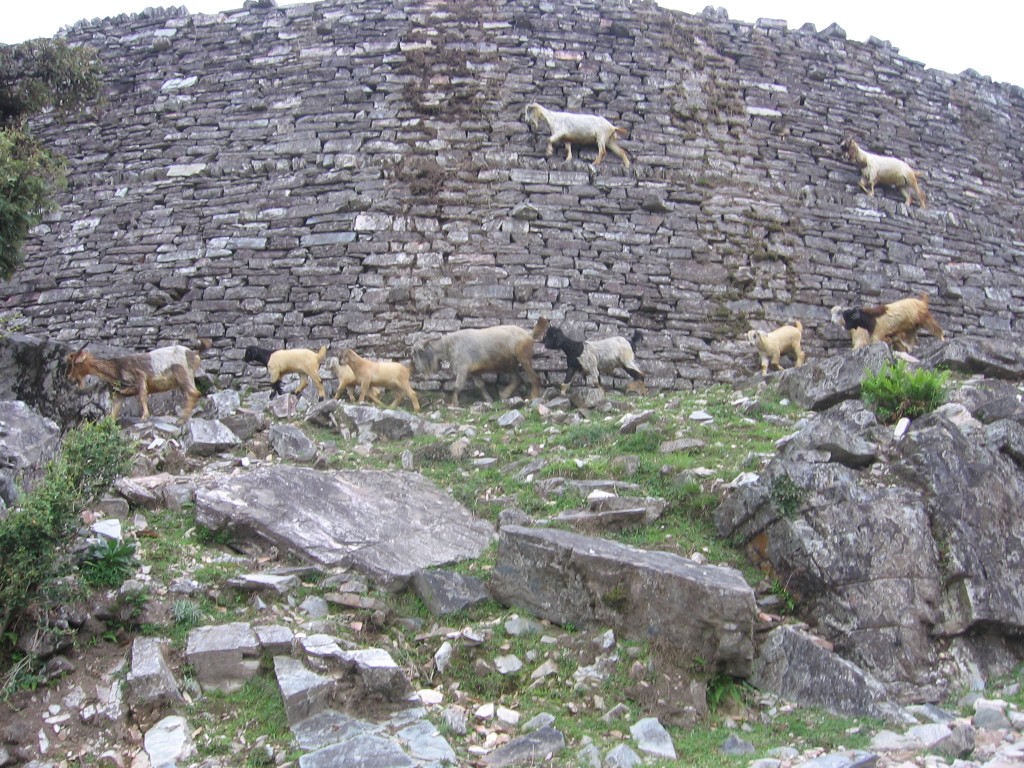 At the camp we were greeted by a group of around ten mountaineers, all of them from HMI, Darjeeling. The group was led by a retired Colonel and an active mountaineer along with a practicing middle aged Doctor and a die hard mountaineer. They were impressed with us as we gave them an impression of we being impressive trekkers.
Day 3: Loharkhet to Khati (19 km trek)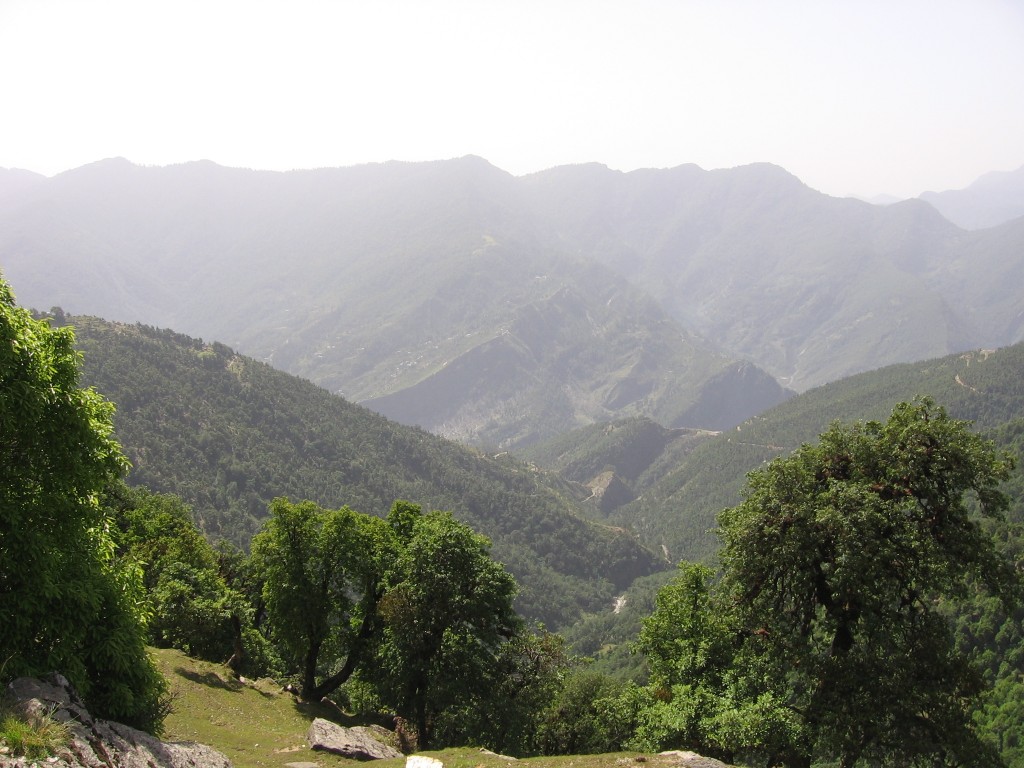 And so the trek began finally, through the "landslided" path into the amazingly green and refreshing forest as we walked sprightly towards Dhakuri, where we stopped for lunch.
We were tired. Already!!
Oh! The other "unsmart" decision was to pack our rucksacks very badly. These bags were bloody heavy as we carried lot of stuff not required for a trek (like heavy novels/books and stuff I don't want even to write her to invite ridicule and amusement at my expense). We were carrying three bags for the two of us (???). We somehow managed to "re-pack" and just carried two bags with us (one of which I had to carry, obviously) leaving the one at one of the guest houses. Ideally, the weight of the rucksack one is carrying should be between 7-10 kg. I clearly do not want to tell you how much our bags weighed for the same reason I mentioned.  By the time we managed to reach, and "manage" is the keyword here, both of were dead tired and cramped out completely. After stretching (highly recommended, evening tea, soup and dinner in quick succession we crashed for the night.
Day 4: Khati to Phurkia (19 km trek)
It was definitely cold here in Khati as compared to Loharkhet. As we woke up in the morning we decided to further repack and leave one bag here and collect it on the way back.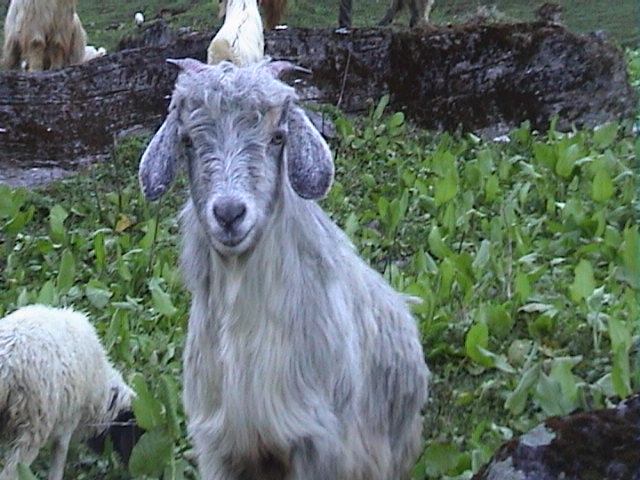 It felt lighter today while walking, while I still carried the small backpack. We walked through the green meadows amidst herds of snowy white herds of sheep stopping at a tea stall near the river for the refreshing hot brew. We crossed icy streams and overtook pony-riding trekkers making there way towards the glacier. We felt good as we didn't need a pony to get there.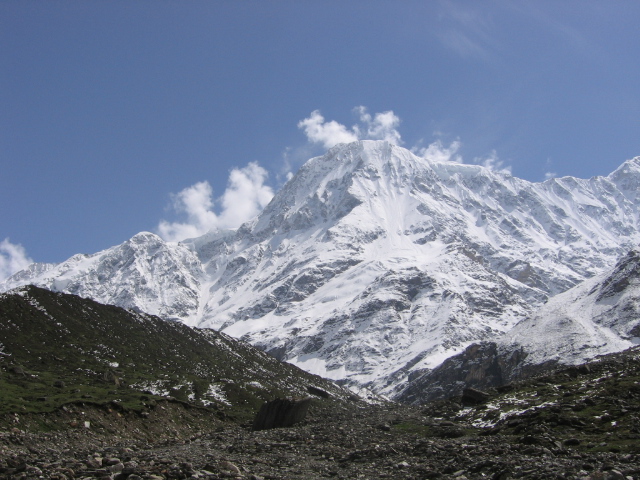 We stopped for lunch at Dwali which is at midpoint from Phurkia. We could now see the various peaks from a distance. When we reached Phurkia late afternoon the sun had already disappeared replaced with dark daunting clouds accompanied with the chilly breeze and some rain.
The temperature in the night had dipped to as low as 5 degrees Celsius as we discovered that the rooms didn't have any electricity.
Day 5: Phurkia to Zero Point – Dwali (19 km trek)
We woke up really early at 5 a.m.. Everything was freezing as we put every possible warm cloth we could get on ourselves and started walking towards the zero point, nearest one could get to the Pindari glacier.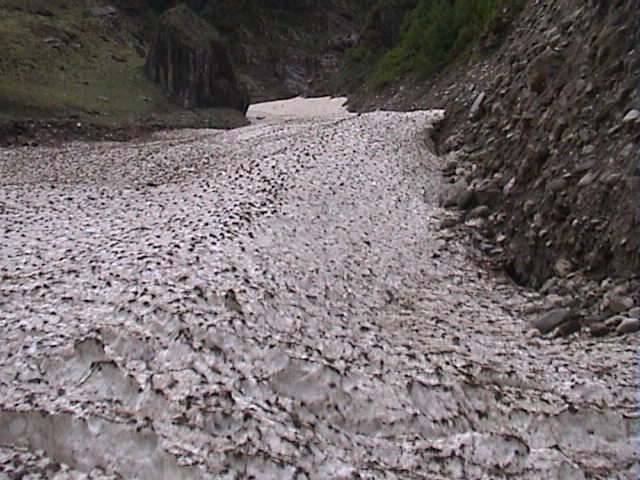 There were other trekkers in their monkey caps who accompanied us. The air was thinning as we approached the point. In two and a half hours of climbing and walking we reached the ashram of Pilot Baba located at around 2 km from the  base of zero point.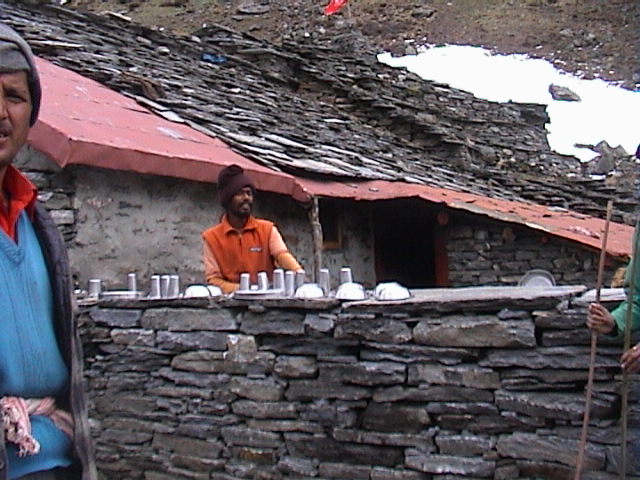 We stopped there for tea and some snacks. Pilot baba is a sadhu who was once upon a time an Indian Air Force pilot (that's why the name). He now lived in this small hut with his disciples and offered tea and snacks (for free) to all the trekkers and passers by.
We were enthralled to hear his story and his magnanimity as he spoke to us. He was well educated and seemed very content.
After the snack, we made our way to the Zero Point and stood at the edge of the point (which had a steep fall at all the three sides) closest one could get to the glacier.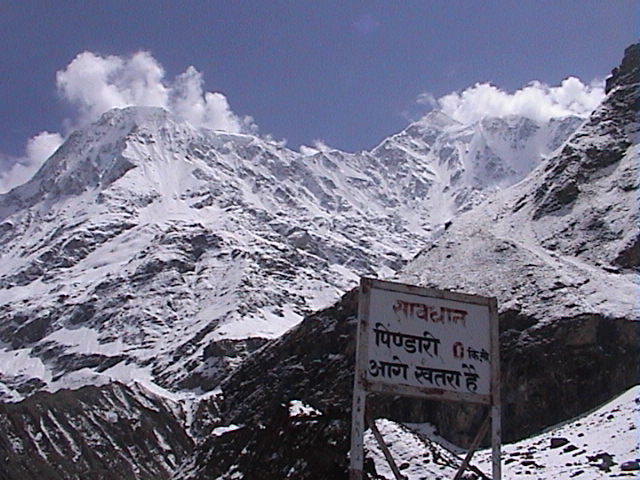 After the usual photographs and euphoric exclamations of "yay, we did it" et al we walked back to Phurkia. After a quick lunch, we walked all the way back to Dwali.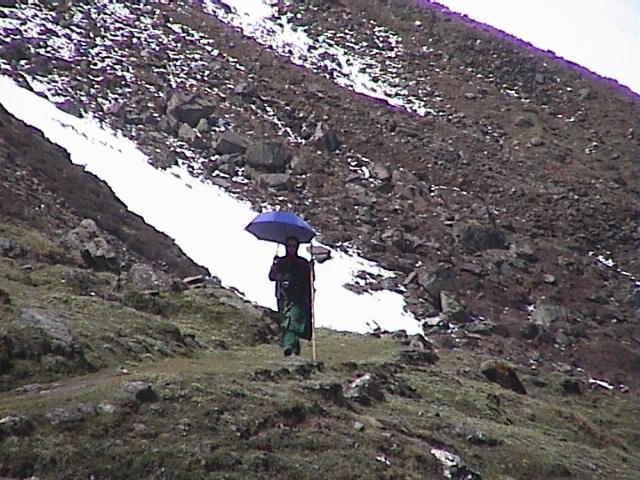 Day 6: Dwali to Dhakuri (19 km trek)
Since we were retracing the route on the way back everything looked familiar, even the fauna, like some young mushrooms, which we had observed while passing this place had now grown.
We had lunch at Khati and walked towards Dhakuri. What we observed on the way back was a huge group from Pune with lots of kids. Our guide and the tea stall chappie mentioned that lots of school kids do this trek every summer. We were embarrassed about our lack of fitness.
Later in the night at Dhakuri, we had a scare of our lives as in the middle of the night we heard somebody constantly banging the door of our room from the outside. Having heard lots of ghost stories from the locals, I reluctantly went near the window and this time without any reluctance shouted out to our guide. We discovered it was a dog (a huge one), who apparently occupied our room when it was empty. There was a suggestion that the dog could sleep in our room to keep him quite, only to be unanimously brushed by us. Anyways the dog was taken away and we "cautiously" slept keeping a watch after every hour.
Day 7: Dhakuri to Bageshwar (14 km trek, 40 km by bus)
Next morning after the sumptuous breakfast we walked towards Loharkhet. The food by the way in these KMVN rest houses was awesome with vegetables – fresh from the garden and rotis and rice amazingly tasty. We reached in the afternoon and after a quick lunch we walked to Saung and took the bus back to Bageshwar.
What started out as an impossibly tiring and "crampy" turned out to be a highly satisfying, refreshing one after experiencing the nature this close with all the forests, the greenery and the snow capped peaks.
This was clearly an inspiration years later to co-found Rustik Travel, a sustainable experiential travel company and plan similar trek, expeditions and experiences.

Download the eBook – Pindari Glacier Trek: In the beautiful Kumaon Hills