Prologue
AMS – Acute Mountain Sickness
HACE   – High Altitude Cerebral Edema
HAPE   – High Altitude Pulmonary Edema
The briefing was in progress. The dal bhat (lentil soup with rice) routine (for every meal) including for the dinner was over. The group was sipping hot ginger lemon honey tea rather quietly. The mood was somber. And so was Sunand, our expedition leader as he was explaining the dangers of high altitude trekking and related illnesses. I had gone through this routine many a time before in my earlier treks and so had some of the team members.
Unnoticed, Sunand slipped one more quietly.
"And then there is this one more kind – HAPT."
He smiled mischievously at his deputy expedition leader (wait!! That's me!!!).
To the uninitiated, criminology has long ignored "eyebrowology" – that is the science of raising one's eyebrows, which may reveal a particular emotion that can be interpreted appropriately.
A student of human emotions and an amateur detective myself (ahem!) I looked around the room to study the various reactions.
Unfortunately, the multiple pairs of eyebrows were covered with woolen caps or balaclavas, as all of us were keeping our head warm in this cold.
Fortunately, Sunand's left eyebrow managed to sneak out of his dirty balaclava, which was donning his head for a week now. He continued.
"HAPT is High Altitude Pelvic Thrust."
This time one didn't have to consult the awesome science of eyebrowology to interpret the varied range of emotions that just poured out.
"And what ees zat?" Cried out the two Frenchmen (Thomas and Francois) in unison.
Sunand doesn't let go of such opportunities and he jumped on it.
"HAPT is a new type of condition seen in the high altitudes wherein the trekker tries to ape Bollywood stars. The HAPT phenomenon originates from Bollywood movies esp. the dance sequences in the snow & mountains where the actors (and particularly the actress who is wearing lesser no. of clothes than required in that cold) dancing with the pelvic thrust move. One of the best songs for this kind of move is "Ta thaiya ta thaiya….naino mein sapna…." from the movie Himmatwala featuring Jeetendra. Most of the Yashraj movies shot in Switzerland….."
Sunand was unstoppable as he rolled in one PJ after the other. At that very moment I knew that it is going to be one hell(arious) trek.
Annapurna Circuit Trek Route (starting from Besisahar)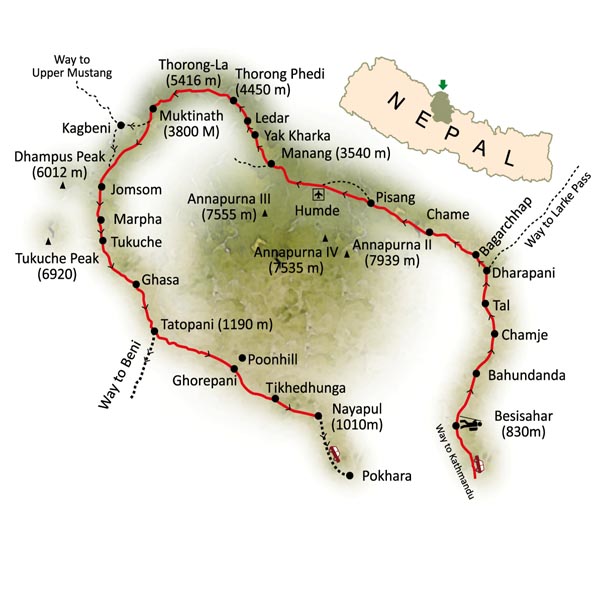 Day 1&2: 5th-6th April 2014: Thamel, Kathmandu (1,350 m/4,430 ft)
The moment I landed in Kathmandu, I knew that my lifelong dream was about to come true. Annapurna Circuit is the Holy Grail for trekkers around the world. The 210 km horseshoe-shaped route circles the heavenly Annapurna range. This roundabout route passes through quaint villages, scenic forests, some treacherous passes, holy pilgrimage sites, exotic flora and fauna and not to forget the majestic Dhaulagiri and Manaslu ranges (both having eponymous eight thousand meter high massifs). Like the crusaders the trekkers come in hordes (more than 40,000 every year) from all around the globe to experience the beauty and spirituality of the place.
One of the best parts of this route is that one doesn't have to return the same way, as has been the case with most of my trek routes in the past.
Rustik Travel, a sustainable experiential travel company had organised this trek and we were looking forward to this experience.
The team landed in Kathmandu almost at the same time. Saby and Yogita were with me in the same flight. Both of them were avid hikers and were not new to the high-altitude trekking. I had trekked with both of them in the past. Great folks, great company, but enviable travel experience. Saby was taking a sabbatical for a year and was traveling across the globe starting with Bhutan just after the trek. Yogita, an old foe (J), who had already traveled to more than 32 countries and was presently stationed in Iran for her work (that's what she claims. It was the Caribbean Islands few years ago. You know what I mean). As I write this something strange and familiar happens as green fumes gushes out of my ears. (esp. in context with Yogita. Please refer similar happenings during Stok Kangri Trek)
Varun and Sri, the dudes from Dubai, were very much new to Himalayan trekking and great chaps as all of us connected instantly. Sunand and Hari, our guide was at the airport to receive us. Hari incidentally was an economics graduate, a lecturer and was pursuing a PhD.
The car (thankfully a big Toyota mini bus and not the claustrophobic Maruti Suzuki 800 as it was last time I had come three year ago) swiftly took us to the familiar narrow and crowded lanes of Thamel, the backpackers' district in Kathmandu, also a shopping haven for all the trekkers' gears and clothes. I was quickly reminded of the long shopping list I had for the next day.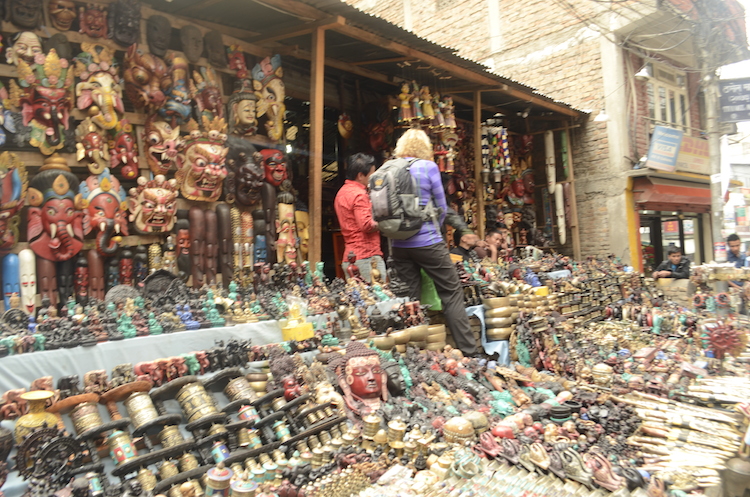 We finally reached our hotel and immediately got a taste of the hard climbing that was to come soon as we lugged our rucksacks to the fourth floor. Everybody swore silently as Sunand laughed loudly.
The next day we spent getting the permits for the trek (a must do for all the trekkers). Actually, that hardly took an hour as we spent the rest of the day shopping and bargaining (a must do again).
Shopping well done. I slept well that night after some attempt at clubbing.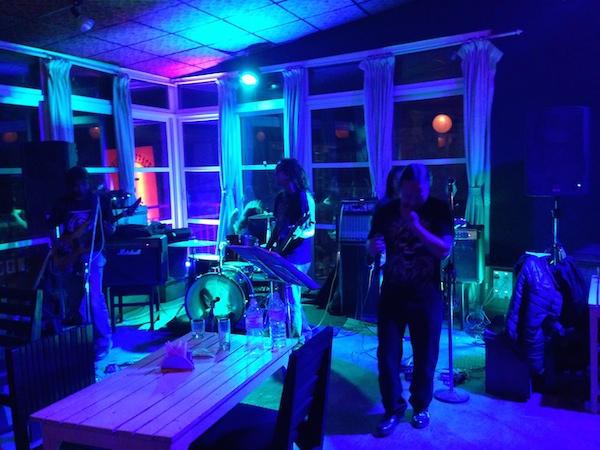 Day 3: 7th April 2014: Kathmandu to Chamche (1,385 m) 6-8 hours
The first day was not exactly a trek. We actually cheated to cover a bit of the distance of the circuit through road to save time crunching the 22-day trek to 14 days.
I dread the bus rides in the mountains and so I made it a point to act it out the motion sickness sympathy bit. As a result, I get the best window seat.
We meet other team members – two Frenchmen – Thomas and Francois, who have taken a year off to travel around the globe. They spent a month in Thailand and China and would be going to India after their stay in Nepal. Along the trail in the days to come we meet many such young people from across the globe who were travelling for months across various countries. What a great way to learn and know many things about the various cultures? It really opens one's mind and changes the perspective towards life. This trek would be a great classroom.
We meet our porters – Prakash, Chabilal, Thakur and Ravi – great chaps. All of them were from the same village in Langtang. Prakash, the youngest was in fact studying in college and was here for his summer break.
After a six-hour ride, we stopped at Besishahar for lunch (read dal bhat). It was a comfortable ride, but that's where the "comfort" left the road. The next part of the ride (3 hours they told us) would be in a beaten down monster of a vehicle. Thirteen of us were cramped into it with the porters on the top. My acting skills got me a window seat again. But that was just little consolation for the bum-inflicting ride on the path that was euphemistically called a road.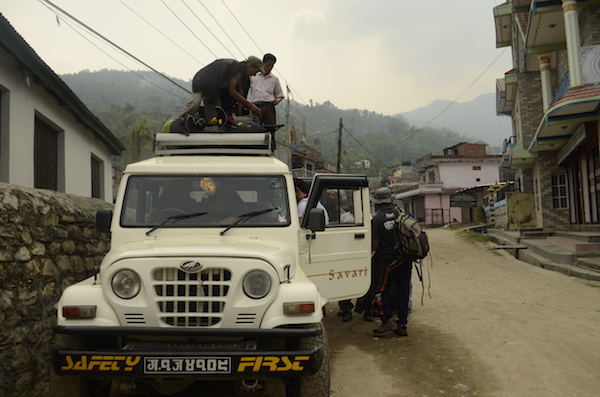 Half an hour into the journey, we are welcomed with heavy rains accompanied with a hailstorm. The 3-hour journey turned into 5 hours as we reached Chamche, our stop for the night.
We checked in to the tea house and straight into the dining hall with the staple dal bhat for most of the gang. We chatted with a cute Chinese couple over dinner who have come from well…China.
Day 4: 8th April 2014: Chamche to Dharapani (1,960 m/6,430 ft) 7-8 hours
Today's trek would take not more than six hours (plus the breaks). We walk on the "road". Yes, the continuation of the very same path that we took yesterday. There is a big project underway to connect all the points of Annapurna Circuit Trek (ACT) through road. Its great for the people and the villages along the way, but as trekkers we are horrified that we have to trek on the road. The romanticism with route dies. But wait there's hope. An alternate "classical trail" stays. Our guide informs us.
We stop at Taal (a scenic village with a lake) for lunch that takes almost two hours. I discover food beyond the staple Nepali dal bhat, thanks to the gastronomic experimentations by Sri and Varun.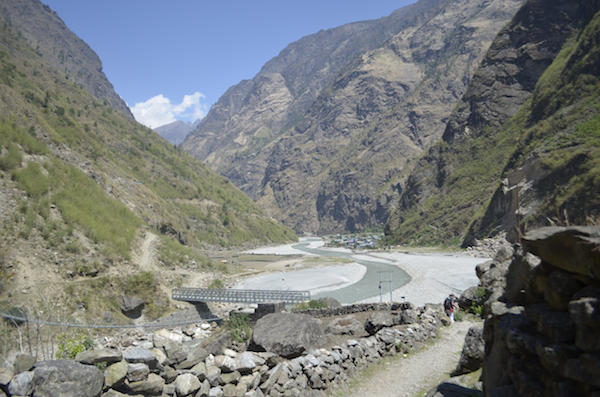 While I am a keen observer of flora and fauna (ahem!!), but I am forced to notice the flora esp. a poison ivy of sorts that has brushed against my hand and it itches like hell. This plant, I am told is also at similar altitude in the Alps in France and used for soup. It is delicious I am told. I scratch my hand harder. (One of the treatments recommended by the villagers is to apply mucous on the affected part….yuck!!!!)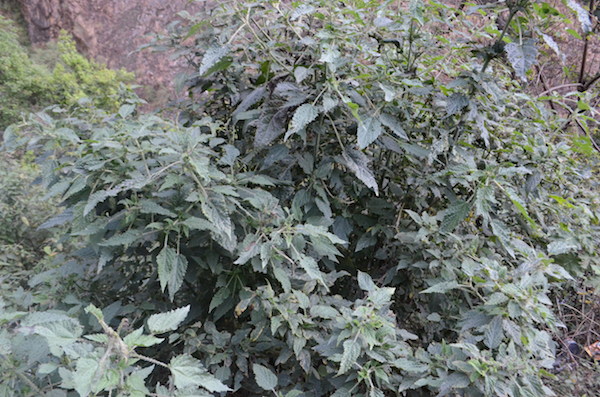 Well, then there is another familiar plant all over the place that I discover. Well, I am not the only one as all the others I the group notice it too. Man, this legalization in the US has really spread the news afar.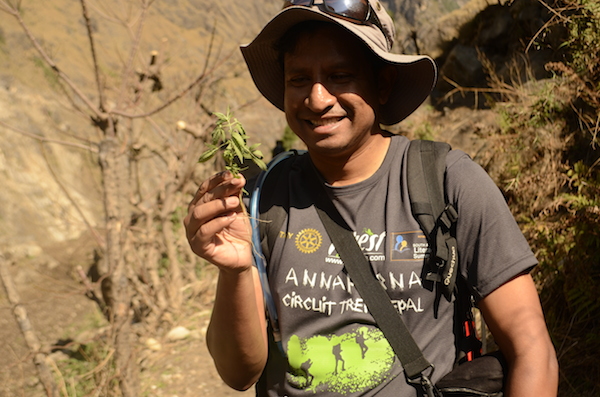 Later, at Dharapani, we pleasantly discover that our rooms have an attached bathroom (altho' a bit basic). Everybody bathes, aware of the possible bathless scenarios in the days to come.
This is luxury in context of any trek?
Wonder what more surprises are in store for us.
Day 5: 9th April 2014: Dharapani to Chame (2,700 m/8,890 ft) 5-6 hours
We start walking around 8 am. This is the fifth day and I am wondering where the hell are the mountains? And just then Hari points out to the overpowering snow capped Manaslu peak in the morning sun.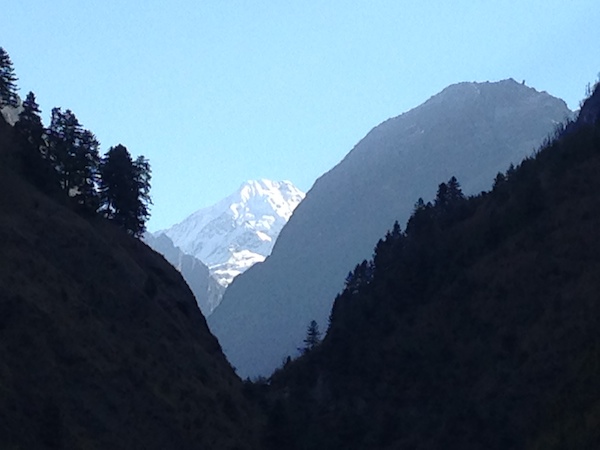 We walk along the highway as vehicles pass us by throughout the route tho' not too frequently. We see the old beaten classical trekking path running in parallel across the Marsyangdi river.
Quick lunch stopover at Timang with corn bread and vegetables is a welcome change from the usual dal bhat.
We walk, rather climb towards Chame as the steepness increases. We walk through the forests and along the way we are treated to some more scenic mountain views – Lamjung Himal, Annapurna II and Annapurna IV.
As we approach the Chame village we are welcomed by an aggressive thunderstorm followed by a hailstorm and snow that persists for a very long time. It has suddenly become very cold and we snuggle into our down jackets and fleece, warming ourselves in front of the earthen heater in the dining hall playing poker while the children outside are having a gala time in the rain. Brrrr…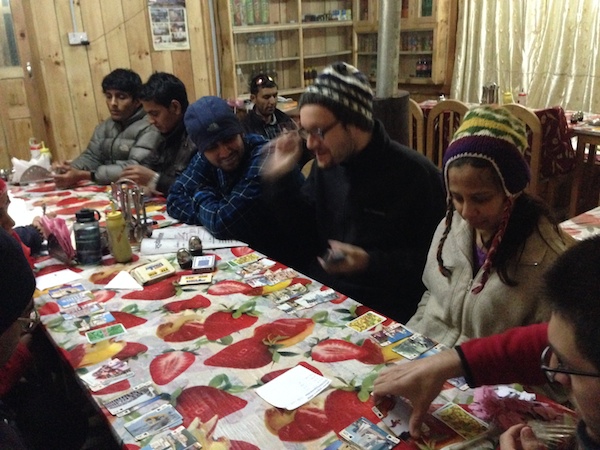 Day 6: 10th April 2014: Chame to Upper Pisang (3,300 m/10,824 ft) 6-7 hours
The peace, quiet, solitude and beauty of the place are the perfect stimuli for some deep meditating thoughts and introspection.
Wrong!!!
Food and discussions around it has been dominating our trek so far. We are spoiled for choice. While walking or even resting we are wondering what to have for and when to have the next meal?
So it was natural to start the day with an animated discussion on the same.
The burning question was whether to stop midway for lunch or not?
The reason was that we would reach Pisang early, have lunch there and thus saving time and possibly avoid bad weather in the afternoons.
It was unanimous (almost, except for the young Varun who voted against).
After two hours of walking after a decently sumptuous breakfast, I could hear our stomachs growling.
We had a quick vote again and overturned our earlier decision and stopped for lunch. And thank God we did. We were starving. The repetitive dal bhat looked like manna from heaven. It was more than that.
We were now officially walking along the Annapurna range, with Annapurna II and Annapurna IV in full view.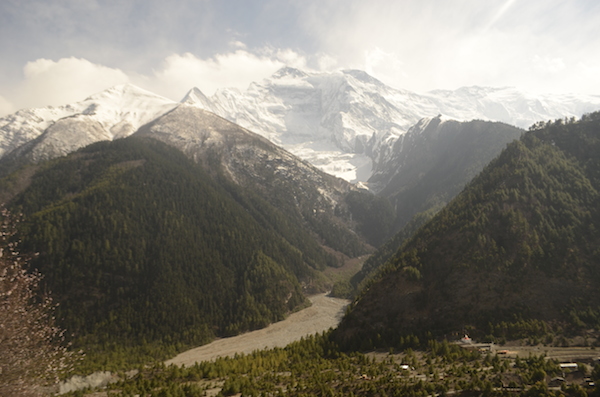 It was a nice walk through the alpine forest most of the time as we met other trekkers and porters along the way, along with school children gaily walking and singing (we heard the song pyaar vyaar hookah baar from a group of girls).
We climb towards Upper Pisang that a bit too steep. There was a monastery at the highest point of Upper Pisang and the view from there was breathtaking esp. of Annapurna II.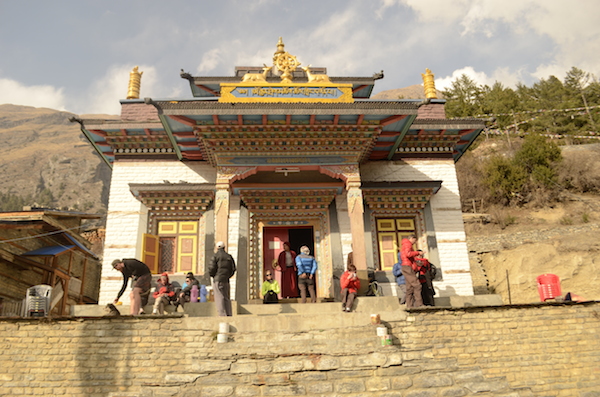 The gentle old monk (not to be confused with the rum) from the monastery ensued that our fill of hot lemon tea was never over while we were there braving the cold and strong winds.
Inside the monastery, Hari went on a story telling trip about the monastery and the Buddhist culture and the lamas and the demons and the….
I excused myself politely from the audience.
Day 7: 11th April 2014: Upper Pisang to Manang (3,500 m/11,482 ft) 7-8 hours
I missed my early morning visit to the monastery to take some pictures. The bed was too comfortable and warm. After an uneventful breakfast of Apple porridge (now this was quickly becoming the staple) we set out towards Lower Pisang and onwards to Manang. Today's trail passed through the alpine green forest with the daunting Annapurna III on the left. Annapurna I (the main peak) was still elusive. I felt like Maurice Herzog, who had scaled the first eight thousand meter peak – Annapurna for the first time in 1950 just after Nepal opened its borders to the world. Herzog and his team had a tough time finding Annapurna I.
We would see it soon. Hari promised.
The path was mainly the dirt road, which might become a highway one day. I felt nice to doing this trek before road covers the entire circuit.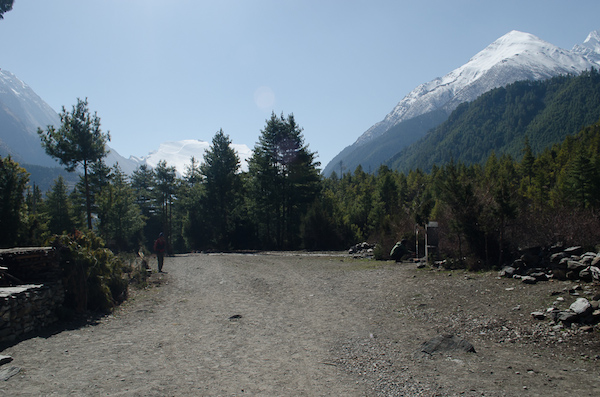 We stopped at Humde for tea accompanied with the delicious cinnamon rolls.
We chatted with the fellow trekkers. There were two Danish girls, and two guys (Dutch and British) who had met during the trek. Quickly stories were exchanged of travels, quirkiness in cultures and high altitude.
HAPT was rejuvenated again and that would continue to be so till the end.
We walked along the Marsyangdi river, an ever-constant companion that will eventually come to India (tho' not with us) and merge with the Ganges. We walked past a mini airport with a short runway primarily meant for rescues.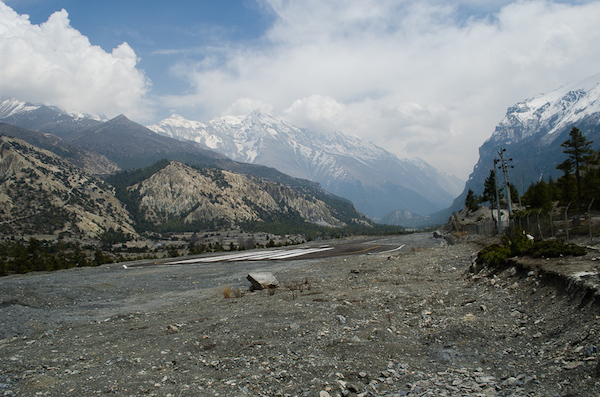 As we walked towards Manang, we were pleasantly surprised to find bakeries all over the place along the way all the way to Brakah (a great place to stop and have Apple Crumble and similar goodies). I was tempted but rushed towards Manang as it had started to snow, but in reality the stomach had started to growl and was yearning for the dal bhat.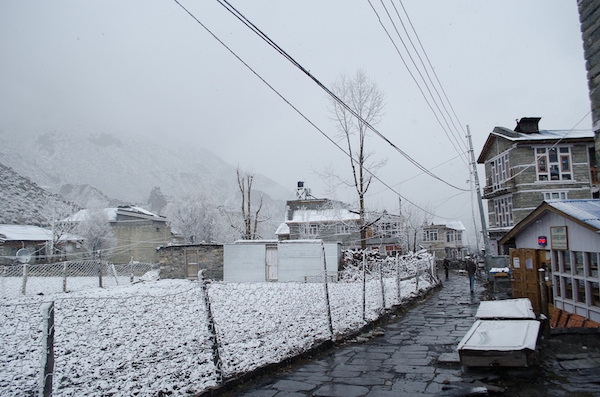 We stopped over at Tilicho Hotel, which was a big lodge that could accommodate more than 50 trekkers and more importantly, had one big fat menu. Going by the tasty dal bhat we had for lunch each dish in that menu looked ravishing as we parked ourselves in the dining room next to the heater and we played poker and had endless rounds of hot ginger lemon with honey.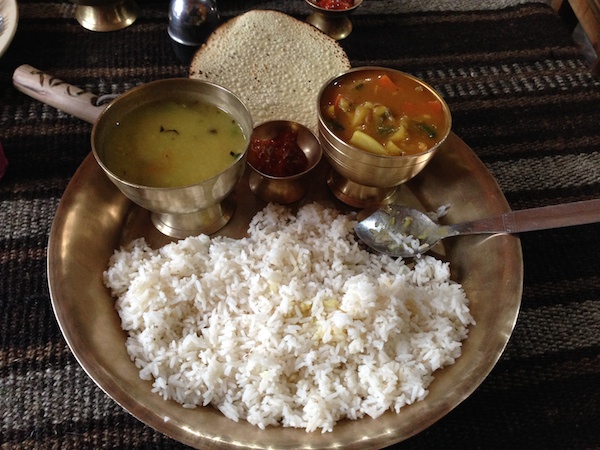 Day 8: 12th April 2014: Acclimatization Day at Manang
It was a rest day and we (only Sunand and me) woke up at 9 am and had a hearty breakfast of Potato Rosti along with freshly brewed coffee.
The rest of the group were already up and about. So at 10 am we set out for an acclimatization walk towards the Tilicho Lake. We climbed an altitude of around 300 m and were welcomed with a light snowfall.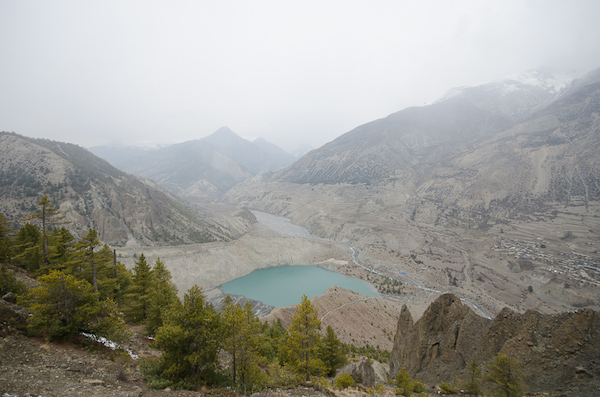 On the top we met a group of young Israelis who offered us mint tea. Amongst them was a mother who had travelled to be with her daughter (who was clearly embarrassed) for her birthday. She spoke to us about how the group had just finished their tough military training and had come out to connect with and explore the world.
Today was the bath day and I was lucky to have the last bucket of hot water. This time I had come prepared and had cut my long hair so the itching was less. (Please refer Everest Base Camp Trek).
Still a bath is so refreshing after so many days.
Later at 3, Varun took us – Sri and I to attend a talk on high altitude related illnesses, their prevention and treatment (and also to check out a cute volunteerJ).
Surprisingly, HAPT was missing from the list (I realized that Sunand wasn't there). The talk was conducted by a young doctor, Mike who was volunteering along with some others at Himalayan Rescue Association (HRA).
After the talk we explored Manang. It was a beautiful town with coffee bars, bakeries and well stocked up shops. Internet was available but at a huge premium. Back in the tea house we grabbed the best seats next to the heater.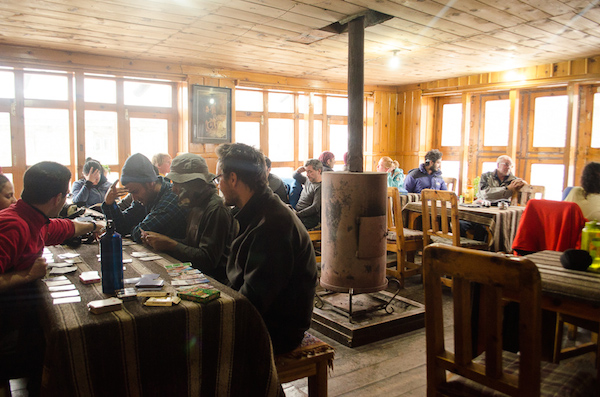 Tomorrow, we start early at 7 am as the weather is getting unpredictable post 10 am.
Day 9: 13th April 2014: Manang to Yak Kharka (4,050 m/13,287 ft) 3-4 hours
It was overcast conditions when we started very early in the morning at 7 am. For once we were on time (this included the Expedition leader – Sunand and the Deputy – me). Thomas and Francois couldn't hide their surprise to see us so early. Along the way we saw some porters lugging really heavy logs. I was reminded of the hardworking Sherpas and how they manage earn their livelihoods braving such harsh conditions and even risking their lives in many instances.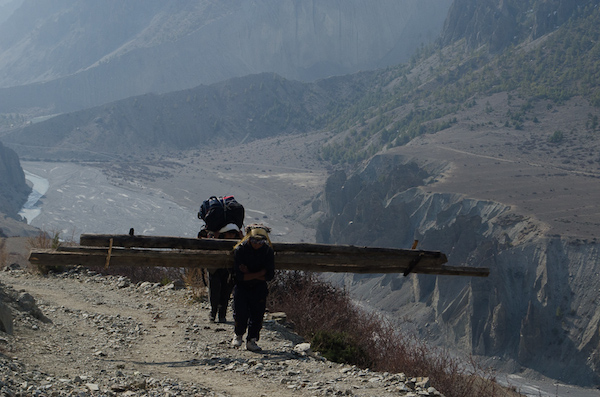 We climbed out of Marsyangdi valley towards Jarsang Khola and Ghunsa. We passed a few pastures, a patch of juniper trees, and the flat mud roofs. After crossing the river, we passed an ancient Mani wall (religious carvings on stone slabs) before entering the Yak Kharka.
Yak Kharka is a small village with great views of Tilicho and Jullu peaks.
Somebody remarks – there is not a single Yak around.
(We are speechless) Clearly, altitude is getting to us all.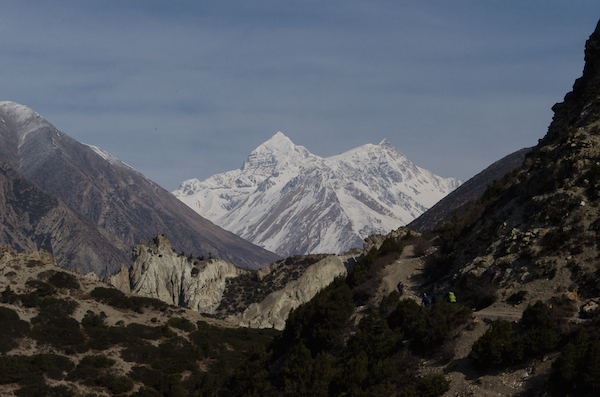 At the Tea house Sunand checks with the group about their health esp. his favourite question about input-output – what one is eating and what one is excreting. He delves on this topic for a long time giving the opportunity for PJs from him and Varun. However, most of the folks in the group seem to have altitude related symptoms and headaches. We are at 4,050 m after all.
Drink water and fluids is the advice yet again and rightly so. We go overboard on hot ginger lemon tea and garlic soup as we grab the best seats in the dining hall. We finally meet a couple of Indians who incidentally have quit their cushy corporate jobs and taken a sabbatical.
There is more talk on the impending Thorung La pass (5,416m) crossing the day after. It is not going to be easy.
Day 10: 14th April 2014: Yak Kharka to Thorung Pedi (4,600 m/15,092 ft) 3-4 hours
It was very cold as we woke up really early to start at 7:30 am towards Thorung Pedi. Pedi in Nepali means bottom.
Immediately jokes surfaced on the meaning in context with the human derrière.
We were going towards the bottom of Thorung La pass.
The climb was gradual and Hari had warned us about the falling stones from the mountains because of the sheep walking above us. Nothing of the sort happened and Hari walked ahead sheepishly.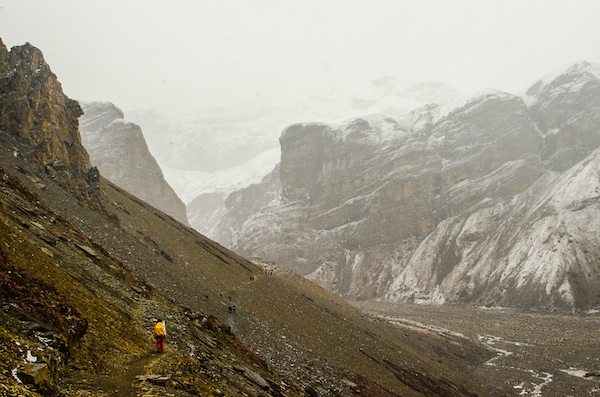 It was very cold and sky was overcast. We along with our daypacks were covered with rain cover in case it starts to rain. The clouds looked ominous and it drizzled with snowflakes. The high altitude was taking its toll as we struggled to walk.
We finally reach Thorung Pedi and we immediately check in at the Tea house. I am taken aback as I enter the dining hall. I thought I heard music. I thought I heard Bob Dylan followed by Bob Marley. The dining hall was one hep place managed by the cool Rastafarian proprietor and his American wife. And the food was to die for (incl. the dal bhat). It was really surreal to have this place at such high altitude. It definitely has my vote for the surreal highest tea house.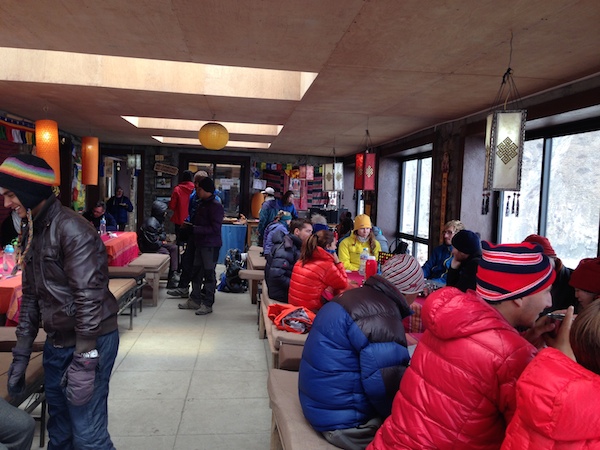 After lunch we went for an acclimatization walk up to the helipad, some 150 m higher. Many trekkers went all the way to the high camp at 4800 m to get an early start tomorrow to cross Thorung La pass.
We had an early dinner (Yogita and I had agreed to split meals so that both of us were able to taste different types of food). After a rather prolonged briefing we split to catch up on an early sleep. The high altitude symptoms were very much evident amongst the team members. I packed up my stuff reducing as much weight as I could from my daypack and tried to have a sound sleep unsuccessfully.
Tomorrow is going to be a long day.
Day 11: 15th April 2014: Thorung Pedi to Thorung La (5,416 m/17,769 ft) to Muktinath (3,800 m/12,467 ft)
There is a loud banging on the door. It's Hari, our wake up call. I check my watch. Its 3:30 am. Sunand (who is also my room mate) and I take our time to get up and are in the dining hall in 20 min to find everyone already assembled there. There are other group of trekkers who are also starting at the same time. With our headlamps in position we start out in the dark. We are wrapped up with layers of clothing from thermals to rain-wind stopper (Gore-Tex material and all that). However, it is still very cold. We start climbing to discover after a few metres that it is pretty steep.
Hari has gone forward while Sunand is bringing the rear. I am trying hard to catch up with Hari ahead along with Varun. My head is pounding with heaviness as my lungs gasping to catch as much oxygen from the thin air. I use my learning from earlier summit climbs. I set targets, count steps, take rest and repeat the process. It is pretty mechanical but very effective.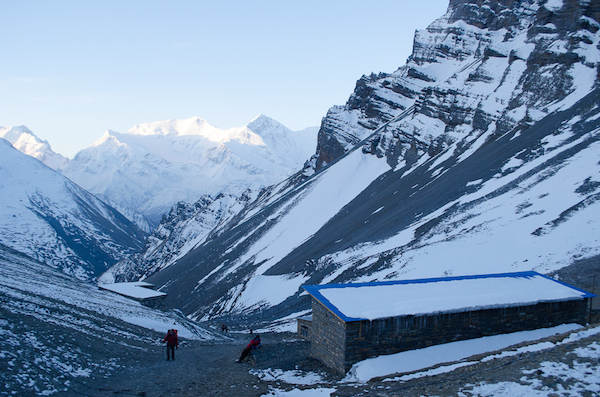 We reach the high camp (4,800 m) in one and half hours and I quickly get inside the tea house for a quick ginger tea and some hot water for my canteen. After an hour the rest of the groups catches up and we start walking together in the same order. In ten minutes, round the bend the snow line starts. We were not exactly prepared for this. We expected snow to be just on the pass. However, we move ahead. Luckily the snow is not too deep and since its early morning it is hard. We have moved quite a bit ahead and suddenly we realize that Sri is missing from the group. Sunand decides to wait for him till we see Sri coming behind on a thin narrow snow ledge treading very slowly and cautiously. We breathe a sigh of relief.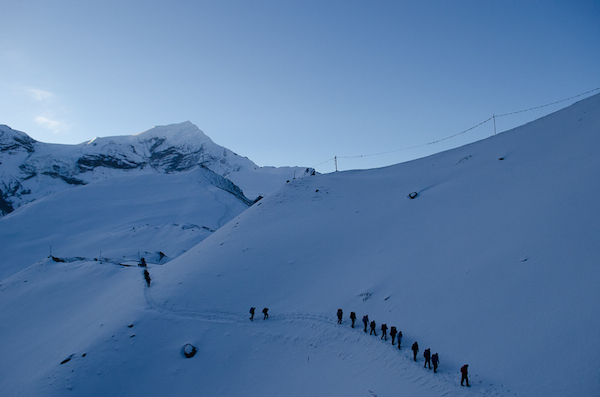 Next four hours are just excruciatingly slow walking on the snow. As we gain altitude it becomes even more difficult to breathe. However, everyone egging each other to move ahead.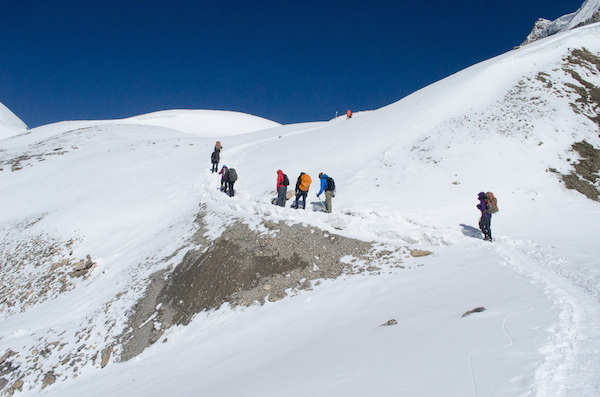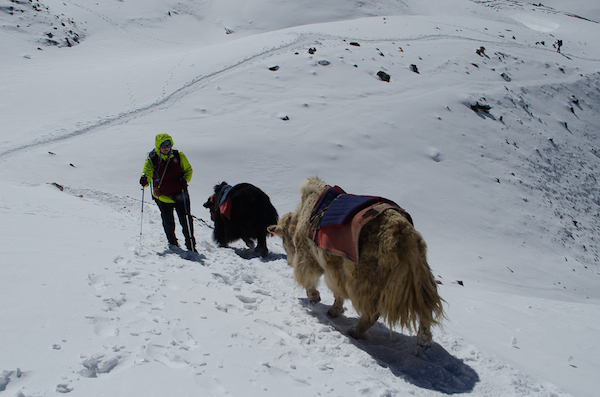 The sun is out so it was not very cold. However, the stark whiteness of the surroundings is too much for the eyes to take. I ensure that everyone wears shades. Without them snow blindness would've been inevitable, as it happened to one of the fellow trekkers in a different group.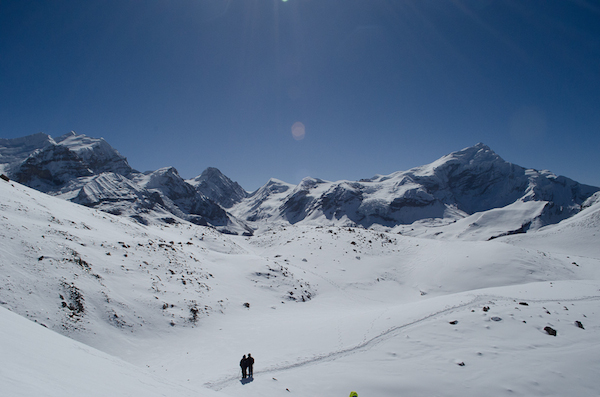 Finally, on top of Thorung La we quickly take snaps, sing the national anthem and even pose for HAPT with an impromptu dance.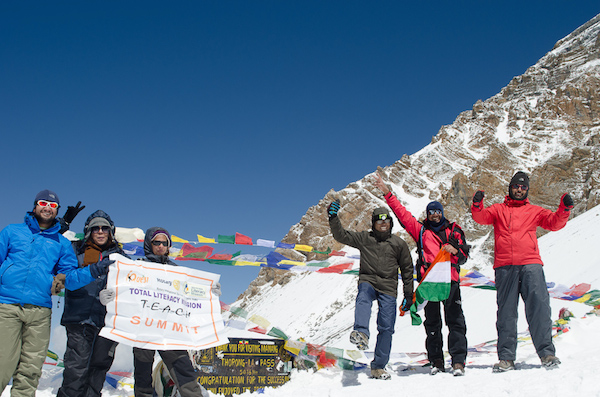 The view from the pass of Dhaulagiri and other mountain ranges was just breath taking and we would've loved to spend more time there had we been not out of breath (read oxygen).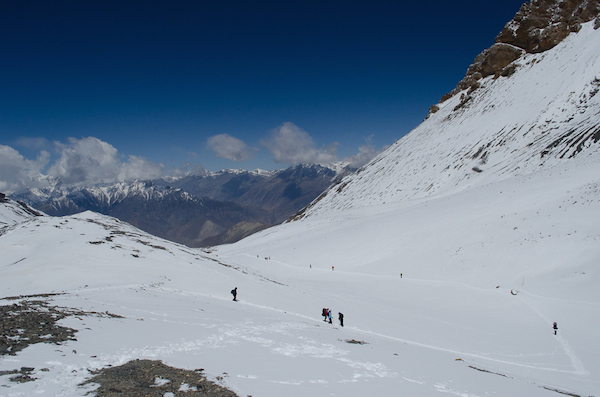 We rush down to find out the hard way that you can't just rush down on the snow and esp. in the day when the sun is out and snow is melting. Our sore and wet bums after slipping multiple times on the snow bear testimony to the preceding statement.
Yogita and I tear away from the group. It still takes both of us a long time close to three hours to get down to the village Pedi where Hari is waiting for us.
I was starving. We were surviving on chocolate bars, couple of boiled eggs and dry fruits since morning. A hot noodle soup was just filling for another one hour trek to Muktinath from there.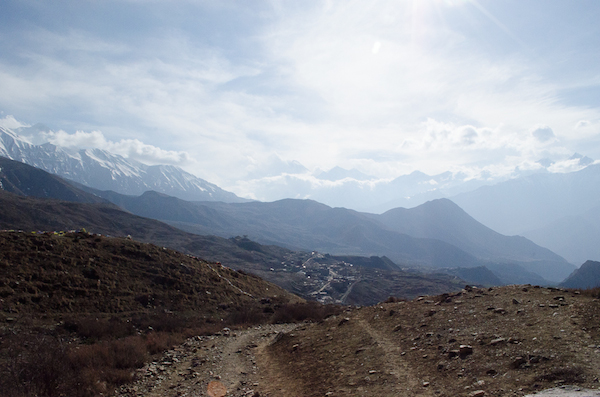 We checked in at Monalisa tea house (yes very much inspired by the painting).
Hot shower was just what one needed to not only clean days of bathless dirt accumulated but also reduce the tiredness and stiff muscles (some of them I didn't know existed before).
Later at dinner everyone was relieved that the "worst" was finally over and we celebrated with some more dal bhat and garlic soup and a disastrous attempt to get some hot chocolate at the psychedelic Bob Marley Hotel (yes, you read the name right).
Apart from the tiredness, everyone was fine now that we were at a lower altitude of 3,800 m.
Day 12: 16th April 2014: Muktinath to Tatopani (1,200 m/3,937 ft) 7-8 hours
In all the melee of previous day trek, we had completely forgotten to explore Muktinath, the town, whose name means "Lord's Salvation,". It is one of the holy pilgrimage places sacred to both Hindus and Buddhists. It is dedicated to Lord Buddha, who incidentally was one of the ten avatars of the Hindu God Lord Vishnu. A Buddhist nun managed the innermost chamber housing the deity and the main temple priest was sitting just outside that chamber. Completely, unheard of in temples anywhere in India.
Surreal!!
What was more surreal and familiar was the saffron clad sadhus and their chillums (joints) smoking pot near the temple.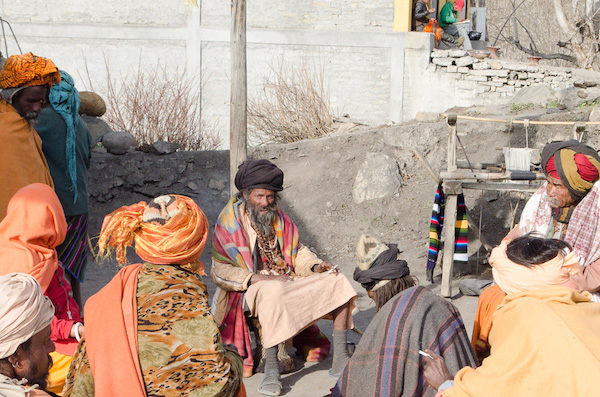 Pilgrims from distant villages in Nepal and India gather in a temple complex where water shoots from 108 springs and a natural gas flame burns on top of water in one of the temples. There is a continuous flow of Indian groups flown in through a chopper and ferried by motorcycle taxis.
Hindus believe that Muktinath is the only place on earth where the five elements (earth, wind, fire, water, and sky) exist in their distinct forms. Hundreds of worshipers bathe in the fountains, ring bells, anoint each other's foreheads, or simply look on reverently.
Note of caution: One of the rituals require devotees to run around the temple below the 108 (really cold) water shoots and if that was not enough take dips in two kunds (tanks) of cold water again. Be wary of what you see or shoot. A particular devotee and his choice of clothing completely disproportionate to his body size, running around the water shoots screaming has scarred us for life.
After the early morning temple visit we set out towards Tatopani. This 64 km route via Jomsom is typically trekked during the full 22 day Annapurna Circuit. But since we had crunched the time to trek, we cheated and decided to go by road. Today, we drive along a plateau above the Kali Gandaki – world`s deepest gorge. We are already trembling.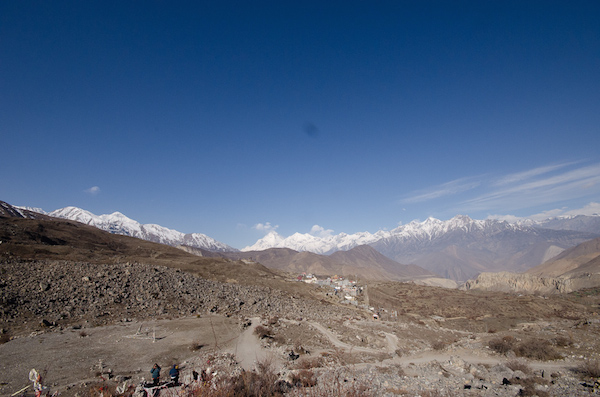 We would be changing the vehicles two times. We left Muktinath in a cramped jeep and after an hour driving over what any insane person calls a road (that included dry river beds, huge craters, trails) we shifted to a local bus, where luckily we didn't have many other passengers except for two friendly monks and an elderly Canadian who had set out to find an ATM (we wished him all the luck).
The bus was relatively a comfortable ride but alas good things in life don't last forever.
The next bus was crowded and uncomfortable. Hari and Sri used their power of persuasion to get empty seats for us (they moved the passengers to one side of the bus allowing us to move in to the other side).
Like always my acting skills ensured that I got the best window seats while Varun and Sunand bore the brunt (could read as bum also) sitting at the rear (literally). As the bus started to negotiate the mountain curves delicately, Francois reminded us of the multiple accidents that have happened with the buses toppling down in the valley into the river. Really we didn't need that. I hoped for some music and started to switch on my iPod only to be surprised as the driver played his playlist that comprised of Justin Bieber, Jennifer Lopez, One Direction et. al.
Now is that surreal or what?
Annapurna Circuit has surprises at every bend, nook and corner.
But this is not over yet. One hour into the drive and heavy rains lash out with full fury as the thunder storm is accompanied by frightening sound of lightning, that was very frequent and seemed very close by.
However, the bus chugged on. The music stopped as the other half of the passengers didn't quite "dig" it.
Silence filled the gap only to be broken suddenly with a huge thud on the roof of the bus and the windshield shatters into pieces.
A mini landslide small enough had caused this damage.
It was still raining very hard. The driver drove the bus away the danger area and closer to a village.
After a quick damage estimate, the driver continued in that lashing rain and cold windy weather till he reached Tatopani, that meant safety.
Sunil, our driver was a true hero and a life saver.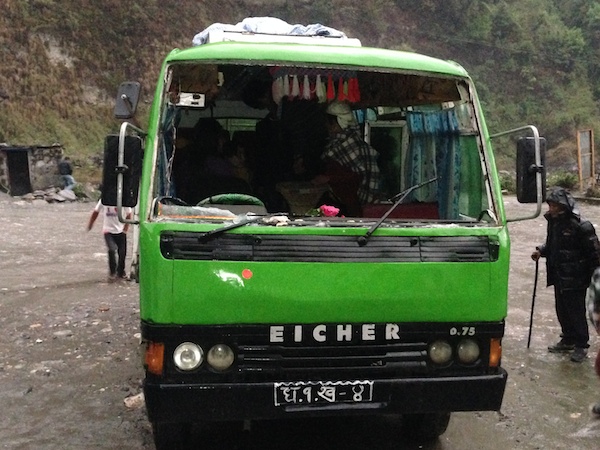 Surprise is one word that never leaves this trail.
We just didn't have any (mental) strength left. Quick dinner and sleep was all I needed and went for it. However, the boys – Varun and Sunand had enough strength to actually go and relax their weary selves in hot springs (or Tatopani as the place is better known as in Nepali).
Day 13: 17th April 2014: Tatopani to Ghorepani (2,850 m/9,350 ft) 7-8 hours
The trek to Ghorepani took us past the Pun Magar villages of Ghara and Sikha and their terraced farmlands, through Phalate and Chitre, and through beautiful rhododendron, birch, and magnolia stands. The surrounding peaks look wonderful, almost ominous, as they tower above.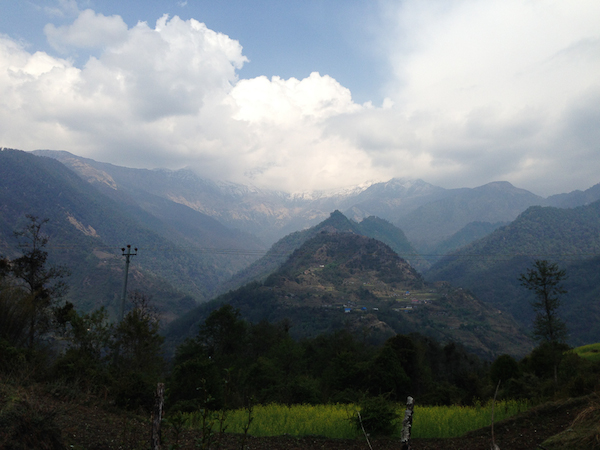 A beautiful gradual walk for four hours transformed into a mean and steep climb post lunch break. To make matters worse, it started to rain. Dripping wet and cold we climbed and climbed the endless steep steps into the forest and through the villages to reach Ghorepani. And wait the torment is not over yet as we had to climb many more steps to reach the top of the village where our tea house was located. The earthen heater in the dining hall helped dry our wet shoes, clothes and bag.
Day 14: 18th April 2014: Ghorepani to Poon Hill to Nayapul and drive to Pokhara (2,850 m/9,350 ft) 10-12 hours
The title itself indicates that it is going to be a very very long day.
Everyone in the group except for Saby ditches the plan to go up the Poon hill early in the morning for the view of the Annapurna and Dhaulagiri massifs.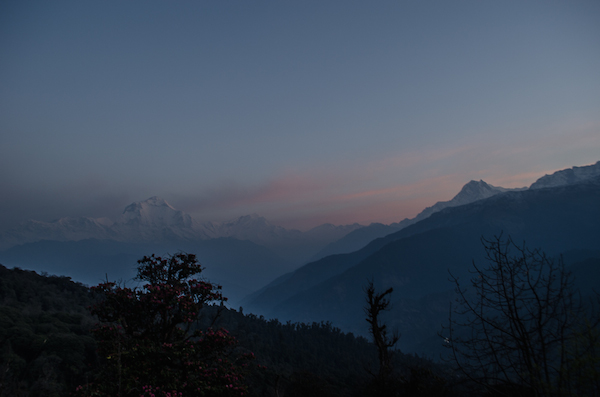 We see amazing views as we climb esp. a brief but great silhouette of the Machhapuchhre Peak (Fish Tailed Mountain).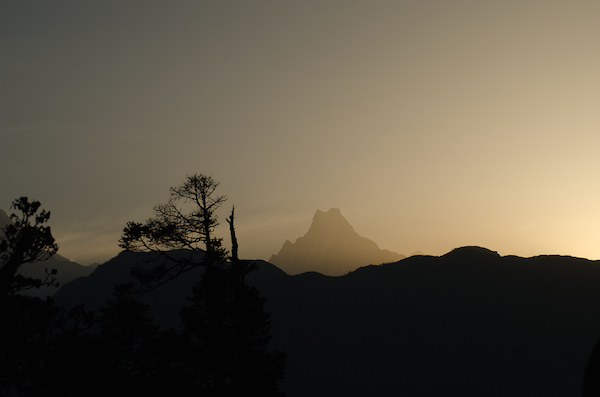 Waking up this early and again climbing for an hour is worth it when you see the view. I go berserk with my DSLR. The place is crowded as everybody wants a piece of the view.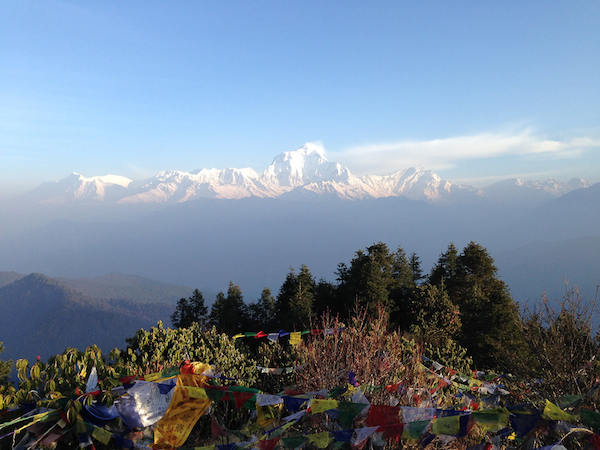 After quick rounds of selfies and HAPT induced posing with the mountains, we climb down back to the tea house, from where we tea house have to further climb down a great deal to reach Nayapul.
After the breakfast we have a group picture and bid farewell to Thomas and Francois who would be heading to a different trek route (one that is easier and not so taxing).
From there, our endless downhill trekking starts, which are mainly stone steps through the shady forests and villages. It is really hot and sweat is pouring incessantly. I am bored with this climb downhill so I strike up conversations with many guides I pass by (yes I am walking fast heh!). They are intrigued to know that I am from India and we discuss a lot of things – from Bollywood films to trekking routes in Nepal to politics.
We finally reach Nayapul. My plantar fasciitis is now killing me.
After a quick lunch, Hari uses his negotiation skills to get us seated in an eight seater SUV, in which 25 people cramp up inside and on the top. Another, change in the vehicle midway and we are on our way to Pokhara.
Pokhara was a fresh change from what Kathmandu had been. It was clean, seemed organized and had a great view of the Machhapuchhre peak that had been eluding me throughout the trek. We couldn't spend much time here but I would love to come back here in Pokhara to explore the city and the neighbouring trails.
We had a team dinner and next morning I took the morning flight from the scenic Pokhara airport to Kathmandu to take the flight to New Delhi.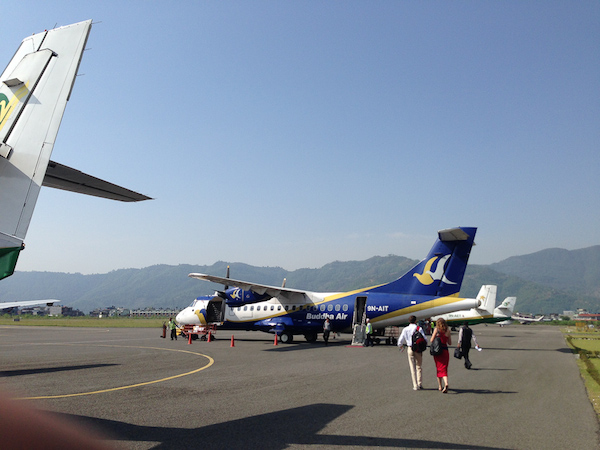 Epilogue
As I sit in the flight from Kathmandu to New Delhi, my thoughts still hover around the trek. How there is a surprise every day, at every bend, at every path and trail…? A regular Pandora's box.
I can't help but ponder that isn't life similar? Unpredictable and surprising all the time.
But one can't keep on worrying about what is going to happen next instead learn and enjoy the journey as we did at the Annapurna Circuit.
Dedicated to the hardworking people of Nepal.

Download the eBook – Annapurna Circuit: The Holy Grail of Trekking