Hutch Half Marathon 2005: Delhi's 1st, My 2nd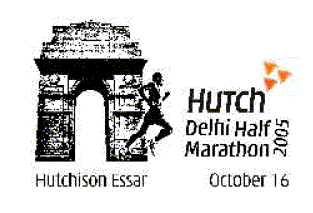 Discovered this post from my (old) blog, which I had forgotten to integrate with this (new) blog. Even though this inaugural Half-Marathon event in Delhi (now with a new sponsor – Airtel) happened more than six years ago, the experience is as fresh as ever and the memory grows stronger with each marathon I run. Hope you enjoy it. Here goes…
Pre – race day jitters !!!
15th October, 2005
I hope my tips come handy. Well, tomorrow is the D-Day and I am well not nervous but a little wary about my preparation. Although I have been preparing this for a month now, and with one half marathon (Bangalore half marathon in April 2005) under my belt I am confident that I would finish. However, my biggest challenge is to complete the 21 KM under 2 hours. (it took me 2 hrs and 5 min at the Bangalore marathon).
To top it all, I am at a client's place in Pune and I have to take this flight in the evening which will reach Delhi only at 10 PM…there goes my acclimitisation and much needed rest


Couple of days before a marathon, one should :
1) Drink lots of water,
2) Have a good carbohydrate diet
3) have lots of rest. NO running before the race …preserve energy
4) Have a good night sleep just before the race
After reaching Delhi. Well Delhi is warm even for October…tho' I have lived here most of my life but I feel that I may be losing out on the much needed acclimitisation…a look at the course and a good night sleep. I would be staying right next to the J Nehru Stadium, so I could do with that extra sleep.
Luckily my sister went and got my bib…and according to her it was hell…long queues with more and more people coming in for regn. At the last count some 25 K + people are participating in all the runs with some 5 K + in half marathon alone.
This is huge. I think Delhi and India has finally arrived on the marathon scene? There is a huge goodie bag with stuff from all the sponsors. There is a tracking chip which the runner has to tie to his/her shoes. this will track the time the runner will take. Technology…sophistication….way to go….
Race Day euphoria !!
16th October, 2005
I wake up at 5 am as my phone alarm rings…I put it on snooze for another hour….finally, I wake up, get ready and walk towards the stadium…..It looks like entire Delhi has converged here. And yes, as expected there is chaos. For almost half an hour, me and a group of half marathoners are shunted from different gates of the stadium as the officials and volunteers are clueless, where the race is going to start from. Finally, one knowledgable cop (a rare commodity in Delhi, BTW) guides us to the main gate where the race will start in next 10 min…whew !! that was close!!
so I use those 10 min of warm up, judiciously. Ideally, before a marathon one should :
1) Wake up at least 3 hours before
2) Have lots of water just aft you wake up
3) Have something light to eat (my diet – two bananas, glucose biscuits )- for much needed minerals and energy
4) Apply vaseline on the limbs…to avoid excess evaporation of sweat…therefore maintaining body temperature and avoinding cramps..
5) Have at least half an hour of light warm up which should include stretching exercises, a 1 km jog.
visit my page – http://hemantsoreng.com/blog/category/running/ for more tips and info..
Finally, the half marathon starts. Boy !! its a carnival !!! 20,000 participants and an equal number of officials, volunteers, spectators. Boys and girls, young and old, everyone is here.
The key to a successful half marathon is
1) Keep a constant pace throughout, get into a comfortable speed and maintain till the end.
2) Do not speed in the beginning trying to overtake. I don't think you are trying to compete with the Kenyans here, but you are competing against yourself, the incorrigible human spirit.
3) Avoid drinking too much water.
4) Enjoy the run.
All along the course there were people who were partcipating in their own way, cheering the runners. It was a beautiful course, right in the heart of Delhi, though some stretches like the Rajpath stretch of 2-3 km was really tough with no shade or tree cover. I guess the heat did me in and I slowed down my pace…finally I crossed the finishing line…it was awesome…my sister and my 2 nephews were waiting at the finishing line.
I clocked 2 hour 8 min, slower than my Bangalore half marathon time…but the silver lining is that I finished the race and was ranked 275th of a total of 5000 runners. Yes I do feel good about that.
You must be thinking that what a crackpot I am…I travel all the way to Delhi (buy expensive flight tickets) to run 21 Km in Delhi's sweltering heat…..am I nuts !!!! Yes I am nuts , nuts about the running !!! you would be too….you have to be there to believe it !! I am definitely coming back….to be part of history…to carry forward the undying and ever strong human spirit !!
ciao, see you soon