Auroville Marathon : Feb 14th, 2010
Auroville (City of Dawn) is an "experimental" township in Viluppuram district in the state of Tamil Nadu, India near Puducherry in South India. Auroville was founded as a project of Sri Aurobindo Society on Wednesday 28 February, 1968 by Mirra Alfassa, "The Mother" and designed by architect Roger Anger. Auroville is meant to be a universal town where men and women of all countries are able to live in peace and progressive harmony, above all creeds, all politics and all nationalities. The purpose of Auroville is to realize human unity.
And in this serene township the third edition of Auroville marathon was being held this year.  Auroville marathon is one the last marathons of the season in India. The next one would only happen post summer. So I was very keen to run this one after completing my first full marathon and December and sadly missing the Mumbai one in Jan.
At Auroville
We had registered well in advance.  Kiran for half and Aravind for 10 k. And on 13th Feb we set off in my car. Roy was driving with us to Pondicherry with his wife and daughter. We started at Madiwala and took the elevated road on Hosur at 7 am. 9 km of smooth driving was nice. We took the following route to Pondicherry. It was an awesome drive with very nice roads and music from my iPod.
Route : Bangalore to Pondicherry  via Krishnagiri and Tiruvannamalai
Distance: 320 Kilometers
Average Journey time: 5 to 6 hours
Bangalore-Sarjapur- Hosur(Bangalore to Hosur-40 Km)-Krishnagiri (Hosur to Krishnagiri 55 km on NH 7)- Kannandahalli(NH-66)-Uthangarai-Chengam(Krishnagiri to Chengam is 77 km)-Tiruvannamalai(Chengam to Tiruvannamalai is 35 km)- Gingee(Tiruvannamalai to Gingee 43 km)-Tindivanam (Gingee to Tindivanam 25 km)-Pondicherry(Tindivanam to Pondi 45 km)
This is the standard route. The road to Krishnagiri from Bangalore via Hosur is excellent through NH -7. From Krishnagiri as you leave the toll gate, cross the 1st flyover. Then just before the 2nd flyover take the left sided road which is parallel to the flyover. Remember not to go over the 2nd flyover. Then you have to take a left turn to a road that goes towards Chennai. After proceeding for about half a kilometer on that road, you have take a right turn to NH-66 that eventually takes you to Puducherry.
Stay
The dorms at Auroville were booked so we stayed at a new hotel, called The Neem Tree located on ECR road around 4 km before Pondicherry, while Roy moved onto Pondicherry hotel in Pondicherry (very original as I reminded him later)
Pre-marathon
The registration process was a simple one. We paid online at the website http://marathon.auroville.com. However, for weeks we did not hear from the organizers. Tho' we called and clarified our doubts. One week before the run we were sent a mail with complete details on the route, the start timings, how to collect bibs and even running etiquette


After a quick lunch we headed over to Auroville in the evening to collect our bibs.  It was a festive atmosphere at the place filled with the marathon participants. I did meet quite a few friends who had come out of town as far as Mumbai. We roamed around at Auroville, took snaps and shopped at the Kalki boutique.  Now Auroville produces a lot of eco friendly organic stuff. Items such as soaps, bathing salts, oil, fragrances etc. will always be a good buy from here.
Kalki Boutique : Inside the window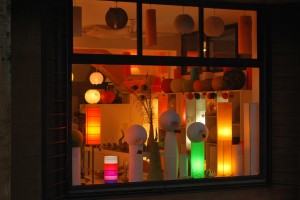 As the sun set, we also set off to our hotel, not before the boys (Aravind and Kiran)socialized with some of the Aurovillites and tried their Spanish/Mexican skills.  We had early dinner and by 9 we were sleeping.
Marathon day
Temperature at 27 deg Celsius and humidity at 60%
I was the first to wake up at 3:15 am and after waking up the boys, we reached Auroville at 4:30 am the reporting time.  It was dark and we were given small torches which we will use while running till the day breaks.  Kiran and Aravind would wait as their events  half marathon and 10 k would start later at 6 and 7 am respectively. I had couple of bananas before the race.
At the start
Kiran, Me and Aravind at the starting point
The marathon started right on dot at 5 am and I set off with a slow pace following a large group. 1 km down I checked my watch and I had clocked a very slow 7.5 min. I increased my pace till I was on heels of a couple (apparently from Auroville) who were running a very steady pace. 20 min into the run I was sweating profusely. The humidity factor was into the play.  I decided to take regular water and electrolyte breaks and keep on following the couple. Running alone would become demotivating.
As the sun rose at around 6 am I could see the route around me. We were running in the Auroville forest. The route was a mix of dirt trails with little bit of tarred road. There was greenery all around. We passed matrimandir, various residential sections, snack shacks and more. It was a beautiful route.
Along the route
Within no time (actually 2 hours 20 min) I crossed the half way mark (21 kms), one loop i.e. I will have to repeat the same loop of 21 km again. It was so refreshing to see the route around which did not look repetitive at all. And I kept my pace and kept on running behind the couple. At around 30 km mark I stopped at the water station, and took a prolonged break spraying muscle relaxants on my ankles, Gluteus. Pocketed some bananas. Drank extra bit of water. From hereon I slowed my pace. I was way behind the couple and I decided to slow down my pace. Somehow, I crossed the 36 km mark and was feeling the muscular cramps. It had been four hours now, since I have been running and it had become hot. I focused on the music and set small milestones. I walked after each water station for a few meters, stretched and ran. After the 39 km mark the last of the water station, I picked up my pace and it coincided fortunately with some fast paced songs on my iPod's playlist. I remembered the route and I ran on, overtook quite a few of the marathoners on the way and i finally crossed the finish line.
My time was 4 hours 52 min 25 sec. Slower than my earlier marathon (4 hours and 32 min) but neverthless more enjoyable.
Aravind and Kiran were elated at their own performances. Their firsts. They had breakfast incl. a failed attempt at "Hungarian goulash". Incidentally, they failed at their attempt at "Mexican Nachos" the evening before. Not quite upto the continental fare, I guess!! 😉
After the run (phew!!)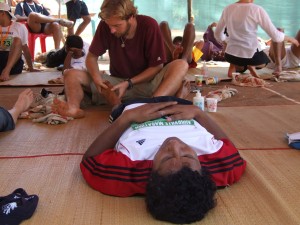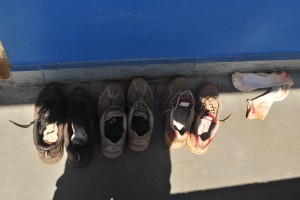 Kailash, the masseur, my savior !!
The organizing committee had arranged for salt water where one could soak one's feet and yes, massage as well courtesy the volunteers from Auroville. Thanks to Kailash (from Germany) and two others, I was back on my feet to head back to the hotel.
Later in the evening we went to Pondicherry, walked by the sea and celebrated our run with a dinner at the Lighthouse, The Promenade. And yes, satisfied the huge cravings for ice cream.
Well, the boys were not too happy with the portions and continued their dinner at Mr. Bean. Wow !!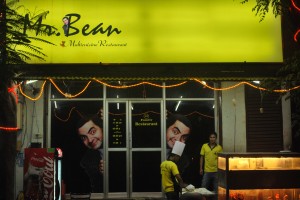 It was a satisfying experience. Milestones in life for all the three of us. A scenic and enjoyable run and of course the post run much needed massage !!
Kudos to the organizing committee at Auroville for a successful marathon.
We will definitely be back next year.  Till then….to more runs and marathons!!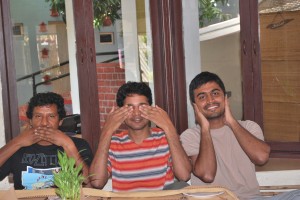 Me, Kiran and Aravind !! cheers !!