Exploring 25 places in Paris with A Desi
A view of this amazingly beautiful city of Paris through the eyes of A Desi, a fumbling and bumbling simpleton.
So, PB has been working in Paris and is now literally, a Parisian in the matters of style, fashion, demeanour and all that. I have been making multiple visits to Paris during the period 2009-2011 to visit her. As expected, a desi tagged along with me during these trips. My alter ego he is, they say. If it is true then it is shocking, I say.
Anyways, visiting PB gave me a chance to discover the city through places and monuments beyond the usual popular touristy ones – twenty five of them. Well, travelling with a desi, can't miss out on the popular ones as well, can we? *wink*
So here goes starting with the 25th one.
#25: 6th Arondissment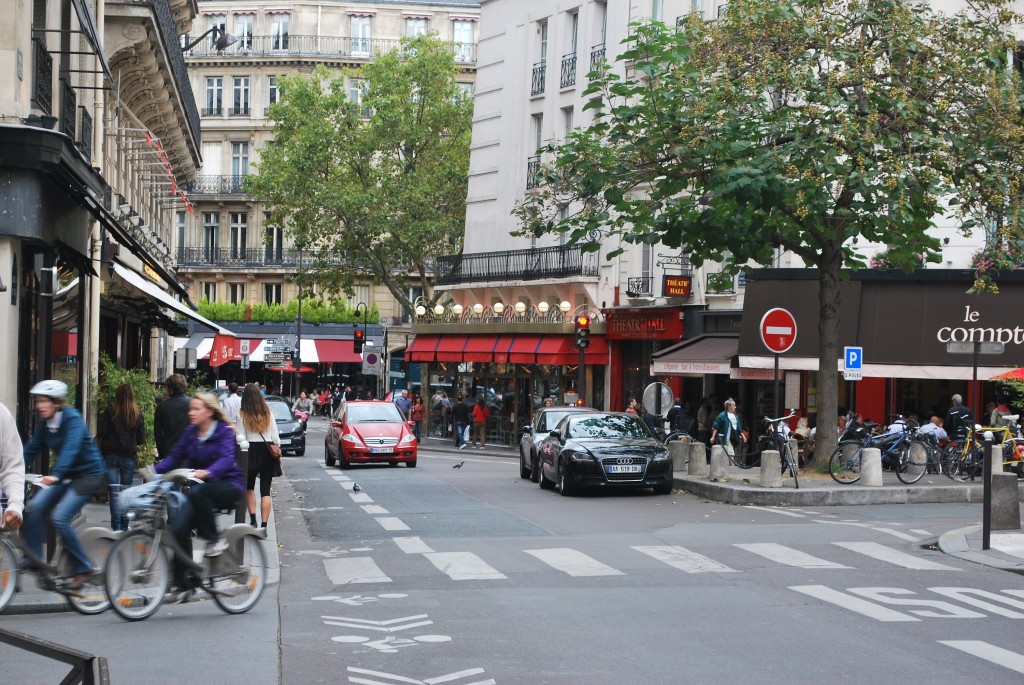 PB's cute apartment is in the 6th Arondissment in Paris. This tongue-twisting monster of a word actually means "administrative district". There are twenty of them in Paris. The sixth (as it is called more commonly) is actually a very lively place in the heart of the city swarming with happening bars & restaurants, cafes and revolutionary intellectualism & literature it has hosted. Situated on the left bank of the river Seine this central Arondissment, one of the richest districts in terms on average income, also houses historical riches – historic districts of Saint-Germain-des-Pres and Luxembourg, along with equally historical monuments like Saint-Germain Abbey and St. Sulpice Church (made famous again by Dan Brown in his book Da Vinci code).
This is where the exploration started towards our quest for the Holy Grail, or rather the Holy Grave.
#24: The quest for the Holy Grave at Pere Lachaise Cemetery
'You are a winner' – this is what a desi got to hear from everyone when he successfully cleared the entrance exam to join a reputed engineering college.
It was a big deal, at least in those days. Three years later.
'You are a loser' – this is what I think heard from the heavily made up, but pretty girls from the Delhi University clearly hinting at the despo-stag-lack-of-social-skills syndrome stamped on our engineering foreheads.
Desi didn't hear it as he along with his stag community continued to sing (more of shout actually) along with the local rock band.
"C'mon, baby light my fire" – they were now screaming out this old classic by the legendary band, The Doors and they held up their lit Zippo lighters singing each and every line of the song symbolically and rather foolishly.
Clearly, the group of girls to which this sub-show was aimed at, were not impressed as they left the scene with a huff, and I think with suppressed smiles as the look on their frowning and questioning faces asked this question, 'where do these losers come from?'
I sincerely wanted to answer the question, giving them the address of our college, but I was dragged into the dancing-singing (errr…croaking)-lighting zippo revelry by my fellow stags as the band started playing "Roadhouse Blues", another hit by The Doors.
This was the scene at every college festival and rock show. While there was not much luck with the girls in the coming years and future rock shows, however, there was definitely an increase in the music appreciation levels influenced by Jim Morrison, front man for The Doors.
'Music and The Doors. Isn't what its all about? Isn't that the reason we attended those rock shows.'
Desi was justifying this act, many years later at PB's apartment in Paris.
'Yeah, right!' I thought I heard PB's inaudible cringe.
He concluded, 'we need to go to the Pere Lachaise Cemetery, where Jim Morrison is buried and pay him our respects.'
The cemetery is actually in the 20th Arondissment. A bit far away but not too much thanks to the Paris metro, one of the oldest, busiest, densest (sorry can't think of anymore "ests") metro networks in the world, with 14 lines (mostly underground), 301 stations, running up to 214 km carrying 4.5 million passengers daily.
We took the train from Odeon and after changing some lines we reached the Pere Lachaise station. The cemetery was across the road from the station. From the small crowd gathered at the entrance in front of the cemetery map, one could make out that they were also searching for the Holy Grave.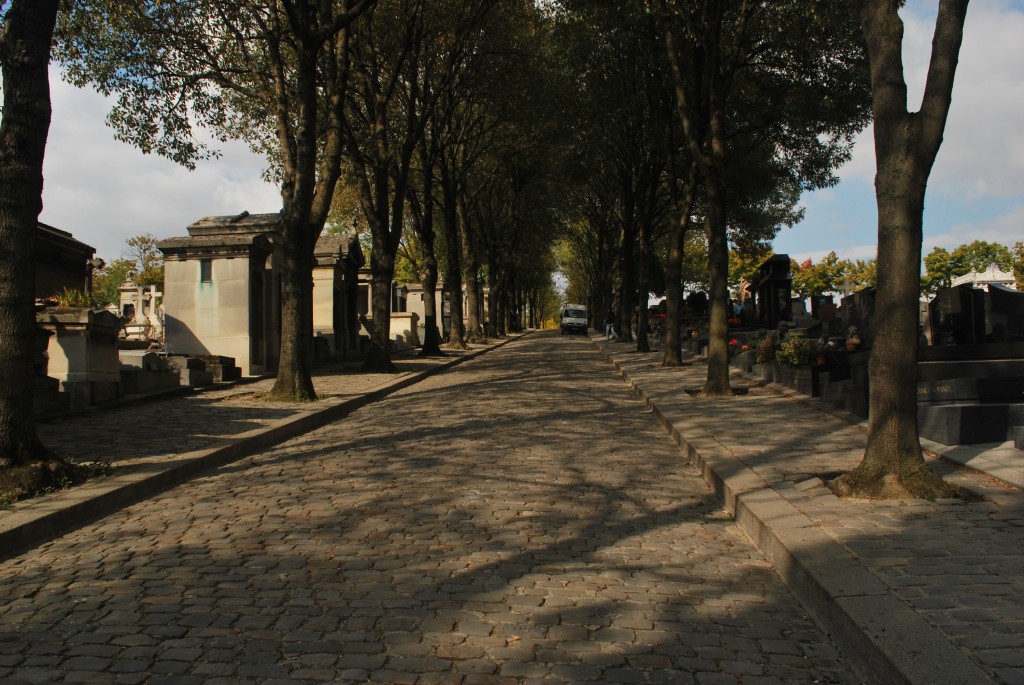 Desi was charged to see the small group, taking picture of the map to be use it as a reference to find the grave. And soon he led our much smaller group into the beautiful cemetery determined to find it before anyone else did.
'It should be a piece of cake. There would be graffiti signs all along the way leading to Jim Morrison's grave.'
One hour later of endless walking in the cobble stoned path of the 110 acre cemetery lined with overarching trees, there was no graffiti to be found and let alone the grave.
'It's like the elusive Holy Grail. Let's head back.' PB was now frustrated.
Not to be defeated, Desi walked back to the entrance and took the picture of the map using his mobile phone camera and grinned, 'now it will be a piece of cake.'
One more hour later, we had walked the same cobble stoned paths looking at the intricately "architectured" tombs of many famous residents which included many French celebrities and influencers and also the likes of JRD Tata and yes the inimitable Oscar Wilde. His grave was a masterpiece, a huge three dimensional rectangular boulder of a tomb kissed across by the fans. (However, the latest I hear is that those "kiss marks" have been wiped off and the grave has been enclosed with glass to prevent further "kiss marks".)
Still, no sign of Jim Morrison's grave.
PB, the Parisian she is and fluent in French, finally, in frustration asked the gardener, its whereabouts.
And in less than five minutes we were standing in front of a non-descript grave, tucked away from the typically grand ones in one of the inconspicuous rows. If we had not read the name etched in a small font on the small tombstone accompanied by a bottle of Heineken beer left by a fan, we wouldn't have recognized the grave.
While we stood there paying homage, I saw Desi's hand surreptitiously moving towards the bottle. A rap on the knuckle by PB impeded its progress as it made its way back into the front pocket of his jeans.
As we walked out of the cemetery we realized how beautiful and scenic it really was. Desi hit a pub as soon as were out and ordered a Heineken.
#23: A Desi "cancans" at Moulin Rouge
I don't know what fascination do these juvenile young boys have towards strip tease shows and cabarets. I remember my engineering batchmates who went to the US for higher studies (to study mind you) sent mails to us describing their experiences in Las Vegas. I didn't understand what thrill would they be getting…writing mails?
I didn't get it.
Now look at desi himself, he just couldn't contain himself when PB proposed lets check out a show at Moulin Rouge. I had a tough time controlling him and stopping him for pushing his un-athletic body to do some acrobatics.
Anyways, PB booked the tickets online after much difficulty as most of the days the show was booked.
We were all set. However, there was one catch we had to dress formally for the show. Desi and I typically roamed around in T-shirts, shorts and sneakers or floaters. Luckily we had a formal shirt and trousers, but no formal shoes. After much shopping around we picked up shoes from Greece (while we had gone for a short trip there) and lugged it back to Paris. The cost of these shoes was almost the same as the price of the ticket. Man!! I tell you!!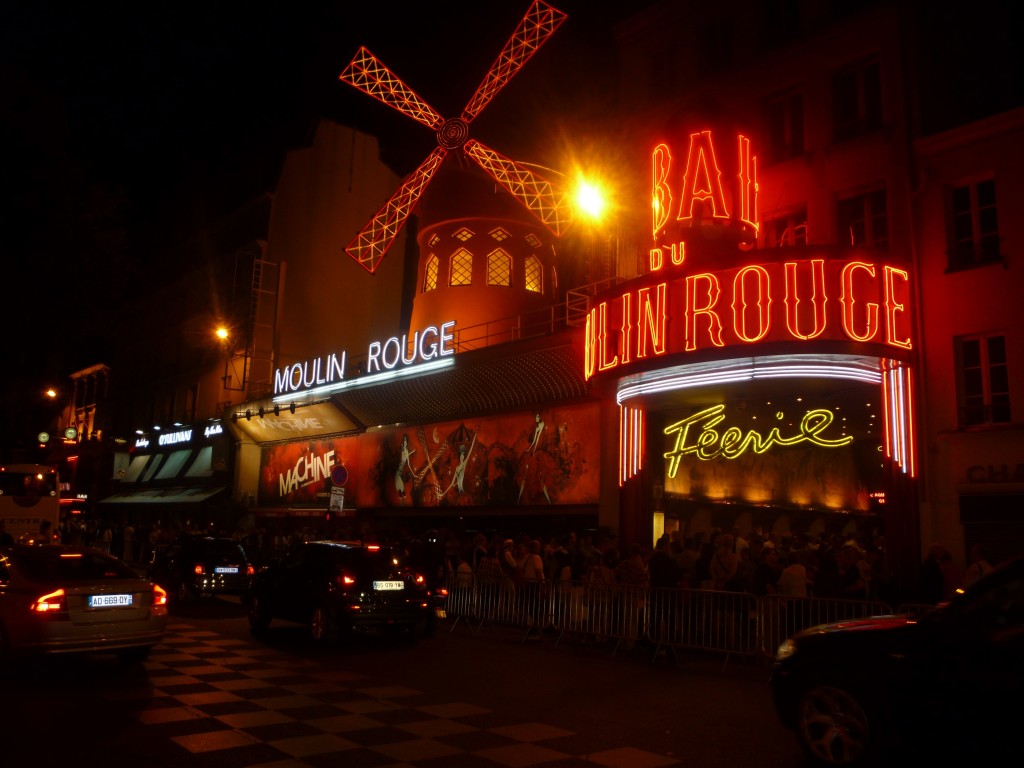 Anyways the D-Day arrived and in all our formal finery we made our way towards Pigalle, where Moulin Rouge is located. The reporting time was 10:30 p.m. and we reached there just in time standing in front of the giant red windmill making slow revolutions shining red against the night-lights.  We were politely told by the Moulin Rouge staff to wait in the queue. So we started walking towards the end of the queue watching people standing in the line to discover that most of them were tourists and were dressed informally. Desi and I wanted to throw a fit right there and then, and complain to the Moulin Rouge staff to evict all of these informally dressed oafs. However, none of that happened as we continued our walk, which just didn't seem to end. After half a kilometer (yes, I am not joking) we finally joined the queue.
After half an hour many people had joined behind us as I saw the line extending to more than a kilometer (yes, again I am not joking).
Finally, the line started to move and we entered Moulin Rouge, the oldest cabaret in Paris (started in 1889).
As we were entering the stern ushers took away the cameras. Desi managed to hide his small camera away from the hawkish eyes of one cute usher he was eyeing. PB eyed at him sternly as if to say, 'do not take any pictures inside'.
We were soon taken inside to our table by the usher (male and not cute). And soon the champagne arrived. As we sipped the bubbly, we looked around to the huge auditorium. It was packed. Yes we saw people dressed formally, but many were not, much to our annoyance.
The name of the show was Feerie, with 60 Doriss girls 1000 colourful costumes of feathers, rhinestones and sequins with beautifully choreographed acts and the famous French Cancan dance. It was an amazingly graceful show and not vulgar at all as one would associate a cabaret with.
The show was intertwined with skillful juggling and ventriloquism acts in between.
We didn't realize how three hours passed by as we made our way out after the show and were lucky to hop in to a cab driven by a very jovial Parisian.
#22: The Louvre
Museum exploration sounds more like cave exploration with Desi and I more like cave men trying hard to comprehend what's going on in this world of art and culture.
PB is obviously not from the cave and is well versed in these matters. "Pseudo art lover", "fraud" and similar names we called her, albeit silently in our minds.
'You are in Paris and have not visited the Louvre? Go and check it out. You should develop such taste.' She spoke out her mind loudly.
The last sentence was a fierce attack on our knowledge (or the lack of it) of the arts (however true it might be).
Our pride and ego were taking a beating. Not to be outdone we fought back with our smattering knowledge of this unfamiliar world, borrowing from a similar act we had played out a while ago in Paris, when accosted with the subject of wine in a restaurant with many PB's friends.
After reading about it on the web, Desi had made the usual swirling of the wine in the glass, made the embarrassing gurgling sound, with an unfamiliar expression on his face had declared, 'fruity, a bit dry. Bordeaux is it? Which year?'
And he changed the subject quickly.
Of course he had read the label of the wine bottle. However, he had passed with flying colours and was admitted into the wine club.
So, when we were bombarded with this artillery of art and culture kind, instead of shielding and cowering down under pressure, Desi fought back with mugged up lines from Wikipedia.
'Ah! The Louvre, one of the world's largest museums. Do you know that it is housed in Louvre Palace, which was a fortress built in the late 12th century by the king. However, after the French revolution, the government decided that Louvre should be used as a museum. So it opened on 10 August 1793 with an exhibition of 537 paintings.'
He had embarrassingly remembered even the dates. A look at PB's face showed that she was hardly shocked or impressed with all this information. She seemed amused.
Anyways, to prevent a further infringement on our line of defence, I came to our defence and suggested we visit the Louvre.
So we set out to this famous and ever popular museum. As we stand near the entrance of the complex we are invited by intriguing the inverted pyramid, made mysterious by Dan Brown's book "Da Vinci Code".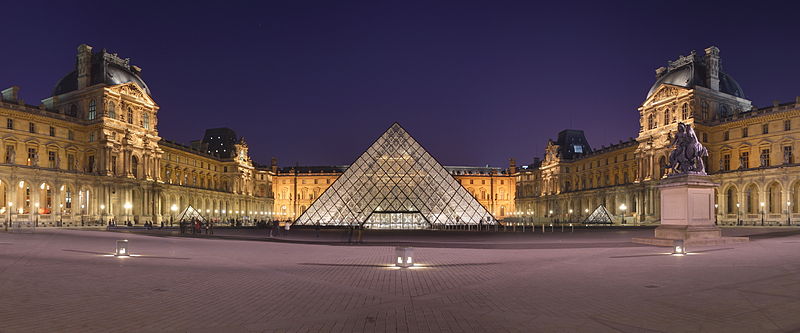 Inside the museum, we were lost not in terms of understanding the artefacts but in terms of the scale of the museum. We learnt that the museum contained more than 380,000 objects and displays 35,000 works of art in eight curatorial departments – Egyptian Antiquities; Near Eastern Antiquities; Greek, Etruscan, and Roman Antiquities; Islamic Art; Sculpture; Decorative Arts; Paintings; Prints and Drawings.
Massive!! Desi was already in a dizzy as he went around acting as if he was a genuine art connoisseur. At one particular painting he sat on the bench kept in front, for a painstakingly long time, till I heard a soft snoring sound from his direction. Fortunately, the snores were drowned in the din of the thousands of visitors to the museum.  It is always crowded like this. I was told.
Even the much acclaimed painting – Mona Lisa by Leonardo Da Vinci, which was displayed in a huge room in contrast to its extremely small size was full of people straining their neck to have that one elusive look at the painting. I literally strained my neck to catch a glimpse of the masterpiece through the different shaped and coloured innumerable heads of the visitors in front. I recognized a similar curly back haired head moving forward rapidly pushing away the other heads till it stood excruciatingly close in front of the painting there motionlessly and turned around to reveal a huge smile displaying huge set of dentures, as he took his picture with the mobile phone camera with the masterpiece in the back drop.
I saw the stern sign in the room 'NO PHOTOGRAPHY ALLOWED'. But do you think this would deter Desi?
It didn't as he went about exploring this awesome collection of paintings, sculptures and artefacts representing different cultures and civilizations in different periods of time.
The experience was priceless.  At the end of our excursion at the museum, which lasted for almost a day, our legs were tired, our eyes were bleary with sights of different paintings and sculptures and our head was buzzing with thousand GB of data (the file size of the images are actually very large, that's why).
Inspite of all this, I saw a twinkle in Desi's eyes. It was same mischievous twinkle I had seen when he bullsh**ted while performing his fraud wine tasting act.
#21: Desi having a coffee or café (?) – The Parisian cafes
Paris is well known for its café culture. The cafes have been around for centuries in some form or the other. Poetry, literature, political thoughts have been hatched over a cup of coffee in many of these cafes. The plethora of typical open aired cafes on the streets with people sitting "side-by-side" as Desi coined the phrase after seeing the chairs placed adjacent to the other facing the streets.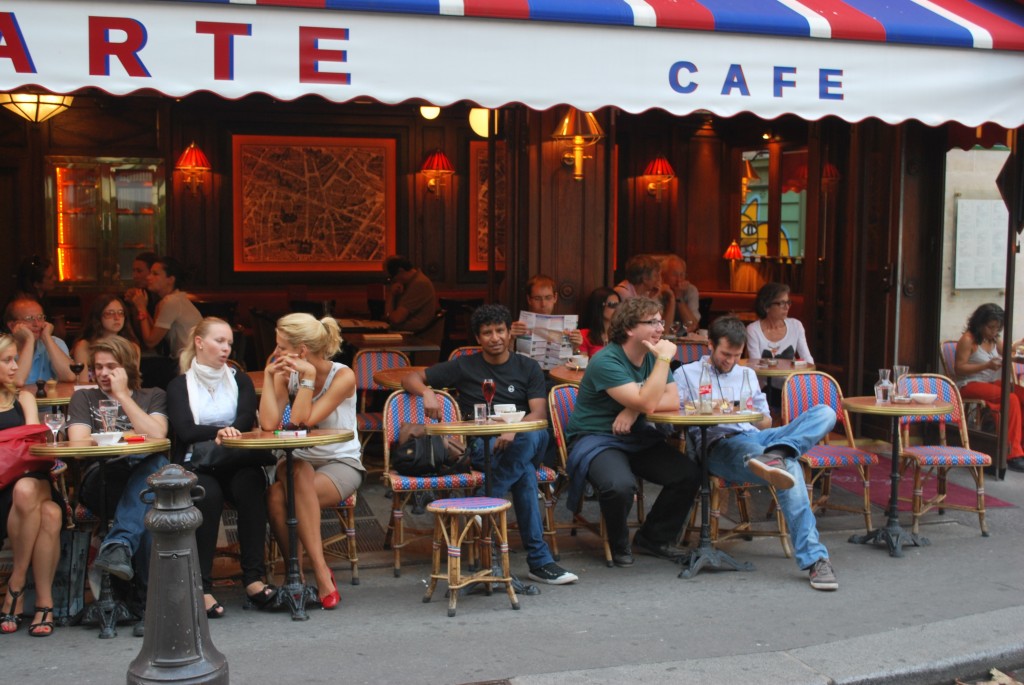 We were sitting at a café in the sixth. Desi was still suffering from jet lag and Euro-to-Indian Rupee-converting-syndrome for every purchase. He opted for something familiar and cheaper than the usual Cappuccino.
'I'll have an espresso.' He ordered confidently. And added 'Merci' politely. He was gushing with self inflicted pride, after all he still had the command over the language after clearing(?) level 1A three times(?) at Alliance Francaise back home, but never proceeded to the next level. Well that's another story.
However, any initiation of a conversation in French (or even when there isn't any) is responded with French.
And that's what the waiter did.
Desi suddenly lost his command over the language as PB came to his rescue. She told him, 'the waiter is suggesting that maybe you would want to have Café au lait (coffee with milk)?'
Desi was adamant. 'I would have espresso or nothing else.' So there.
He waited eagerly for the espresso coffee as his mind wandered off in nostalgia to the days in when he had tasted it long time ago actually. Hot coffee, with milk made frothy with the help of steam oozing out rapidly from a large rectangular steel contraption typically seen in Delhi at the roadside stalls and particularly at wedding receptions (along side the buffet tables). Those were the good simple days. Sigh!!
Desi's thought bubble was pricked by a naughty kid with a mischievously devilish grin as the waiter placed a small cup on the table.
He was disappointed with the quantity of the coffee given. It was definitely not value for money. And instead of hot steamy coffee, the cup, small cup (I'll emphasize) contained a very dark brown liquid.
He called out to the waiter, 'Monsieur', which came out as an inaudible whimper and sounded more like 'Masseuse'.
He had now completely lost the command of the language. And for such initiations of conversations there is no response in French (or any other language).
Desi drank the bitter concoction of coffee completely unfamiliar to his taste buds.
After a hearty laugh, PB proceeded to explain. 'In France, Café au lait is simply coffee with steamed milk and it's the same what we call Espresso in India, which is a little more "hot" and "steamy". In France, this is a breakfast item, however is available to the tourists at any time of the day.'
Desi quietly ate the humble pie he hadn't ordered.
#19 & 20: Champs Elysees & Arc de Triomphe
'Today we will be going to Champs-Elysees.' PB announced displaying her ever-prevailing shopping mood.
As if we had any choice. We displayed our ever-prevailing silent reaction on the matter.
'It's the most amazing street I have ever seen, with great looking shop fronts. Good pictures you will get.' She continued pointing at my SLR camera.
And soon we were walking on the famous, prestigious and the most expensive strip of real estate in the world.
PB was right about the shop fronts – they were really mind-blowing. However, I couldn't get a good shot of any of them. The place was crowded beyond belief.
'It's always like this. Bulk of them are tourists.' PB explained.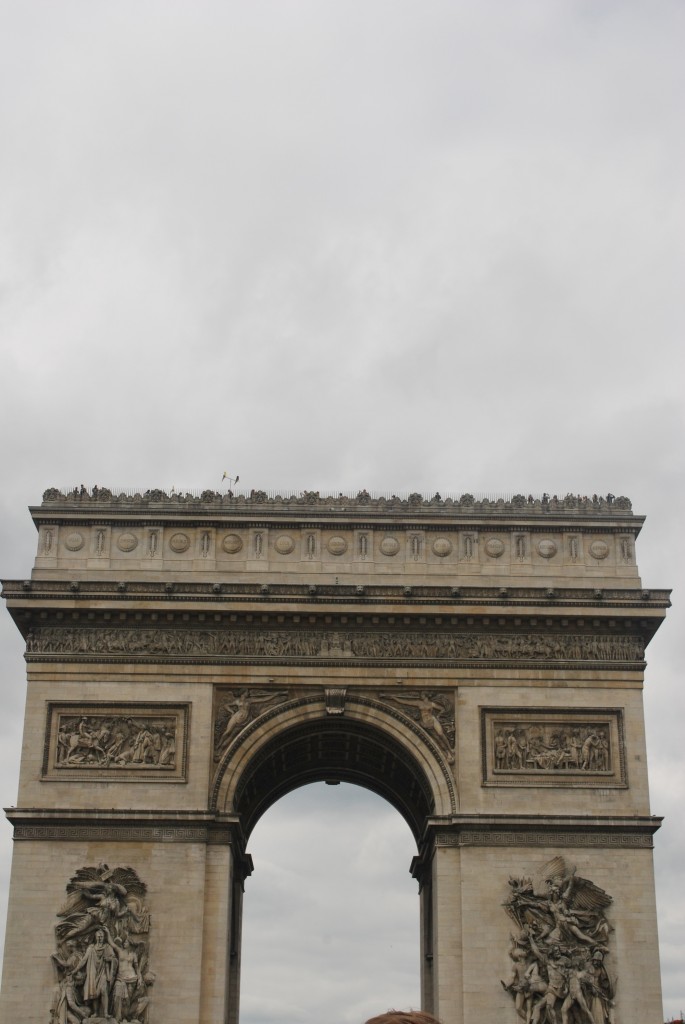 We walked across the beautiful avenue towards Arc de Triomphe, standing majestically at the western end of Champs-Elysees. The Arc is built in the memory of soldiers who fought and died in the French Revolutionary and Napoleonic Wars. The India Gate in Delhi is inspired by the Arc.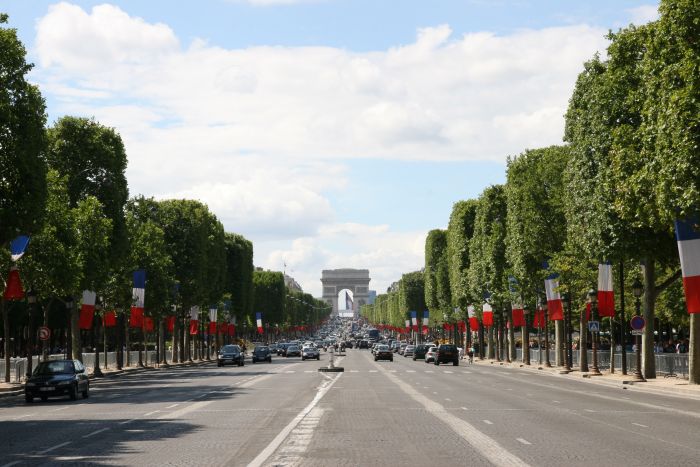 We crossed the road and walked back on Champs-Elysees towards Obelisk of Luxor on the eastern end of the avenue. With multiple stops, initiated by PB in many stores we finally reached the big daddy of them all – Louis Vuitton. The store occupied one entire building. It was grand but not ostentatious (though many would disagree with me).  It was definitely overpowering. I wouldn't have entered the store on my own, if PB wasn't around.
We went in just to "take a look".
After sometime, Desi and I were bored, while PB kept on looking around the store. Desi decided to step out of the store for a smoke while PB finished her fantasy shopping at the LV store. I joined him.
As we were standing outside and chatting, we heard a voice from behind, 'Excusez moi, Monsieur.' A young woman was standing there and standing blabbering in French.
Desi didn't even attempt to reply back with his smattering of little French he had learnt with, "je ne comprends pas", which means "I don't understand".
However, sensing silent from our end, the woman started speaking in English. 'Could you please buy red bag kept in the display inside? I will pay you the money now.'
We were stunned by her request. Thousand questions, sorry, actually only two question erupted in my head.
"Why couldn't she go inside and buy the bag herself/"
"Is this some kind of a scam?"
While these two questions were still floating in my head I saw PB walking out of the store.
We muttered apologies to the woman and were on our way.
PB explained to us, when we told her about the incident. 'Louis Vuitton designs are unique with every product they make and that's why each one of them costs a fortune. The woman you met must be buying that bag to send it to some sweatshop in China for mass manufacturing cheap replicas. She wouldn't have been allowed inside the store as the LV employee may have guessed her intention.'
'Wow.' Desi and I cried out unison.
#18: Jogging in the Jardin du Luxembourg
Or the Luxembourg Gardens is located in the sixth and is very close to PB's place. It is the second largest public park in Paris. The park is the garden of the French Senate, which itself is housed in the Luxembourg Palace. We had passed by the place many times and it looked beautiful. One fine morning, when PB went off to work, I decided to explore the gardens jogging around it (ahem!). After much resistance, Desi decided to accompany me with his bag of potato chips, camera and a bottle of cola.
We walked to the garden and reached there around 11 a.m. The park was scantily filled with tourists and joggers. The jogging track in the garden is around 2 km.
I set my stopwatch and started off with my run. Desi was not even wearing a watch and he sat on the bench munching the snacks he had brought.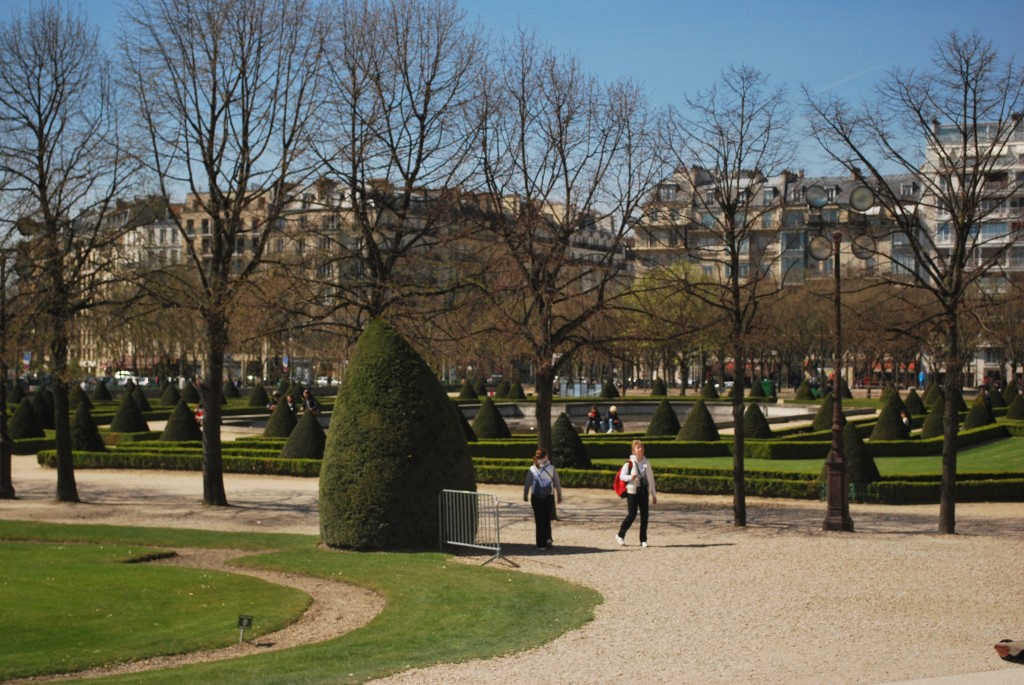 As I jogged around the periphery, I went past the beautifully manicured trees, colourful flowers in bloom and large intricate sculptures all throughout the park. I went past Desi, who was now no longer sitting on the bench, instead was lazily dragging his feet and taking pictures of all what I saw.
After two rounds of the park, I was feeling tired and thirsty as I visualized Desi gulping down his bottle chilled cola.
After the third round, I came to my senses as I decided to explore the Garden Desi's way.
#17: The Pantheon
After having seen the Pantheon in Rome, I decided to have a look at its cousin in Paris, which is supposed to be bigger. And what got me interested was when I read that famous personalities like Pierre and Marie Curie, Alexander Dumas, Victor Hugo among others are buried here in the crypt. So I set out with a desi, after convincing him that it is more than just a crypt.
The Pantheon is located in the Latin Quarter in Paris and the building (originally a Church dedicated to St. Genevieve) is modeled on the one in Rome. Started in 1755, after King Louis XV suffering from an illness vowed to build the church if he recovered, which he did.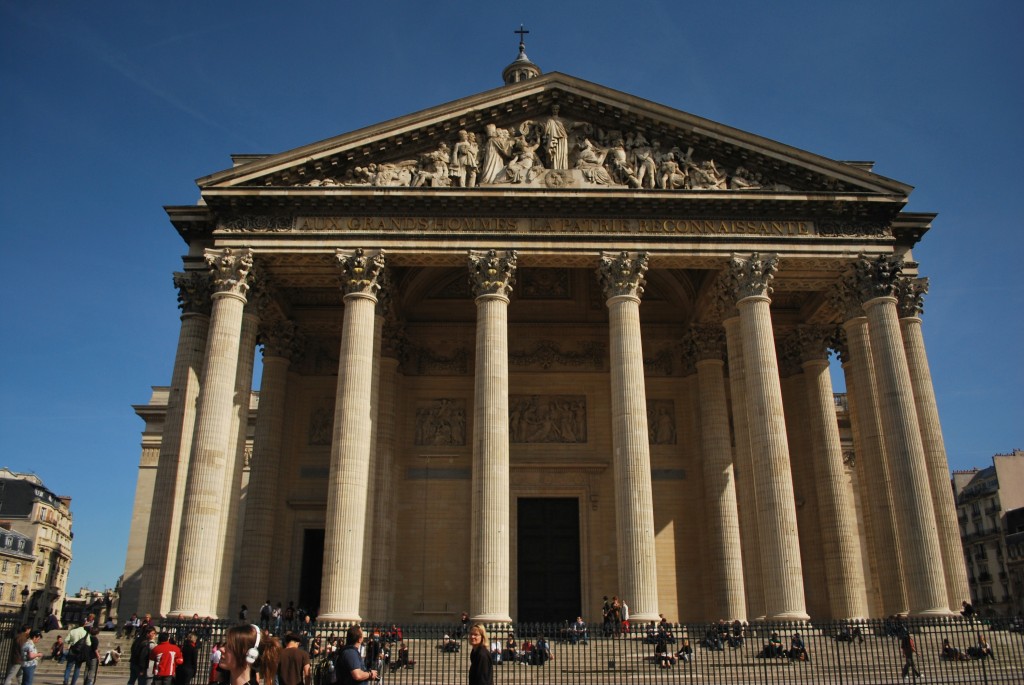 The architecture of the place is spectacular – typical Greco-Roman with the interiors as imposing as the exteriors. As we went inside we were taken aback by the stunning and really long Foucault's Pendulum. In 1851, astronomer Jean Bernard Leon Foucault held his experiment here proving that the earth spins around its axis.
The crypt was large and was a complicated maze of well-lit passages, with tombs of famous personalities laid on either side.
After taking some interesting pictures, we were on our way as Desi was hungry and yearned for some crepes.
#16: Saint Sulpice and the Keystone Mystery
Knock, knock. Who's there?
Keystone.
Keystone? Who? What?
This cheesy version of the cheesy (again) series of jokes came to my mind when I saw our man, Desi kneeling down at Saint Sulpice Church.
???
To an average reader this may sound perfectly normal as people DO kneel in a Church, while facing the altar.
Well, he was not exactly facing the altar.
Desi and I had decided to explore the 6th Arondissment. We started off with St. Sulpice Church, which is at a stone's throw from PB's apartment.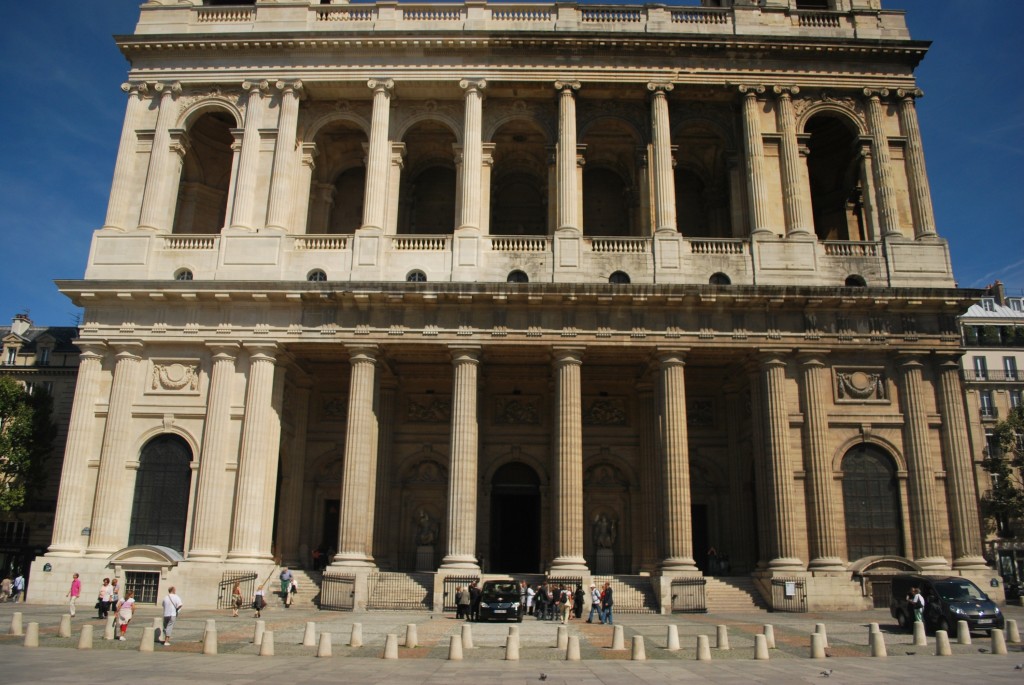 St. Sulpice is a Roman Catholic Church and was re- opened in January 2011 after eleven years of renovation and restoration. It is large church with striking stained glass near the tall overarching ceilings and the typical gothic architecture with amazing sculptures and statues.  Also, the Church is the home to the famous choir organ.
The Church has been mentioned in Dan Brown's bestseller "Da Vinci Code" and is the scene of a crime where a villain comes looking for a keystone under a false wooden floor. Ever since the Church has been flooded with visitors knocking on the floor hoping to find the keystone.
Desi's knocking continued unabated.
He was on all fours knocking around floor in all directions at a furious pace at much to the irritation of the fellow knockers (few occasional ones).
I had to knock twice on his head to get him up and eventually drag him out of the Church, much to the relief of his fellow knockers.
#15: Church of the Val-de–Grace
'Bonjour ! Comment puis-je vous aider ?' The old lady asked us as we were walking in the sixth and approaching a beautiful looking building.
Parisians are a busy lot and like any other big city are in a rush to go about their own work. However, one tends to meet people who would stop and help you voluntarily. The old lady here stopped us tourists (we looked like one wearing T-shirts, shorts and huge camera slinging around our necks) and started talking to us (albeit in French).
Desi, who I thought had flunked his three French classes, and had lost command over the language as described in previous posts, suddenly muttered something in French.
'Je ne comprends pas.'
I was highly impressed, till later I came to know that it actually means "I do not understand".
The old lady, however, understood what he said and started speaking in English, haltingly. She pointed at the building we were walking towards and said, 'that is the Church of the Val-de-Grace, built in the 17th century. Look at the dome of the Church, its very beautiful and high.'
I had read somewhere that the dome of the church is one of the prominent landmarks of the Paris skyline.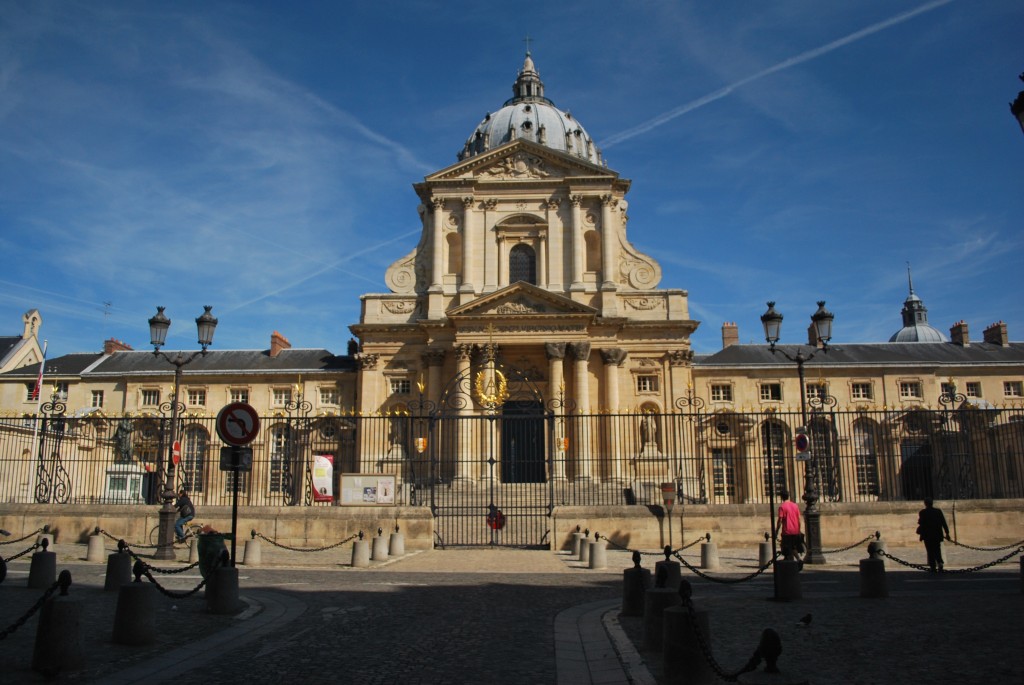 She told us that she was a nurse, many years ago, at the Val-de-Grace hospital adjacent to the Church.
We chatted with her for quite sometime. It was nice to be talking to a local Parisian. We thanked her and with much effort I managed to dissuade Desi, subtly, from offering his bag of potato chips to her as a token of gratitude. He seemed quite happy about not losing the chips as we walked away munching.
#14: Sacré-Cœur Basilica, Montmartre
Buoyed by the beautiful and "spiritual" experience of the two churches we had visited, we decided to visit the more famous Basilica of the Sacred Heart of Paris. We took the metro and got down at Pigalle (which is the red light district for Paris and houses Moulin Rouge and Lido). We started walking toward the basilica and it was quite a task since it was uphill.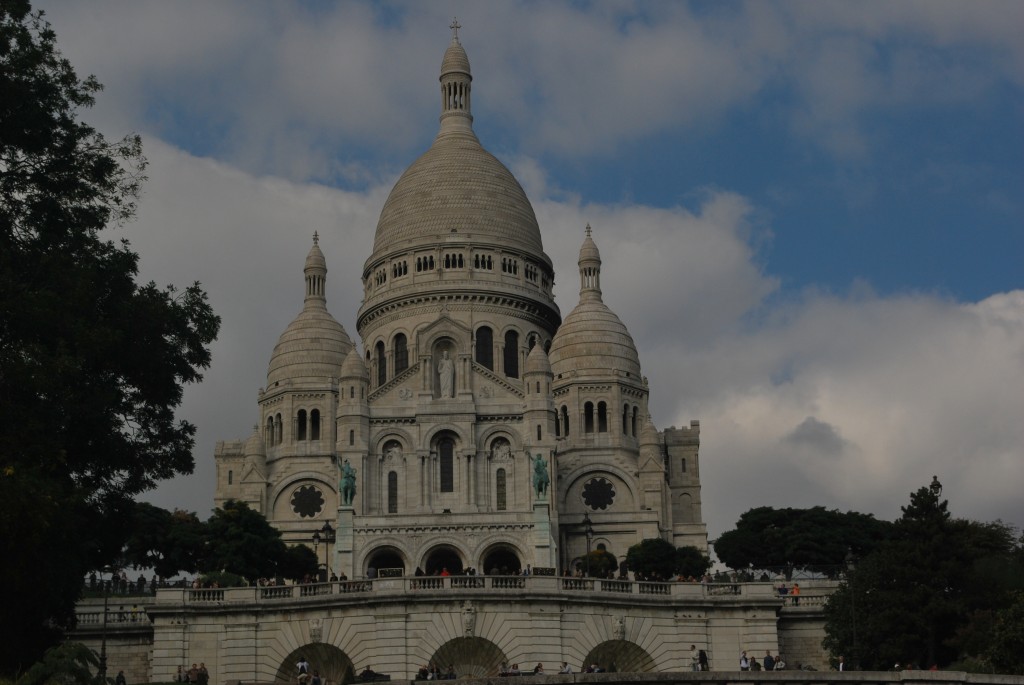 The basilica is located in Montmartre, which is actually a hill and lends its name to the surrounding area. While Sacre-Coeur is the most famous landmark of the area, it is also known for its artistic flavour. The place is teeming with artists, painters with many of them sitting outside shops, in the cafes painting caricatures to potraits. Many famous artists had studios here in the past like Dali, Monet, Picasso and Van Gogh to name a few.
Desi decides to have his portrait sketched, which comes out as a caricature half an hour later.
Desi is not happy. The painter says something in French, which I think meant, "have a look in the mirror. This is how you look."
I thought that was a mean thing to say. However, Desi goes to the men's loo in the nearby café and comes back smiling.
We climb uphill through this charming area towards the white-domed basilica we see at a distance.
The Church is beautiful, white with amazingly green lawns. From the Church there is a stunning panoramic view of the city. The church is located at the summit of Montmartre, the highest point of the city. After exploring the church from inside, which was dark and yet breathtaking, we decide not to go on top of the basilica and instead come down on the steps near the lawn where a huge crowd of visitors sat watching the street performers. There are musicians performing anywhere from reggae to rock. There is a performer with a football, continuously kicking and keeping it off the ground while climbing a lamp post.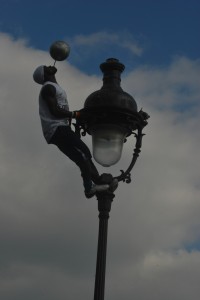 We wonder in spite of such abundant footballing talent, how come the French team was booted out in the league stages in the previous world cup in South Africa.
Souvenir hunting and coffee at the small market below the basilica ended our sojourn to the beautiful Montmartre.
Won't mind coming here again!! And Desi behaved!!
#13: Notre Dame Cathedral
Maybe I spoke too soon about Desi's behaviour as he started walking stooping like like…the hunchback as we were headed to the Notre Dame Cathedral.
A very bad one!! But, what else to expect from Desi!!
Anyways, we walked towards the Cathedral from PB's apartment crossing the Seine.
As expected it was crowded with tourists taking photographs from all angles possible. (Desi had one of his taken in his stupid stooping posture. I have seen that photo re-emerge lately as his Facebook profile photo, I think captioned "The Desi Hunchback of Notre Dame").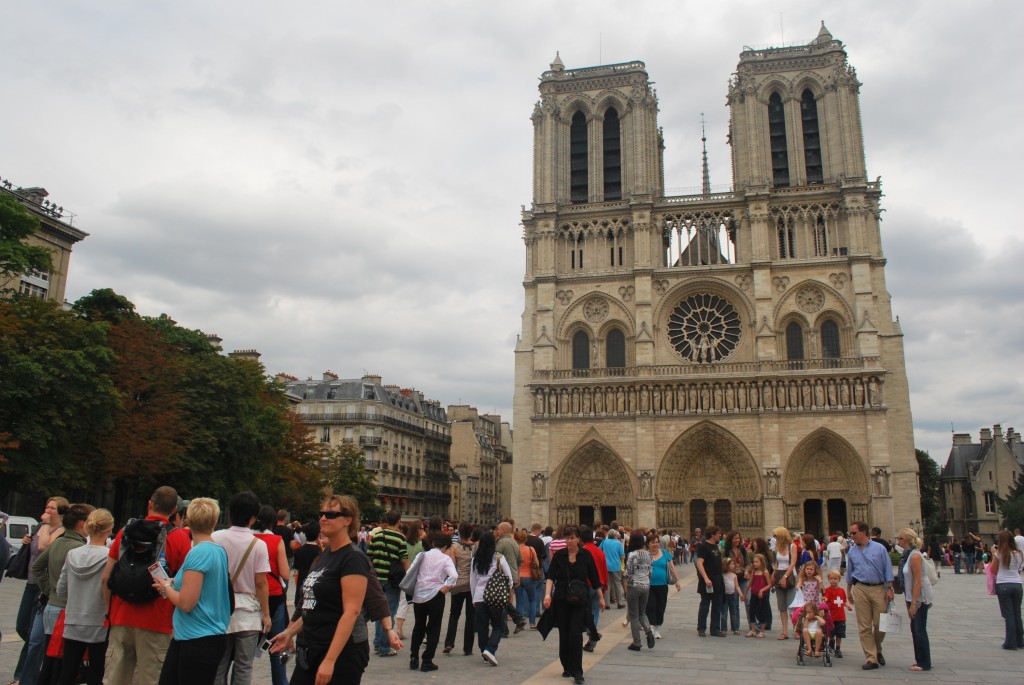 Anyways, this cathedral is as old as it can be. The construction started from 1163 into 1240s. It is widely considered as one of the finest examples of French Gothic architecture. Incidentally, a replica of the Cathedral (but much smaller) is built in Montreal, Canada.
The Cathedral from the inside is large with high ceiling. It was dark but illuminated by hundreds of candles and dim lights at various places. We also decided not to climb up the belltowers, which by the way was the location for scene in the 2008 action movie Taken, where Liam Neeson's character stood while making a phone call.
And just then we received one, a phone call that is. It was PB.
'Say, how about going to the beach in Paris?' She said.
'Ok.' Was our standard reply to any of her asks.
#12: Paris Beach
'But Paris is landlocked. It is nowhere close to the sea.' Desi was ranting as we waited for PB.
In 10 minutes PB joined us and we started walking towards the river Seine.  After five minutes, we looked down at the embankments of the rivers to find it crowded like it is in a beach especially in Europe. We were looking at one.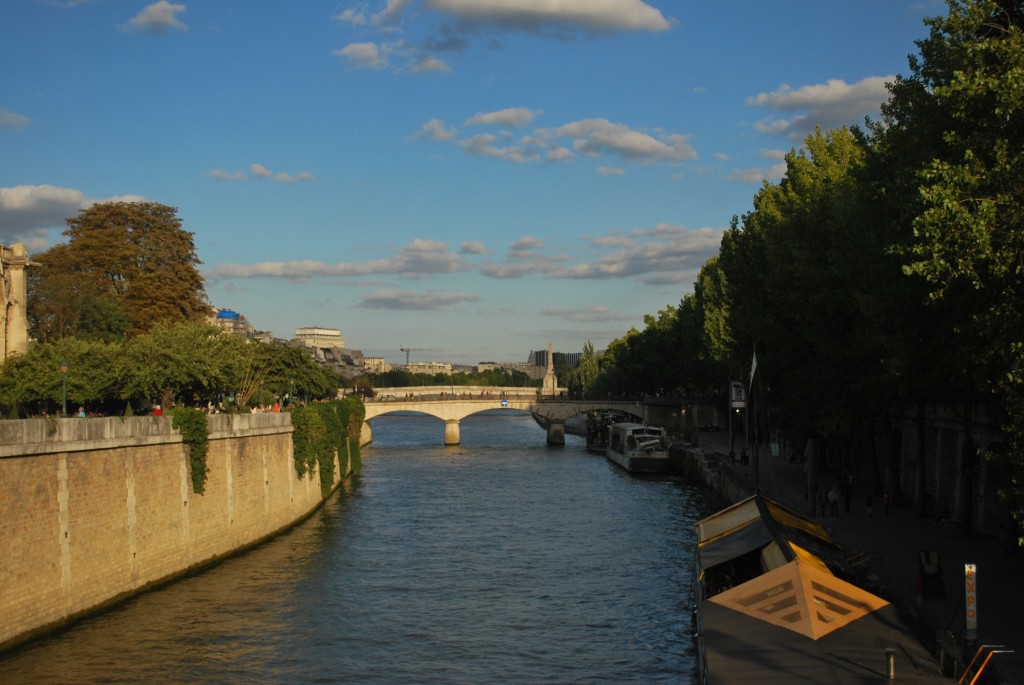 Paris Beach (or Paris Plages in French) is a summer event in the months of July and August that converts various places in Paris into full-fledged beaches with sand, water (pool), fountains, restaurants (shacks), parasols, beach chairs, music, entertainment, kayaking and the works.
It was started by Mayor Bertrand Delanoe in 2002 and has three main locations –  on the square in front of City Hall (Hotel de Ville), along the right banks of the Seine river on the Georges Pompidou Expressway, and along the Quai de la Villette in northeastern Paris.
The concept was initially criticized by some as costly and frivolous, however it has now become a permanent fixture in the Parisian summertime scene, as it is frequented by locals and tourists alike.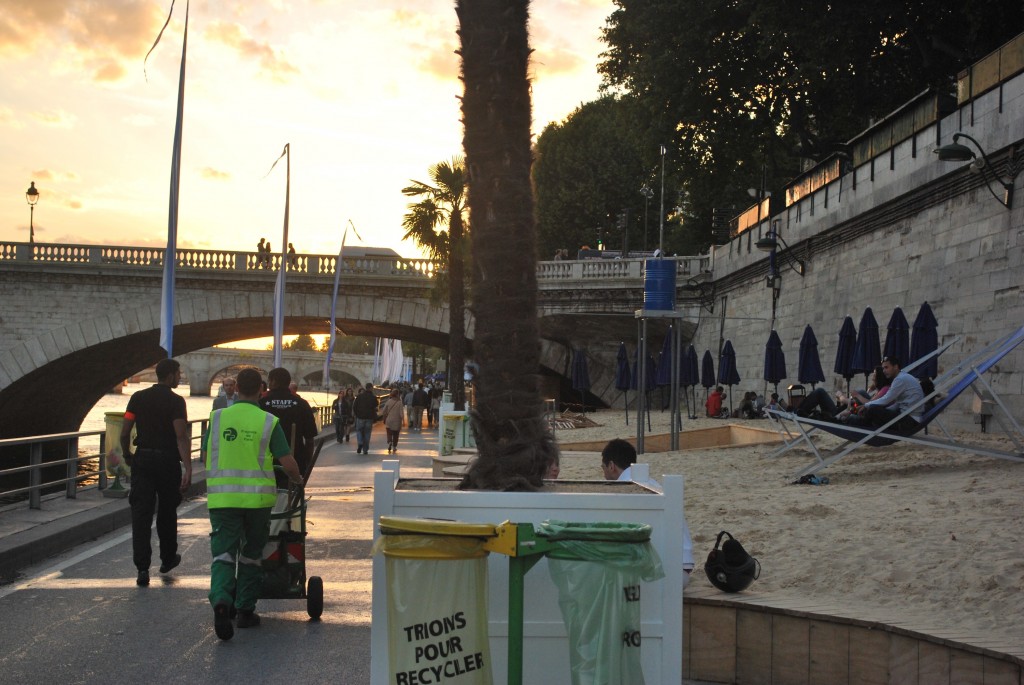 I was amazed by the kind of logistics, which would have gone into it transporting tonnes of sand and equipment and clearing everything away when the summer was over.
A really great initiative by the Paris municipality.
#11: Eiffel Tower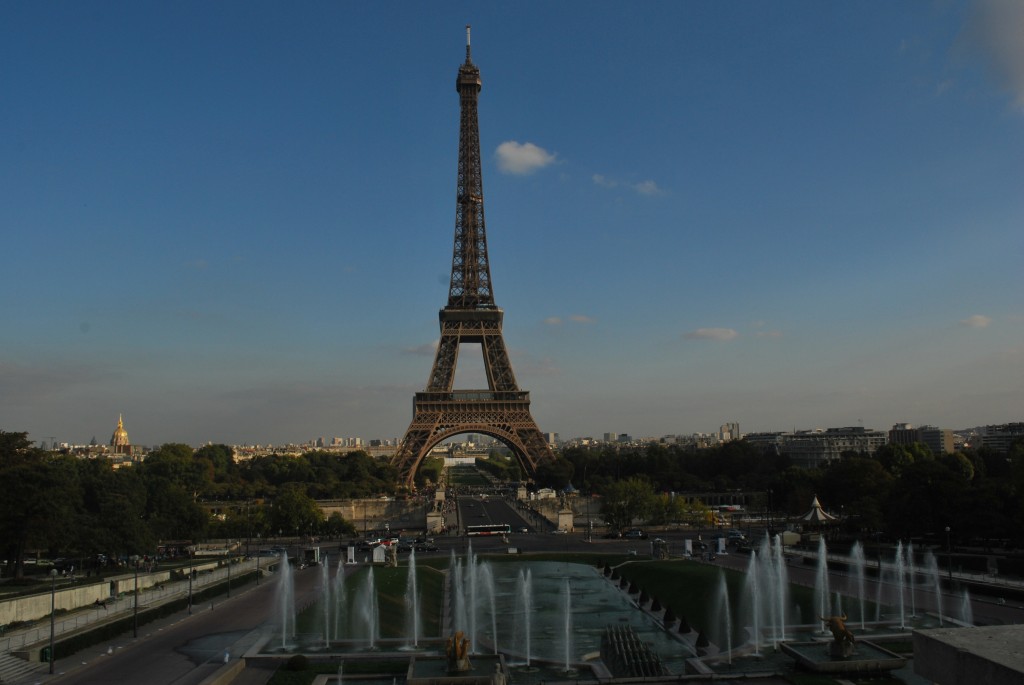 And there it was, the symbol of Paris, the Eiffel tower, growing in stature every time I saw it. As we stood near Trocadero admiring the great structure of steel and human ingenuity, we couldn't help but swim in the fluidity of the moment the great tower provided standing tall in the midst of the gorgeous lawns landscaped to perfection. In spite of the chatter of fellow tourists around us, the environment was serene and silent soaking in the moment, till we heard a crackling sound typically made by a plastic bag.  PB and I turned to see Desi noisily tearing a new packet of Haldiram's Bhujia, immersing his fist inside the bag and shoving a fistful of the casse-croûte Indien into his mouth followed by a non-stop vigorous chewing action (reminded me of a cow's chewing action).
The moment was gone.
We walked to the Eiffel tower to be accosted by hawkers from the sub-continent selling miniatures of the towers. Desi bargained and bought a few.
As we stood in the huge queue for the tickets to climb up, we read about how this structure came into being.
It was built in 1889 and was named after its designer Gustave Eiffel. The tower is the tallest building in Paris (at 324 m/1063 ft) weighing more than 10,000 tonnes. It is the most visited paid monument in the world. So far 200 million have visited ever since it was open to public, with 6 million alone visitors in 2006. Incidentally, the tower was much criticized by the same public when it was built, many calling it a "blot" on the Paris landscape. The City of Paris almost dismantled it after the expiry of the permit taken by Eiffel for 20 years, but the tower proved to be valuable for radio communication purposes.
The view from the top second level, in our case (the tower has three levels and Desi didn't want to pay extra for the third level) was breathtaking as we captured the stunning panoramic view of the city.
Later in the night, as we walked towards the apartment near the Seine we could see Eiffel tower lit up in all its glory flashing for ten minutes. It continued this splendid display changing colours after every hour.
A sight we would never forget also since from that day on we ensured that we never missed this light show throughout our stay in Paris.
#10: Little India at La Chapelle/Gare du Nord
Desi's snacking on Haldiram's bhujia indicated that he was homesick, for Indian food. PB's kitchen had also ran out of essential Indian spices and ready-to-cook Indian meals.
So, PB decided to take us to Little India near the La Chapelle Metro station for grocery shopping.
Actually, the name "Little India" is misleading since the area is largely dominated by Sri Lankan Tamils and to a lesser extent Pakistanis. However, as we came down from the La Chapelle station we were surprised to a see a familiar neighborhood, very typically Indian.
PB took us to her regular grocery store, Gopal And Company. While she entered the shop, Desi stood outside laughing endlessly at the shop's signboard bearing the abbreviated name.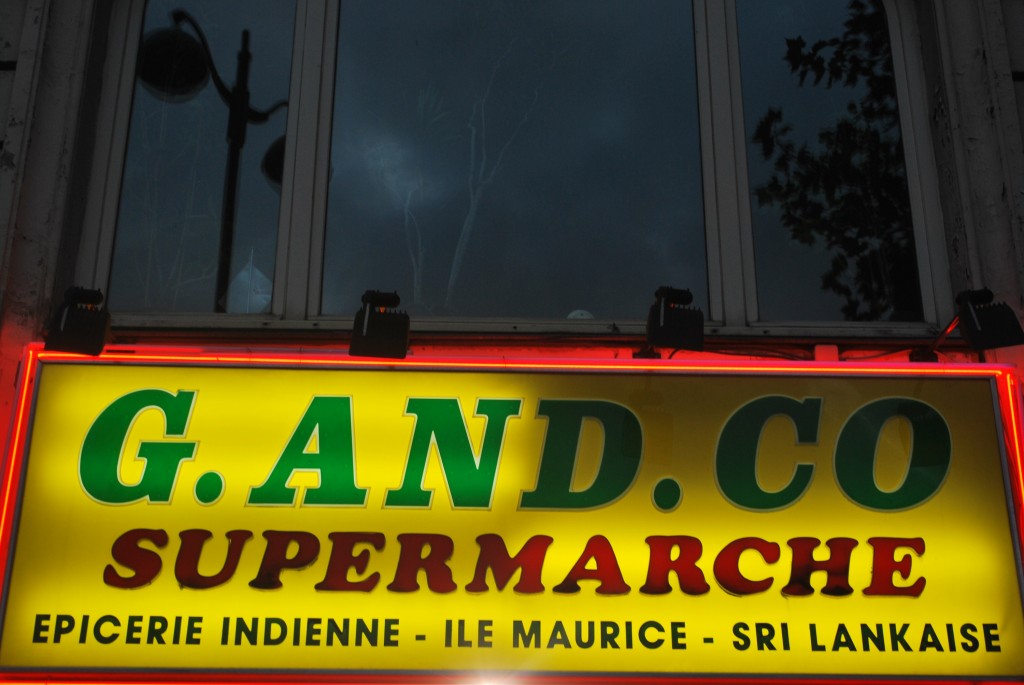 Now this was owned by Sri Lankan Tamils, I don't think they knew the meaning of the abbreviation, which is infamously common in North India.
However, last I heard was that they had had removed the abbreviations and replaced the full name of the store.
Some Indian must've squealed.
After the grocery shopping we walked on Rue du Faubourg Saint-Denis to see shops on both the sides sari shops, Indian music and DVD stores and restaurants.
Madras café is a popular one, however we went to the newly opened and already popular Sarvana Bhavan, a South Indian restaurant. We had an awesome lunch with the usual fare of masala dosa, idli vada and mango shake. Desi was smiling contentedly.
After buying DVDs of some latest and some really unknown (and pathetic) bollywood Hindi movies, PB went over to a Sri Lankan restaurant and asked them to pack mutton biryanis.
We had the biryanis for dinner later in the evening. They were just out of this world. I hadn't tasted such delicious biryanis before. Apparently, Sri Lankan Tamils emigrated to Paris couple of generations ago and carried with them the "authentic" recipes. These recipes used actual freshly grounded spices and therefore tasted very good.
Desi and I had finally found a place where we can go and hog.
Museum Exploration continues with…
#9: Pompidou Centre
For three consecutive days Desi and I did nothing except for lazing around the apartment (I, at least went for a jog at Jardin Luxembourg). PB was livid at our laziness and pushed us to go out.
'Go and see Pompidou Centre. It's a great museum. There is a lot of modern art exhibited there. You will love it.' Came the suggestion from the museum loving PB.
I was afraid that Desi might do his customary headstands at the museum to find out if the paintings looked better upside down. In fact, New York Times had reported that the design of the Pompidou Centre (named after the Georges Pompidou, President of France – 1969-74) "turned the architecture world upside down".
However, after much pushing from PB, Desi and I hauled our respective a** and walked towards Pompidou Centre. It took us thirty minutes (instead of the customary 10 min) from PB's apartment thanks to the long detour we had to take courtesy a sign pointing in the wrong direction. However, we could recognize the building from a distance because of its unique architecture.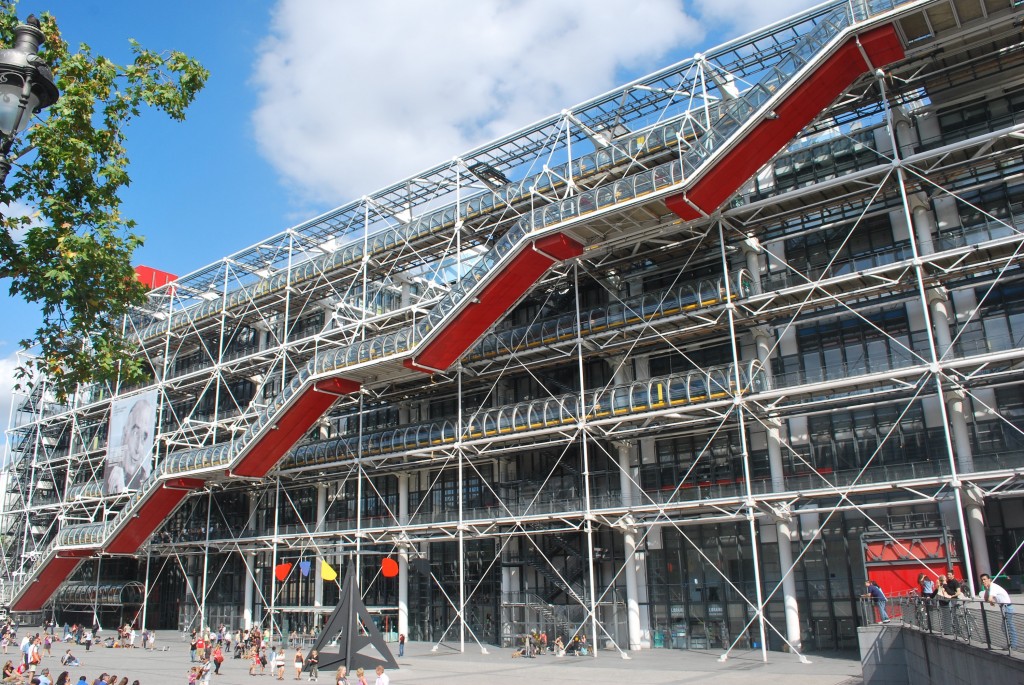 The building seemed be built with a complex myriad of huge pipes and tubes. Initially these pipes were colour coded with each colour signifying a particular function like blue for air, red for movement and flow (elevator) and so on. However, now the colour coding has been partially removed and many of the elements are just plain white.
Inside the museum the elevators take the visitors through these glass pipes to the various levels with different exposition (exhibition). We started with the topmost level where "Paris Delhi Bombay" exhibition was being held. As the name suggested, the exhibition was based on India, by French and Indian artists. As we entered, the first exhibit was a computer junk.
Exactly! Hundreds of old keyboards, computer monitors, printers, mouse stacked onto each other covering the entire height and width of the 20×20 feet wall.
Desi and I just looked at each other. As we further explored the exhibition there was more – multimedia art (combining audio and video), exhibits made of glass, machinery parts, used cardboard and even utensils (by the famous Subodh Gupta) all of them resplendent displaying scale and creativity.
We spent good two hours here. As we came out of the exhibition, we realized that we were on the top floor, which had an amazing view of the Paris skyline with prominent monuments such as Sacre Couer and Eiffel Tower blending in the cloudy blue sky.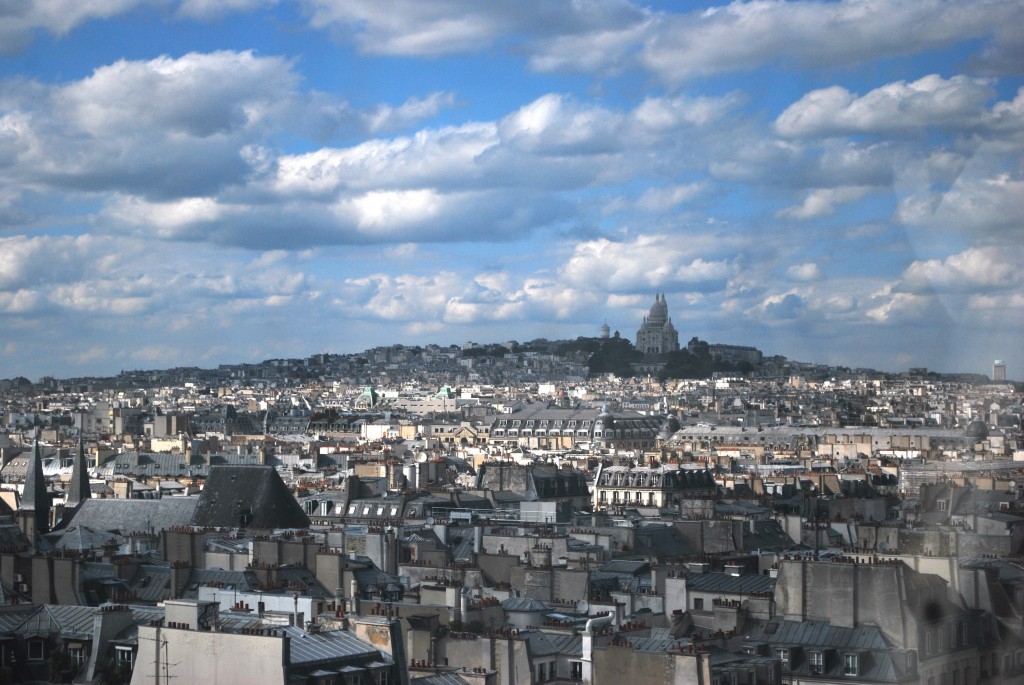 After a picture taking session, we explored the exhibitions in the levels below. We rushed to see the great collection by Kandinsky, Picasso and many new artists whose work in the form of paintings, sculptures and other creative work (that cannot be classified in a particular form) displayed.
We had to rush back as we had meet PB for an early dinner. In the hindsight, we felt that we should've had spent an entire day here. It was that awesome.
Even Desi agreed with a straight face and posture (and no headstands).
#8: Musee de l'Armee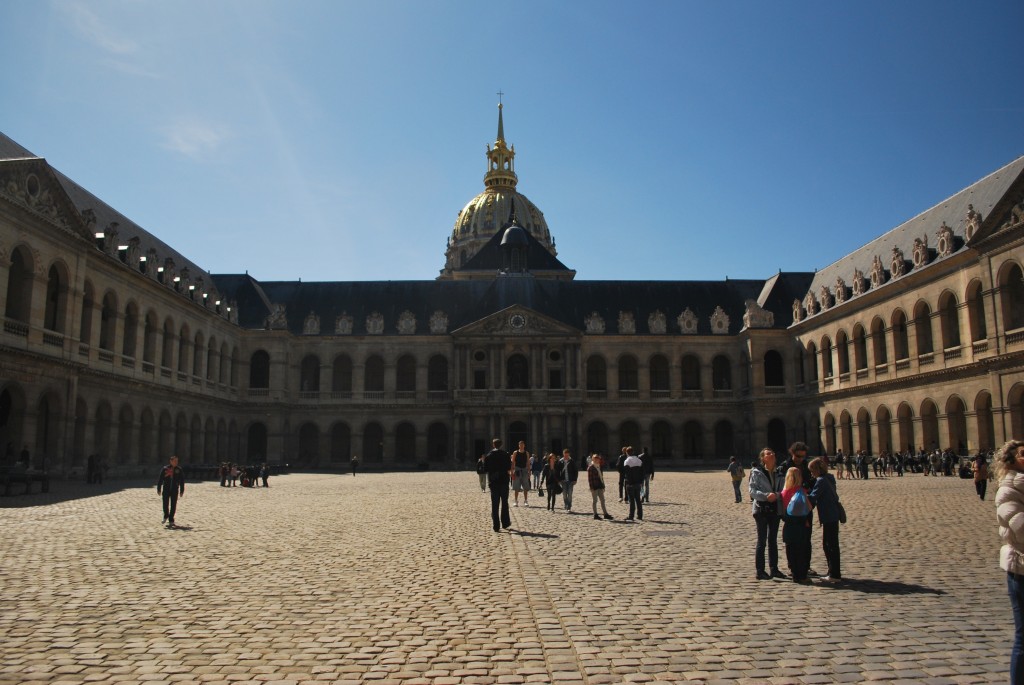 This is a war museum and was opened in 1905. Originally, it was built as a hospital and home for disabled soldiers. In addition to military artifacts, Napoleon's tomb is also located in the same building complex in Les Invalides.
During our visit to the museum, there was an exhibition on 2nd world war. It was one of the most informative account of the war I have ever seen.
#7: Musee d'Orsay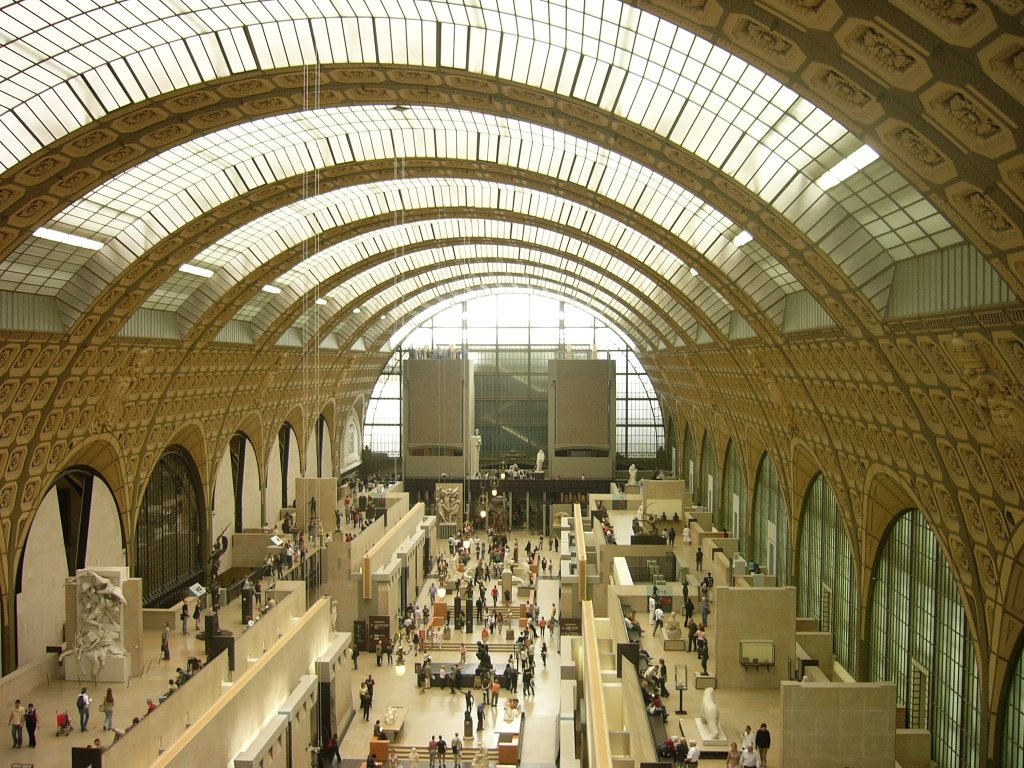 Located on the left bank of the Seine, this museum is housed in Gare d'Orsay, which was a railway station before. The museum has French art – paintings, sculptures, furniture and photography, dated from 1848 to 1915. It has an extensive collection of impressionist and post-impressionist masterpieces by painters such as Monet, Manet, Renoir, Van Gogh among others.
#5 & 6: Saint Chapelle and Palais de Justice
After visiting many Churches in Europe, Desi had developed this fascination for coloured stained glasses. I had shot some good pictures of those in St. Sulpice Church when Desi was on all his fours knocking the floor, but he wanted to know if there were some more Churches in Paris with beautiful stained glasses.
'You should go to Saint Chapelle. It has the most elaborate stained glass work.'  PB recommended.
And so Desi and I were on our way slinging the SLR camera along with us. We walked from PB's apartment to get to Saint Chapelle. It was in the same direction towards Centre Pompidou and near Cite Metro station.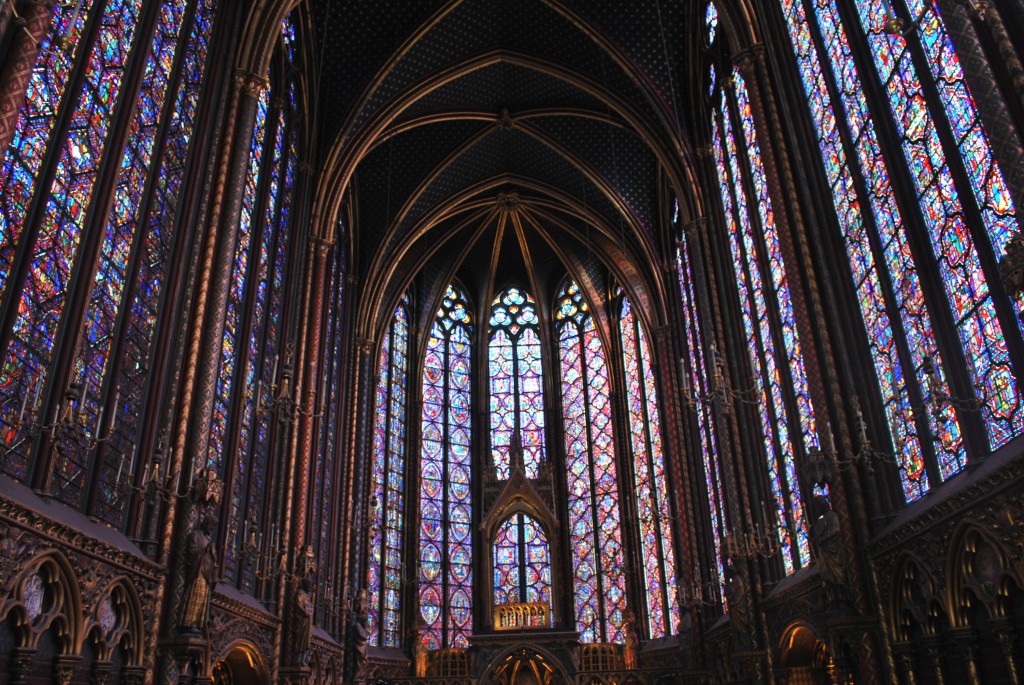 Saint Chapelle is located adjacent to Palais de Justice, a building with great architecture.
After taking the tickets we were inside the Saint Chapelle complex. The Church is undergoing a continuous restoration work with regards to the damaged windows. This damage incidentally happened during the French Revolution.
The chapel has two levels and is a typical example of Gothic architecture. As we entered the chapel we were enamored by the huge stained glass high windows rising up to the ceiling. We picked up a laminated brochure describing each piece of the stained glass – depicting scenes from The Passion of Christ, New Testament, Life of John the Evangelist and other snippets from the Bible. We sat there on the bench admiring this amazing work and deciphering the stories embedded which were reveled as the sunlight peered through the multi coloured glass windows.
The chapel was not very big, but we spent at least an hour taking pictures and getting immersed in the beauty of it all.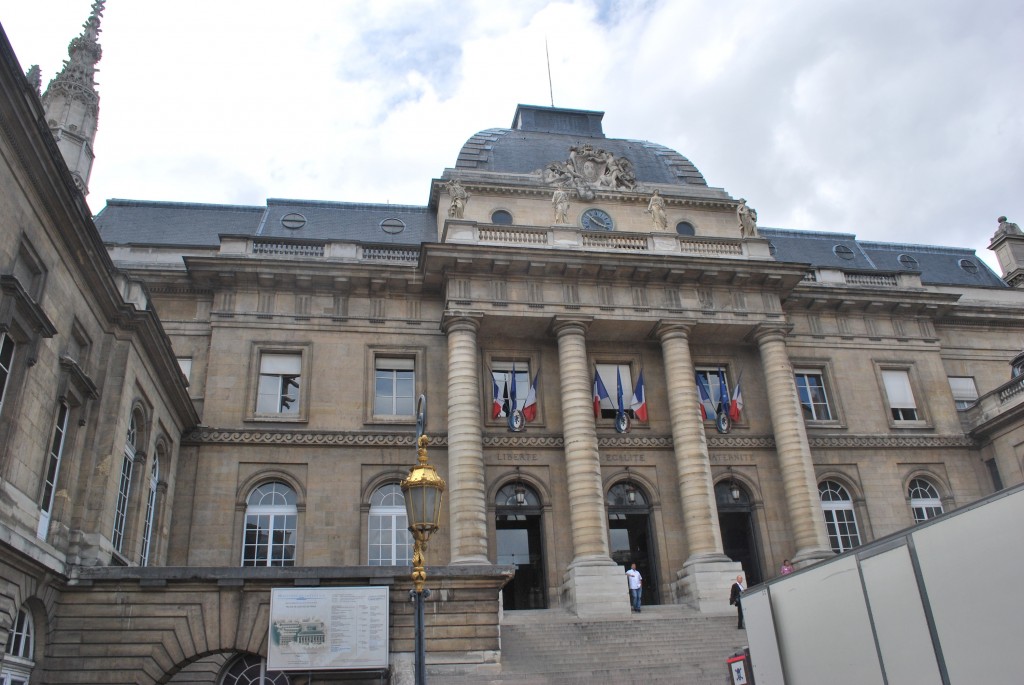 We exited from Saint Chapelle to enter the compounds of another remarkable building, the Palais de Justice. Another great example of amazing architecture. This building was the seat of the Parlement de Paris from the sixteenth century to the French revolution. The Palais also contains the ancient structure of the Conciergerie, former prison, now a museum, where Marie Antoinette was imprisoned before being guillotined.
We were not able to explore the insides as a movie was being shot during the time and the place was closed for public.
#4: Rue Mouffetard
Rue Mouffetard is a street in the 5th Arondissment, Paris.
It is one of the liveliest neighbourhoods in Paris.
It is definitely unknown to any unsuspecting tourist and hardly finds any mention in a tourist guide. Only a Parisian would know of its existence. Of course PB knew and went there one evening. The place is lined with restaurants, cafes, artisan bakeries, cheese or pastry shops and an open market. The place had a young aura about it as PB informed us that it is frequented by college students.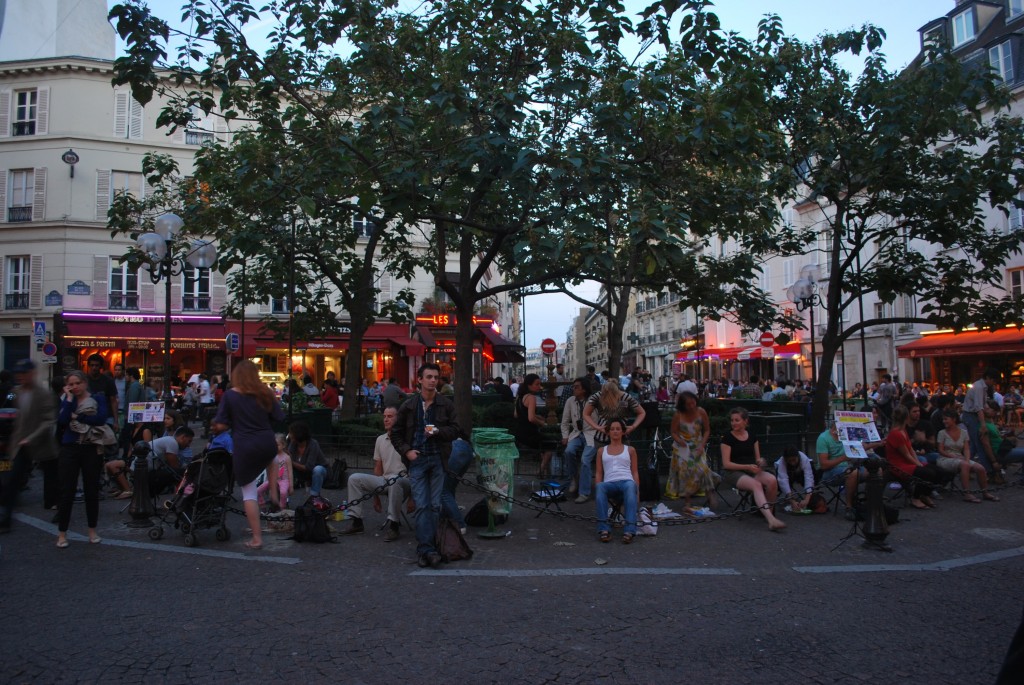 A large open square dominated the area with street musicians performing reggae and many young volunteers providing free head massage on the street. Desi was tempted to get his head "fixed" before I dragged him back to a nearby open café as we ordered beer.
It is a perfect place to unwind in the evening, chat up with friends while enjoying the musical ambience with your wine or beer.
Sunday Afternoons at…
#3: Le Marais
Le Marais is a historic district in Paris, near Bastille (the fortress, which was stormed on 14 July 1789 during French Revolution).
It was the aristocratic district sometime ago and houses many elegant aristocratic buildings.
Today's Marais has transformed into a fashionable district with fashion houses, hype galleries and many restaurants with different cuisines. It is a lively and gay place with an increased presence of the community since the 1980s.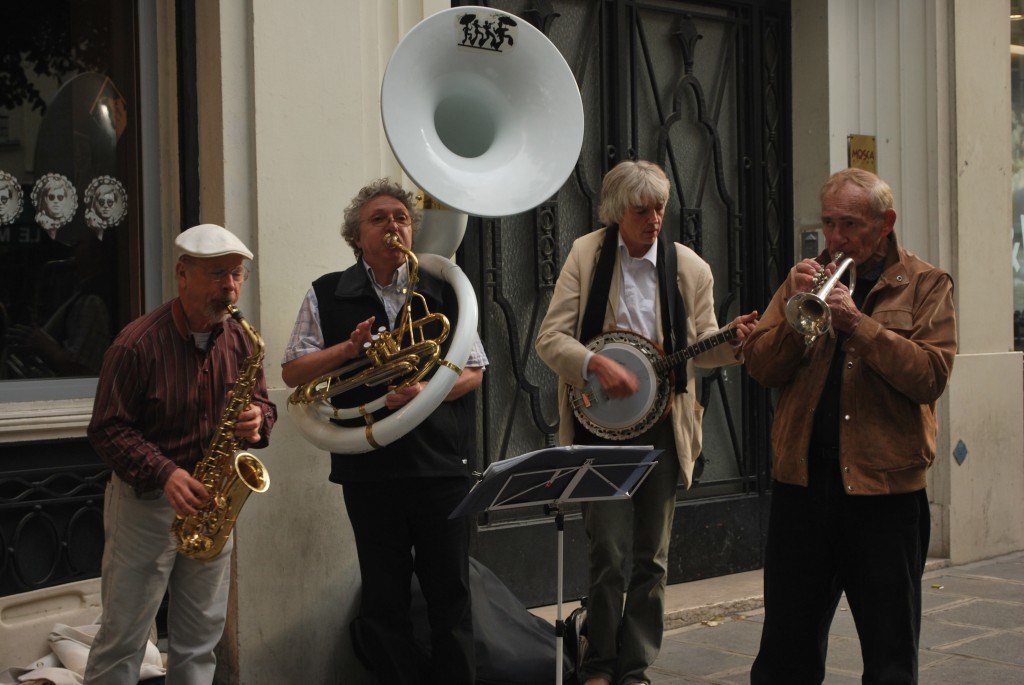 So, one Sunday PB took us there and it was a pleasure walking in the bustling streets carefree and enjoying the holiday along with many others on the streets. The place had amazing energy and gaiety effusing out as people were loudly chatting and laughing away in restaurants and cafes.
Desi was enjoying the joie de vivre of the place.
Marais is also known for its strong Chinese community, many of them moved in the early 20th century. They mostly work in jewelry and leather-related products.  The Chinese Church of Paris is also located here.
We had lunch at Rue de la Roquette, which is full of pretty restaurants and pretty crowded too as it is on the weekends especially Sunday afternoons.
After lunch, we roamed around Marais watching street performers and visiting other highlights of the place – Musee Picasso, the house of Nicholas Flamel (of Philosopher's stone fame) and the ever popular Café Chariot.
An enjoyable Sunday afternoon well spent.
#2: The Flea Market (Les Puces)
One Sunday we decided to go to the flea market at Porte de Cligancourt. It is officially called Les Puces de Saint-Ouen but popularly known as Les Puces (The Fleas).
The history of the flea market dates back over two centuries, when rag and bone men scoured through the garbage of Paris at night to find valuable junk to sell on. They were called "crocheteurs" or pickers. The romantic term was "pêcheurs de lune" or fishermen for the moon. Many set up their temporary stalls within the Paris walls, in sleazy neighborhoods but because these neighborhoods were full of pickpockets and thieves, they were chased out of the city walls to Clignancourt. The rag and bone men set up temporary stalls where they hawked their wares. Eventually, they formed groups of stalls to attract more customers. The more enterprising traders began to "trade up" in terms of goods and eventually it became popular for Parisian collectors and antique dealers to shop there for bargains. Incidentally, the flea market is the largest "resource" for antiques in Paris.
In 1885, authorities in the town of Saint Ouen made a significant move to pave the streets and clean up the area, marking the official starting year of Les Puces. Several areas were designated as official market areas and a fee had to be paid to set up a stall there.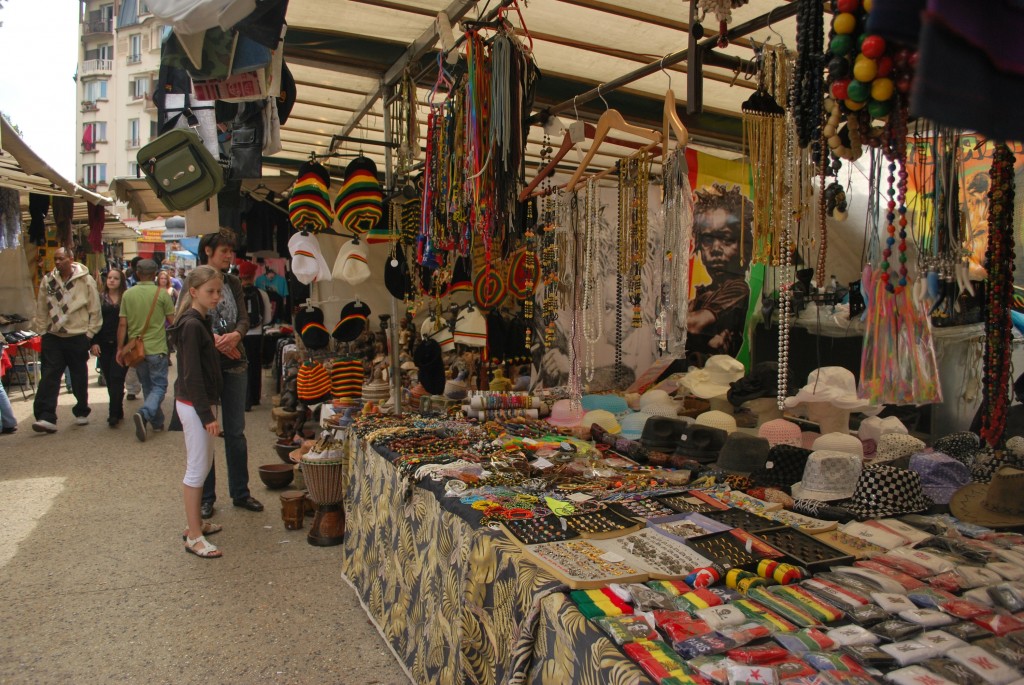 The flea market was how it should be with tented stalls and hawkers selling from anything to everything. The entire place was colourful and great photo "opp" for any photographer like yours truly here (ahem!). Desi seemed to love this place. Can't understand his fascination for junk.
As we walked in the market we held our respective purses, wallets, mobile phones closely as we had been warned that this place was infested with pickpockets.
We eventually bought a lot of posters – some of them framed, magnets and other junk (that only Desi could define and justify).
#1: The Versailles Palace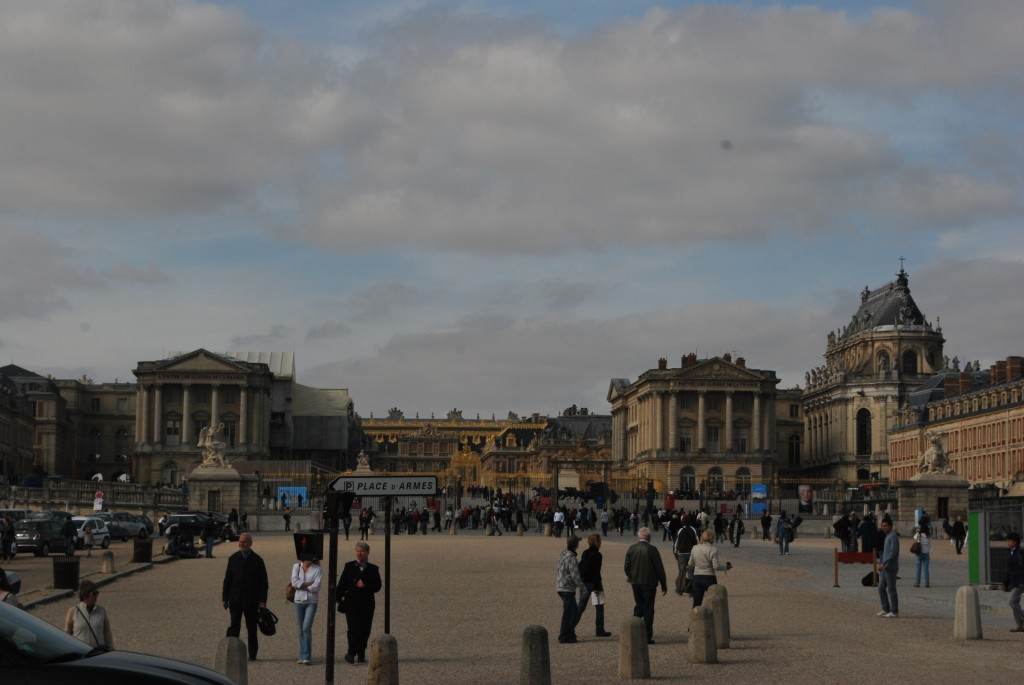 The palace is located 20 km  Southwest of Paris. We had to take a RER train to reach there. As we stepped out of the station and walked towards the famous Chateau it appeared from a distance – awesomely grand and majestic with huge open lawns.
The Chateau was the seat of French monarchy and the centre of political power in France from 1682, when Louis XIV moved there from Paris, till 1789 after the beginning of the French revolution.
The chateau adorns a huge garden with delicately manicured shrubs and trees amidst the various fountains.
Inside the palace we walked across various luxurious rooms of the kings and Queens, especially that of Marie Antoinette, with large beds in equally large bedrooms.
This prompted Desi to comment (in fluent French this time), 'French kings and queens must be huge to be needing such large beds', much to the amusement and consternation of the visitors around.
I pulled him away from the bed as I guessed his eventual intention of sizing up the bed himself.
He also noticed that the rooms and everywhere in the Chateau had huge French windows (well in France these might be just called windows). And everything would be visible from the outside across the main gates.
This was really the case. The poor starving peasants could see the lavish and wasteful parties hosted by the King Louis XVI and the Queen Marie Antoinette from outside the gates of the Chateau. All of this added to the frustration and eventually led to the overthrow of the monarchy during the French revolution. Incidentally, the King and the Queen, had flee the Palace of Versailles as a result of the Women's March on Versailles – with protestors all being women. Talk about women's lib man!! They can overthrow a monarchy !!
Desi was highly impressed as he took pictures all around and we "fled" back to Paris.