"We have done it. We have summited Stok Kangri. Yaaaaaaaay !!! Wooooohooooo!!!"  Vikas was shouting at the top of his voice as he jumped around. Seeing his state of "Brownian motion",  our guide, Ongda Sherpa, three times Everest summiteer, too jumped and joined in shouting, but directed at him. Vikas was dangerously dancing at the highest point of the peak and a slip would've caused a steep 1000 m fall. Not just for him, but for all of us, since we were roped together.
Ongda pulled him down from the edge of the peak closer to where we were standing near the prayer flags and a small chorten indicating the summit point. Undeterred, Vikas continued with his newly acquired high altitude exuberance.
The rest of us in the "rope" comprised of team #1 and were displaying our emotions in our own way.
Amit was smiling and coyly participating in the continuous hugging which was taking place.
George was ecstatic and so was Akash, the youngest member of the expedition, only 22 years old.
After all we were higher than any mountain in five continents – Africa, Antartica, Australia, Europe and North America (almost). Stok Kangri was listed by Lonely Planet as one of World's 10 best places to climb.
I was speechless.
Not in awe of the moment.
Not because I had summited this 6000 m plus peak.
Not because I had done it after nine hours of relentless climbing in the hostile weather conditions.
I was speechless because I was frikking shivering. I was cold. I was exhausted. I was gasping for breath in this thin oxygen depleted air. I had a splitting headache. I could feel my nose bleeding.
I wanted to descend and quickly rush back to the base camp. I was actually looking forward to get inside my cramped tent and into the uncomfortable, but warm sleeping bag.
I wanted to reach the top. Which I did.
But I didn't want to stay on the top. As it was so hostile and uncomfortable.
Isn't that true of real life as well? I pondered.
"Life is a journey and not a destination". These words from Aerosmith's song "Amazing" rang in my ears. And I blanked out the unpleasant destination, as the enjoyable incredible journey flashed before my eyes.
This particular journey began ten days ago when we started on our trek from Leh to the Stok base camp.
However, for me this journey started six years ago during my first trip to Ladakh. It was that time I became aware of this amazing 6000m peak called Stok Kangri. Climbing it became an obsession and I knew that summiting it would give a huge boost to my mountaineering ambitions. I made a silent vow that I would return to summit the peak one day.
That "one day" was 1st July 2011.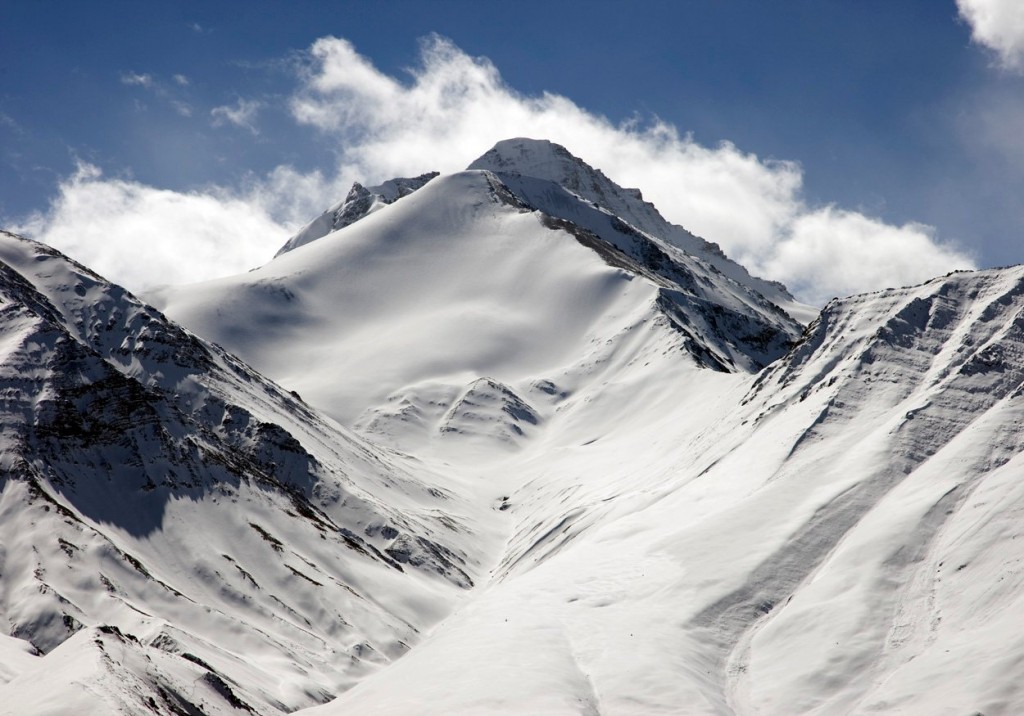 Day 1& 2: 1st-2nd July 2011: Leh (3524 metres/11,562 ft)
I was welcomed with a familiar greeting, "Juley" (salutation in Ladakhi) as I landed in Leh (from Delhi) and got into the cab. It was great to be back in Ladakh.
As I reached the guest house I met Rajesh, Akash and Meena.
The three of them were Everest Base Camp (EBC) veterans. It was reassuring to be climbing with them.
Then they told me about the group.
There were eighteen of us. I was aghast at the sheer size. My mind fast forwarded to the summit day where I saw all of us roped and struggling to climb as each one of us pulled each other down. Such a large group was not recommended for any climb especially of this strenuous nature and at that altitude. I was pessimistic about our success.
The four of us went around acclimatizing (necessary at this altitude). We climbed upto the Leh palace (disappointing), went to Thiksey monastery (beatifully perched multi-layered in a hill), visited the "3 idiots school" (??), stood in the long sinewy queue at the SBI ATM (there are only two ATMs in Leh).
There had been a lot of changes since my trip in 2005.  Apart from the usual multitude of foreign tourists, there were many many more Indian tourists (I just saw one couple during my last visit). Lot of it could be attributed to the movie "3 Idiots". There was even a '3 idiots point" at Pangong lake. How idiotic !!!
Meena informed me as we laughed.
There were also the sad remnants of the destruction caused by the flash floods previous year. All of us were silent as we drove by. It was a silence for the unfortunate loss borne by these nice and beautiful Ladakhis.
When not hanging out and eating at our favorite joints (Pumpernickel German Bakery, Summer Harvest, Gesmo),  we just lazed around at the guest house waiting for the group.
The expedition was being organised by the team that co-founded Rustik Travel, a sustainable experiential travel company.
The rest of the expedition group reached on 2nd July. They travelled on road from Manali to Leh (distance of 479 km). The highway crosses some of the highest mountain passes in the world, including Rohtang La (3,978 m/13,051 ft), Baralacha La (4,892 m/16,050 ft), Lachulung La (5,059 m/16,598 ft) and Taglang La (5,325 m/17,470 ft). It's a tough two day drive.
The other route is from Srinagar, another two days on the road and a distance of 434 km (Adventurous Akash and Meena had taken that route with an Army convoy).
Any first timer to Ladakh should take the road. They should go through the same pain I went through six years ago when I travelled from Manali to Leh on road.
OK. Just joking.
Apart from deriving the masochistic pleasures of this road trip entailing excruciating bum pains, excessive diesel fume inhalations and the usual throwing ups, any roadie would also get to see the most varied and beautiful landscapes and sceneries along the way. As they would leave behind the green valleys of Himachal and climb upto the snowy Rohtang pass they would enter the dry, arid mountainland of Ladakh of multiple colors and hues. Million years of erosion from wind and water have cut these mountains into imaginable shapes and sizes (hoodoos or fairy chimneys), seen only in Grand Canyon (Arizona, US) and the Cappadocia region (in Turkey).
After the customary quick introductions (as I quickly forgot the names) with the group, the Expedition leader Sunand along with the guides Ongda & Karma, and Amit Arora, the expedition aide, got down to the serious business of briefing, which soon gave way to light hearted repartees and jokes from the group. This would soon become the tone of the evenings in the days to come.
Day 3: 3rd July 2011: Spituk to Zingchen to (3400 m/11,161 ft)
Early next day we drove to Spituk, the starting point of our trek. The motley crew of the eighteen of us were now expanded with six more helpers and Kumar who was an awesome cook (who would ensure that none of us lost weight in the trek). Also there were about 15-16 mules and horses carrying the load for the group.
This was a bloody big expedition group. I thought of Maurice Herzog's expedition in 1950 (first to climb a peak over 8000 m – Annapurna) ……it was as big as ours.
I was pleased. I could brag around when I came back.
The path to Zingchen was actually a flat terrain, an under constructed road, dry and dusty. To add to the misery, it was very hot. The only saving grace was the amazing panoramic view of the overpowering mountains, the mighty Indus river and the green patch, Leh as seen from that distance.
I bonded with the fellow trekkers.
There was Ravi and Murali from HP. Ravi set the pace for the group as he led from the front, which he did throughout the trek. Murali, soft spoken and an avid trekker himself  was a neighbour of mine in Bangalore.
Then there was Yogita, a diminutive, yet doughty girl, who was used to spending months in the Carribeans. ***Green fumes of envy, fortunately invisible to others, gushed out of my ears***
She went there on work. She informed me. ***More green fumes gushed out***
Also, there was Devyani. A research scientist with the prestigious IISc. as her alma mater. She was a passionate marathon runner with the best time better than mine. ***Green fumes again***
She ran the 2500th edition in Athens the previous year. A fanatic runner. I immediately bonded with her as the fumes disappeared.
Rohit was the other marathoner in the group, who was setting up a NGO.
We finally reached Zingchen in around four hours. I didn't enjoy the trek. I was tired, so was everybody.
Selfless Santhosh sprung into action massaging the tense necks and backs of us weary trekkers. Not to be left behind, Sunand, who secretly nurses a lifelong ambition of becoming a society masseuse, joined in as well.
I made a mental note of who all to call when I start a massage parlour in Bangkok.
The tents were pitched in. My tent mate was Umesh. A tough trekker in his forties, coming to the Himalayas for the first time. He was a English professor in Bangalore University. And err…..we spoke in English……
LEAVE NO TRACES (LNT) – this was the no garbage throwing policy we were following and so should any responsible trekker. We were reminded of the same in the night briefing session.
"What about poop, then?" George, the curious chirkoot balak asked. He was a young writer with Cricinfo.com and a first time trekker at this altitude. I was amazed at his boldness to climb Stok.
However, he did have a pertinent question as he bought a bottle of mineral water. He seemed to be the "poop strategist", someone who can scan the map around the camp and can quickly decide where and how to "do it". I too bought the bottle. So did many others.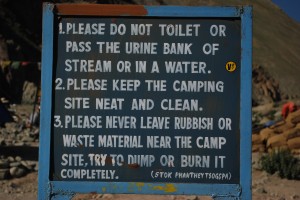 Day 4: 4th July 2011: Zingchen to Rumbak camp (3860 m/12,660 ft)
It was a great morning to wake up to. There was a slight chill in the air. Birds were tweeting. I filled the newly bought bottle with the stream water and started to retrace the path George had taken the night before for the "morning ritual" only to be stopped on the way by Amit, who politely handed me a shovel.
????????????
To cover the deed after it had been done.
LNT in action !!!
After a sumptuous breakfast, we started off. Today's path took us through the sparse forest alongside the stream which we criss-crossed umpteen number of times. There were highs and lows, with opportunities for bouldering as we trudged along. The folks in the front reached the campsite in two hours flat. Boy !! It was a short trek. I chatted with Aravind, another EBC veteran and a cycling enthusiast.
The campsite was actually a meadow as we sat on the grass soaking in the sun, with UV rays. I was reminded as I saw chirkoot George bathing himself in SPF 100.
Around 50-75 m above the campsite was the real meadow, with bright yellow mustard flowers blooming in the green green grass surrounded by multi colored mountains and valleys. It was beautiful. If this was not heaven then what was it? I wondered.
I unleashed my SLR.
As I lay there on the soft grass, I lost track of time. i looked around me at the horizon with the very blue sky encompassing the great brown mountain ranges being caressed by the shadows of the clouds which moved slowly with time.
As the sun set, I forced myself down to the campsite to yet another great dinner. At the briefing there were apologies from the boisterous gang of Akash, Rohit, Vikas et al for the noise they created the previous night (I didn't hear anything. I was fast asleep). Sr. Murali (the second Murali) accepted the apologies. He was a 59 year old, rather young trekker and was respected by all as "Sir" was suffixed to his name at all times. Not because of his age, but because of his experience, knowledge and stamina. He was an inspiration.
Day 5: 5th July 2011: Rumbak camp to Stok La base (4270 m/14,014 ft)
Today was an easy trek yet again. The path was pretty flat but we gained altitude gradually. We crossed the quaint Rumbak village. Further we passed through the serene meadows and grasslands as we reached the Stok La base within three hours or so. (Stok La means mountain pass for Stok. La is the Ladakhi word for pass).
The campsite was dusty unlike the previous one. The tentative loos were bad, so I decided to follow the "poop master". The camp was however surrounded by the beautiful panorama. As the evening slipped away into darkness, we experimented "night shots" using Rajesh's tripod.
The night was a bit colder as compared to previous nights, still at only 10 deg celsius though. I was wondering why I was carrying so many warm clothes.
Day 6: 6th July 2011: Stok La base to Mankarmo (4380 m/14,375 ft)
Today was a long and tough trek. As soon as we left the campsite were were continuously climbing the steep steep mountain all the way upto Stok La at an incredible 4900 m.
At the top the Stok range and the daunting Stok Kangri was visible. We took pictures. I finished off my lunch pack, while waiting for the others. After an hour of rest the steep descent started with the beautiful landscapes just not leaving us !!!!!!!
As we descended, some of us indulged in the dodgy but fun "sand sliding" down the mountain.
After seven long hours we reached Mankarmo, our campsite. Everbody was tired. As the soups and snacks made its rounds from the kitchen tent, some of the exhaustion started to wear off. Kumar, the chef rocked !!!
We had climbed upto 4900 m and descended down to 4380 m. "Climb high and sleep low" is the golden rule of acclimatization. And this is just what we did.
We slept early and hard.
Day 7: 7th July 2011: Mankarmo to Stok Kangri Base Camp(4900 m/16,352 ft)
Today was a four hour trek gradually ascending across the rocky terrain housing the cute Marmots.
As we approached the Base camp I could feel the dip in temperature and the thinness of air. The base camp was an uneven flat ground with a splattering of brightly colored red, orange tents with the occasional khakhi kitchen tents.
I saw serious mountaineers from India, from other nationalities preparing themselves or just lazing around in anticipation of summiting the Stok peak. There was a group from Himalayan Mountaineering Institute, Darjeeling. Amit knew them. There was group from Pune – Sameer and Sauraj, who would be attempting tonight.
Karma Sherpa had joined us as he came directly from Leh (there is a short cut and he doesn't need acclimatization. He is a regular here.)
Oh yes !! The weather had worsened as a thick cloud cover had formed over the mountains. It drizzled and snowed as we took an acclimatization walk some 250 m high to a point.
The news at our camp was that everybody was fine. Everybody had made it. I was pleasantly surprised, so were the others as many had turned back before Stok La in the previous years' expedition groups. Shilpa, who works at KPMG, showed steely determination as she made it to this altitude along with the team. This is her first trek in the Himalayas.
The post dinner briefing was long today as we checked everybody's health (which we did every day).
Day 8: 8th July 2011: Stok Kangri Base Camp
Today was the acclimatization day at the base camp. We wore our gaiters (worn below the knee used while snow walking), snow boots (Koflachs) and crampons (traction devices worn below the boots to walk on the snow). We practiced on a big patch of snow near the base camp. It was tough.
Back in the camp post-lunch we had a long and intense briefing session. Sunand and guides were now stern and cautious in their tone. We were discussing the plan to summit Stok. The plan was simple.
We would have a early dinner at 6 p.m. and would try to get some sleep. At 11:30 p.m. we will meet at the dining tent. Have something to eat and head out at midnight. There will be helpers walking with us and will accompany if anyone wanted to turn back.
The route was laid out with tentative timing.
2-3 hours of walking uphill mainly on rocky/sandy terrain to the glacier point (where the glacier starts) —> 3-4 hours of steep climbing on snow roped up and with crampons till the ridge of Stok —> 1-2 hours of snowy and rocky climb to the summit.
The plan seemed simple and easy. Easier said than done, I thought.
It was not about trekking anymore, it was about climbing into the thin air. It was about ascending and descending for fifteen hours or more in cold, on snow, over hidden crevasses.
It was not about physical strength alone. It was also about will power, mental strength, determination and all that.
Five in the group opted out tonight's attempt to the summit. This decision was more out of respect for the mountains. (Though I strongly suspect that Aravind who opted out wanted to finish the novel he was reading about Bombay Girls or something like that).
In the meantime, the weather had worsened. It was snowing lightly. However, thick cloud cover indicated that the weather was really bad over the mountains.
I checked with the Adventure pulse camp. Three of them had turned back before the glacier last night. Only two of them made it, but only till the ridge. They couldn't summit as the weather was really bad and there was almost zero visibility.
We saw Joseph, the Swedish climber returning. He had made it to the top. But he mentioned that the weather situation was very bad on the top. He looked exhausted.
I went back to my tent. I tried to sleep, but I couldn't. I was getting the jitters now. I was really hoping that the summit climb be pushed to the next day.
And then Amit entered the tent. He was there to announce that the summit attempt has been pushed to the next day because of bad weather.
Wishful thinking !!!! There was no such postponement.
He was there to borrow a rain jacket from Umesh.
I realized that I too needed one. My Puma wind-stopper was not good enough for the hostile weather we would venture into. I borrowed it from Murali Sir.
At 11:30 p.m I was ready with my day pack carrying three liters of water (incl. a water pouch and sipper), the heavy SLR camera (decided to carry it after much hesitation), two snicker bars, some dry fruits, the lunch pack, extra socks/gloves, iPod (don't know why I carried this. Additional weight was definitely not music to my ears). I had tied the crampons to the day pack.
With the snow boots, gaiters and harness on along with extra layers of clothing and the ice axe in my hand I was ready.
Day 9: 9th July 2011: Summit day – Base Camp – Stok Kangri Peak (6137 m/20,165 ft) – Base Camp
12:00 midnight
"We will summit regardless of the weather." Sunand, concludes his inspiring talk to the group gathered around in a circle.
I see fists pumping in the air.
Motivational, no doubt. But, with the weather we were in, it will be foolhardiness. I think.
The group starts to walk away from the base camp.
12:01 a.m.
I start tentatively. I have decided that I will take a call after each milestone and will turn back if I was not feeling upto it.
I switch on the headlamp clasped over my skull cap as I take measured steps, which seemed very heavy because of the snow boots. However, I walk briskly up the steep climb as I overtake others in the group.
Ongda is leading the group, while Karma, the other guide along with Sunand is bringing up the rear.
I am reminded of my marathon running experience, where I usually followed strong runners. It ensured that I completed the marathon and with good timing too.
I start walking behind Amit. I know that of all the people in the group he is sure to make it to the top. He is a trained mountaineer. He is technically very sound. He is a winner in these conditions.
He is following Vikas, who too is a strong climber. Vikas is walking behind Ongda.
12:20 a.m.
The first group (which includes me) reach the first view point, a steep 250 m climb in just 20 minutes. We took 45 minutes yesterday.
However, there is no time to celebrate this feat as I quickly take a water break and munch the chocolate bar. The guides push us to move ahead without waiting for the others. In five minutes we were on our way.
I have survived this milestone. I look forward to the next one, the glacier point.
The terrain is now not very steep, but we gradually gain height. It is rocky, though it is covered with a thin cover of snow. It is slippery at times. The heavy snow boots grip the snowy ground well, though.
George and Akash have now joined behind me, as the six of us trudge along ahead of the larger group, which is now depleted. Yogita and Rohit turn back with one of the helpers.
I focus on the path, which is narrow. It is dark. The incessant snowing has ensured that the visibility is poor. The headlamp is still effective though.
2:30 a.m.
I think we have reached the glacier point, the second milestone, as we walk on huge sheets of snow laden ice. No one tells me. I do not ask anyone. I walk silently.
We have been walking non-stop with very few breaks. I am not tired. I keep up with the pace of the leaders – Ongda, Vikas and Amit. I take regular sips of water and Electral. It is very important to keep on drinking fluids. At this altitude and cold, one is not thirsty, but the body looses fluids rapidly. I keep on taking small bites of the Snickers bar. The body needs energy as well.
We wait for others to catch up with us. As the group joins us, I hear Karma asking Santhosh to turn back. Santhosh the nice guy that he is does not protest. He just says ok. I am sure that he is disappointed. He offers us his load of dry fruits. I kick myself later for not taking up the offer of half a kg of that yummy stuff.
We continue walking.
3:00 a.m.
The air is thinning as we climb up.  Our pace has slowed down. I push myself and take breaks when others stop. The situation is grim.
I am sweating in this sub zero cold. And my scalp adorning the long hair is itching badly. I tell that to others. We laugh.
I silently swear that If I make it to the summit and back in one piece I will cut my hair a la the Tirupathi vow.
There are more jokes shared. Vikas is most vociferous of all with his encouraging shouts and jokes. He is truly leading from the front.
Akash and I joke about sharing a victory tea on the top. We exchange high-fives and move along.
3:15 a.m.
Our group comprising of Ongda, Vikas, Amit, Me, Akash and George in that order is now way ahead of the rest of the group. We have no idea what is happening there as we mindlessly trudge along.
I hear Akash yawning behind me. I am also feeling sleepy even though we are walking continuously in this freezing cold. Ongda asks us to drink water. It will keep us awake.
It seems that around this time Ravi had to turn back with a helper. I came to know later that both of them lost their way back and were stranded on the glacier for hours in dark and that biting cold. Dangerous no doubt, had any point on the glacier cracked open, it would've been very tragic. Fortunately, with the help of returning climbers they found their way back to the base camp safely.
4:00 a.m.
We take a break as we put on our crampons (thanks to Amit for tying up mine) and rope up. The six of us or Team # 1 as I would call it rope up together through our harnesses. This will help in case of any fall in a crevasse or down the slope.
We have been climbing at a 75-80 degree gradient on snow for the last one hour. I am just focussing on taking few steps anchoring the snow with the ice axe at every step, catching up on breath for a few seconds and then taking those steps again. I am now even counting my steps. It has become mechanical. My mind is blank.
The usual custom of introspecting while trekking and climbing seems unimaginable to me. However, I keep on egging myself.
I think of how I have completed marathons and trekked in tough conditions.
I think about my inspirations –  Fauja Singh, the nanogenarian marathoner, the sherpas who climb mountains with ease…..
It's all about the mind. It's all about the mind. I keep on repeating to myself.
4:15 a.m.
My mind goes for a toss.
I do not have any frikking recollection of the next three hours as I mechanically climb with the others in that unending 80 deg slope of ice and snow. The weather is worsening and it is getting difficult to breath  as we climb higher.
7:15 a.m.
The dawn has broken. There is daylight. It has been there for more than an hour now. I do not realize it since the entire landscape 360 degrees around us is white with the constant snowing.
I notice daylight when I see brown-black colored rocks trying hard to emerge out of this infinite blanket of white snow. I think we are closer to the summit as the never-ending steep slope seems to end and we walk on rocks, which appear as if they have been strewn on the snow.
We climb upto a flat surface on the mountain. I check the altimeter. It reads 6150 m.
Yes, we have reached the summit. Even though I have a slight headache and I am grasping for air, I am ecstatic.
However, the ever-smiling Ongda informs that we have just reached the ridge. Summit is "just" another half an hour climb.
DAMN !!! I swear out loud (along with some other expletives in Hindi, English and other languages, which are censored here). The altimeter has gone bonkers at this altitude.
My slight headache now transforms into a splitting one. Now I am grasping for air big-time. It is cold. It is biting cold. I try to sip water from the pouch in my day pack only to discover that the water has frozen in the pipe.
I sneeze covering my nose with the handkerchief. I see blood along with mucous on the erstwhile white cloth.
I am now irritated.
We meet few climbers on their way down from the summit.
"Half an hour", "one hour", "two hours". We get different versions from them for the time it will take us to climb to the summit.
At that altitude there is a lot of incoherence. I am told. However, I want to bash up the climbers who say "one hour" and "two hours".
I munch my chocolate bar. I am now sick of this chocolaty taste. I don't want to climb up. I want to go back to the base camp.
We wait for half an hour for Team # 2 comprising of Sunand, Meena, Rajesh and Karma.
I am told that Devyani turned back mid-way through the climb after the glacier. It was a setback. She was summit material. I hope that she is fine. It seems that she was cold, one of her toes was completely numb. She took more than four hours to reach base camp.
7:45 a.m.
There is no sight of Team # 2, so we decide to climb up. We are still roped as we walk uncomfortably on the rocks with our crampons still on.
"Half an hour"???? It takes us one tiring hour to reach the top.
8:45 a.m.
Yes, we are on top,  on the summit of Stok Kangri. For almost eight hours and forty five minutes we had been walking, climbing, trudging, falling, getting up and then again climbing.
Vikas is dancing.
Amit is smiling.
Akash is grinning. This kid had done it.
George is no longer the chirkoot I thought he was. I suddenly develop immense admiration for this first time Himalayan trekker climber.
We take pictures.
The weather is bad. Its cold. I am breathing with great difficulty.
9:00 a.m.
I want to go down. We all want to go down. We are made to wait for Team #2.
9:30 a.m.
Team #2 arrives all roped up. They look haggard and completely zonked. There is no mirror around, I am sure I too look like a zombie.
Sunand has done it for the second time.
Rajesh is not just another IIT brain. He is more than that as he climbs up to join us.
Meena is a good trekker. But climbing a 6000 m peak is a different thing. "It will be Everest in a few years". She had said yesterday during practice. She has the requisite mental strength and ambition.
I take out my camera from the bag with much difficulty as I have to take off my gloves (including the extra layer of inner fleece gloves) to pull the zipper of my day pack. My hands instantly feel the chilling cold.
9:45 a.m.
We take group pictures and start to climb down, with Team #1 leading as before.
10:30 a.m.
We have crossed the ridge as we walk down. My legs are now tired. I am sparingly using my ice axe. I lose focus while walking as my feet are not spread apart. As a result my crampons entangle, I stumble and fall. I roll down the slope. There is no time to scream "FALLING" as we had agreed to cry out when it happens. There was no time to anchor my ice axe to "self arrest" the fall.
I tumble down to a certain death.
It would've been, had we not been roped. Had Akash not held his end. Had George not anchored his ice axe firming his end of the line.
Seeing these heroics, Karma ropes up Team #2 with us and the ten of us start climbing down the same 80 degree slope but with more snow this time around.
11:00 a.m.
We have not made much headway as one of us falls invariably after every 4-5 steps.
We continue weary, tired, cold and all that down the slope.
12:30 p.m.
The slope has ended. Finally.
We take a breather as we sit. I take off my goggles for a moment to look around. I am blinded by the white glare from the snow all around. I put it back on immediately. (Incidentally, Meena suffered from a temporary bout of snow blindness for two days).
I realize that the splitting headache I had at the summit is now gone. The air is easier to breathe now.
The altitude was playing tricks on me at the summit.
I check the altimeter. It reads 5600 m. We had descended at least 600 m.
I haven't eaten lunch. No one is in a mood to. Everybody wants to get back to the base camp at the earliest.
12:45 p.m.
We start walking on the glacier. It is huge. I would have been psyched out had I seen this expanse of ice last night.
1:30 p.m.
The glacier has ended but  we continue walking again mindlessly towards the direction of the base camp. The walk down doesn't seem to be ending. It is frustrating. And there is now the snow as well on the trails. I have lost count of the number of times I have slipped and fallen on the path.
We continue walking. We couldn't believe that we walked this much the previous night.
2:45 p.m.
We finally reach the first milestone. The viewpoint. We could see the speck of tents covered in snow – the base camp down below us.
3:00 p.m.
Akash, George and I are the first to reach the base camp. The tents are covered with snow.
It seemed to have snowed heavily as I realize the hostile weather in which we summited Stok Kangri. It was definitely 10 times tougher climbing and descending as well when compared to doing so in favorable weather.
The significance didn't hit me at the time.
As I write this post, I  am overwhelmed with what we had just achieved.
It was definitely all about the mind. All about the team. All about the support staff.
Day 10: 10th July 2011: Base Camp to Leh
I wake up to find myself completely rested. I had a good sleep. We leisurely have our breakfast and walk down towards Mankorma and then towards the Stok village. Its a 20 minute drive from here to Leh.
As we walk down with Aravind, George, Akash and I recount yesterday's experiences.  We discuss life fundaes. (I don't know why this philosophical talk crops up at high altitudes).
Akash, at only 22 years old is just a kid. That was my perception.
"I come from a Marwari business family. My community might be thinking why I am spending my time and money trekking and climbing these mountains." He says.
We laugh.
"But I love the mountains. I love the Himalayas. I think I belong here. I want to come back here soon." He concludes.
His statement resonated my beliefs and passion about these majestic Himalayan ranges.
Suddenly, he was no longer the kid I perceived him to be. He had matured. Yesterday's experiences added to that.
While climbing the Stok Kangri at 6137 m in that hostile weather was a feat in itself, but there were many such achievements in the group.
Akash himself was featured in media for his mountaineering feats including the one for summiting Stok Kangri.
Meena is one of the first and few women in India to have summited Stok.
With the eight of us summiting, we are definitely one of the largest expedition group to have climbed the peak in its  history of climbing.
As for me, I lost a little bit of sensation in a small part of one of my fingers (well, almost frost bitten). Nothing to worry about. I am actually proud of it and will adorn this "battle scar" for the rest of my life. It will always remind me of this amazing experience.
And yes, I did cut my hair. However, I am now already impatiently waiting for it to grow quickly for my next high altitude climb. ( I want to let my hair down at the top. ok.ok Bad one !! Couldn't resist.

)
Till then…climb safe…if you reach the top never forget the bottom where you started from as you are bound to come down eventually…in life as well.
Just enjoy the journey !!!
Juley !!!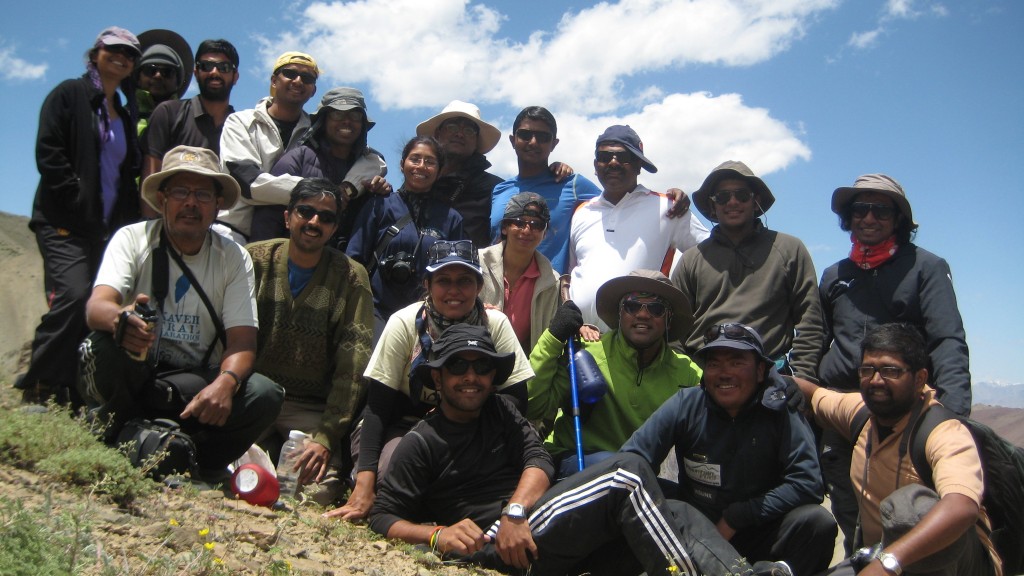 Stok Kangri Expedition Group 2011

Download the ebook- Stok Kangri: Climbing a 6000m peak