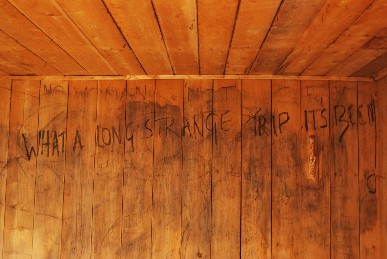 Graffiti on the wall in the trekker's hut at Kokchurong en route Goecha La
Kangchenjunga is the third highest mountain in the world (after Mount Everest and K2), with an altitude of 8,586 metres (28,169 ft). Kangchenjunga translated means "The Five Treasures of Snows", as it contains five peaks, four of them over 8,450 metres. Three of these five peaks (main, central, and south) are on the border of North Sikkim district of Sikkim, India and Taplejung District of Nepal, while the other two are completely in Taplejung District.
I first came to Sikkim way back in early 80s and was enamored by the beauty of this great mountain. And this time (third time) I decided to get up, close and personal with Kangchenjunga through the Dzongri-Goecha La Trek.
The Goecha La trek takes the trekker up-close for a spectacular view of the mighty Kanchenjunga amidst a majestic panorama of the other lesser Himalayan giants within its range of mountains. This is an extension of the Dzongri trek – and trekking beyond the meadows Dzongri is raw adventure at its best where the visitor is taken into the realm of towering mountain peaks directly above and camp is set amidst the view of rumbling avalanches and high mountain glaciers.
So we (friend and I) set ourselves in planning for the trek. (Sorry for the plug, 😉 but this planning experience came really handy when we co-founded Rustik Travel, a sustainable experiential company).
I. When to go ?
There are two trekking seasons
1/ Pre-monsoon : early April – mid May -> best for the rhododendrons
2/ Post-monsoon : early Oct – mid Nov -> clearer views but snowstorms can develop at higher altitudes
We decided to go for the Post Monsoon season in October (9th to 18th) from Bangalore and back. Keeping seven days for the entire trekking route.
Please note : for the uninitiated trekkers, please take 2-3 days extra as at higher altitudes one may experience difficulties due to lack to Oxygen and may take time to get accustomed.
Please read Things to be aware and beware of
II. What to carry?
From Yuksom (the village from where the trek starts), one could hire all the equipment which could be carried by the porters, yaks or horses – Tents, sleeping bag, mats, table/chair if reqd, cooking stove, utensils etc. The food items, groceries etc. also would be bought from Yuksom.
We carried all of the above apart from the two rucksacks & sleeping bags we had (each around 12-14 kg) and a small backpack to carry camera lenses, medicines, snacks/water etc. Clearly we had overpacked. The rucksacks for this kind of trek should not exceed 5-7 kgs. Maximum weight a porter can carry is 25 kg.
III. The Itinerary :
Day 1 (9th Oct '08) : Bangalore – Kolkata – Bagdogra – Yuksom
We took an early morning flight to Kolkata (2 hr 30 min ), and waited for 5 hours at the airport restaurant, which was pretty good as we found out after foolishly venturing out of the airport for breakfast and returning with blank and hungry faces. And further unsuccessfully tried to avoid the airport official who smirked at us with a "I told you so, that you will not get much outside" look. After an hour of delay, we eventually took the flight to Bagdogra (50 min), where delicious lunch was served which we had to gobble up fast given the time we had under watchful eyes of the stewards.
At Bagdogra, there are no taxis which ply directly to Yuksom. So we had to go to Siliguri (30 min) SNT i.e. the bus terminus (cost of the ride was Rs. 260). At Siliguri, we were swamped by the "Syndicate" i.e. the taxi brokers who control the taxis from Siliguri and charge a commission for any taxi. One needs to avoid them if possible. However, we couldn't and eventually negotiated for a taxi for Rs. 2800 /- against a normal rate of Rs. 2500 /- for a six and a half ride to Yuksom.
We started at 4 pm and passed through the scenic locales along the ever meandering Teesta River.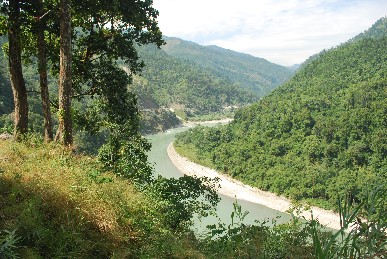 Teesta River
Stopped exactly midway of the journey at Jurethong (Naya bazaar) for tea and dinner for our driver who had potatoes in each of the dish served to him. Something which we will also have to endure later in the trek.
From Jurethong, we had a very eventful drive, wherein we got directions from drunk passerby villagers, we drove through the rain, we had to take a diversion because of a landslide and eventually our driver lost his way and towards the end his patience as well. Anyways, around 10 pm in the pitch dark we finally small signboard of Yuksom. We laboriously found hotel Demazong, which was recommended by all. Tho' it was cheap (Rs. 150 per night), so were the rooms and the toilets. We were dead tired and with a dry Wai Wai noodles as dinner we snuggled into our sleeping bags on the bed.
Day 2 (10th Oct '08) : Yuksom
We woke up early at 5:30 am (everybody does in this part of the country). Today we had to organize for the trek. First we decided to check out for a better hotel and we decided on Tashi Gang Resort. An expensive fare (Rs. 1200 per night for a standard double bed room), but was worth it with large rooms with great view and a TV with only channel – HBO, clean attached toilets with hot water, a restaurant, room service, lawn and the works.
Tashi Gang Hotel : Phone nos – (03593) 241202/3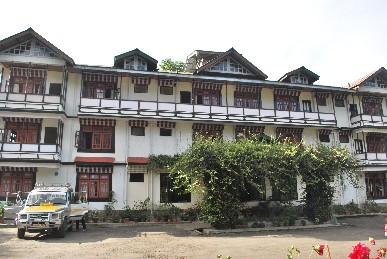 The manager of the hotel indicated that it would cost $ 30 per day per head for the trek, clearly overbudget, so he guided us to Rauf (this is how the name sounds), the manager at Hotel Demazong. Rauf caught hold of a guide-cum-cook named Shurje and finalized the itinerary. Though all our luggage did not weigh 75 kg (its 25 kg per porter) we still decided to take 3 porters (@ Rs. 180 per day) along with Shurje, guide-cum-cook (@ Rs. 350 per day).
In the evening, with Shurje, we hired the equipment (Tent – Rs. 100 per day plus minimal amount for stuff like mats, stove, utensils etc.). We also did grocery shopping and ended up buying quite a bit for the six of us which incl. 5 kg of potatoes, 10 kg of rice, veggies, daal and other essential stuff. I also bought super glue which later helped me in fixing my shoe which was coming apart. Please refer the Recommended list in the What to Carry section above in the post.
After dinner and beer (Dansberg Blue – local beer and an awesome one that too) we repacked – i.e. packed in layers sequentially what we would need for each day of the trek *a very smart thing to do* and called it a night. A tough and unpredictable day lie ahead.

Day 3 (11th Oct '08) : Yuksom to Tsokha (2900 m) – 18 km, 6-7 hours
We had planned to leave at 7:30 am, however we came to know that only one out the three porters showed up. After many phone calls and wrangling, Rauf offered us to take 2 yaks and 1 porter instead.
Left with no choice we went on to do the mandatories before the trek :
1/ Police station registration : at 9 am we went to the police station to register (mandatory for all trekkers). Where it was made clear to the guide and porter, that they should not be indulging in any alcoholic drinks or hallucinatory substances. (again mandatory to set things in perspective).
2/ Kangchenjunga National Park office entry fee : While filling the form, Rauf again called and informed that Yaks and porter is not happening, instead a horseman and three horses will be sent. Again left with no choice we agreed and paid up the entry fee which is for both of us (Rs. 150 each) for animals and the luggage we were carrying.
3/ Fee for camping site or trekker's hut at Tourism office : Finally, we stopped at the tourism office where we had to pay the camping site fee of Rs. 30 per day. (It is recommended to book trekker's huts instead if available).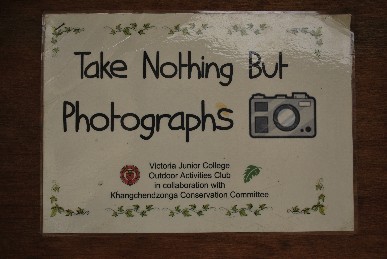 So, finally at 10:30 am we started on the trek with our guide, with the assurance from Rauf that our luggage will be sent later.
The trail was following the Rathong River gorge, through dense mixed jungle with magnolia, rhododendron, ferns and several varieties of orchids, brightly colored birds, and the occasional monkeys. Midway through we reached Sachen, had a quick lunch which we had packed from Yuksom and then proceeded. One hour down we started going uphill and eventually reached Bakhim at 4 PM, which had a trekker's hut and a shop. We had tea and waited for our luggage for one hour. Seeing no sign of it we proceeded to Tsokha at 5 PM. And this is a pretty steep path. We were tired, it was getting dark, we were cold as all our warm clothes were in the rucksacks supposedly on its way and to top it all we too a shortcut. It took us one hour to reach Tsokha, where I finally got the network and ringed Rauf for the status. It seemed that our rucksacks was sent by one porter at 3 pm. And he would be sending the rest of the luggage – groceries etc. the next day. We were angry.
To all please take this feedback and be wary while dealing with Rauf, Manager at Hotel Demazong or even any other operator.
Always organize in advance and ensure that all your porters and luggage go together with you.
Tsokha was a settlement of huts, cafes run by Sikkimese folks who came down only during the trekking season. The rest of the year this place would be covered in thick snow and completely uninhabited. We took refuge in Norling cafe welcomed by the warm & friendly aunty, the manager and her cute and extremely playful 4 year old daughter, Tensing.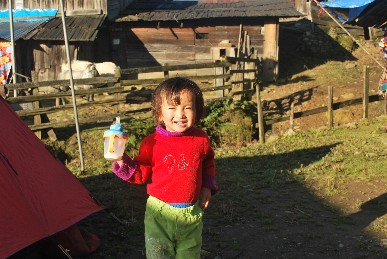 Cute little Tensing
The good news was that the porter, "Khadke" Gurung, who had left Yuksom with our rucksacks arrived at 7:30 pm in record 3.5 hours and Chungda, from whom we had hired the tents offered us an extra tent. We pitched in and went off to sleep after a nice dinner.
Day 4 (12th Oct '08) : Tsokha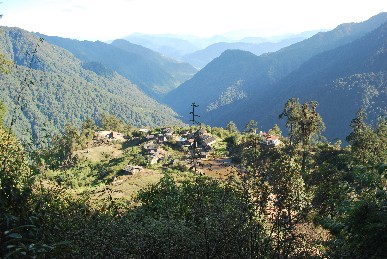 Tsokha Village
Woke early as always now, and decided to hang around in Tsokha, wait for the two porters with our luggage and then proceed the nest day to Dzongri with everyone. Around 1 pm, the two porters, Sunny (Or Shani) and Mangal arrived with the luggage. We lazed around Tsokha, visited the small Monastery, took snaps and waited for the next day.
Day 5 (13th Oct '08) : Tsokha to Dzongri (3,950 m) – 9 km, 5 hours
So we had wasted one day in our originally planned itinerary and had decided to make it up. We started at 8 am from Tsokha. A fairly steep climb above Tshoka took us into beautiful rhododendron forests, and you continue along a well-defined wooden (yes, wooden steps) uphill path to Phethang (3,550 m). A half an hour break and then we reached Dzongri in no time. Dzongri is a popular point for trekkers to catch a glimpse of Kangchenjunga from the Dzongri Peak (300 m above the camp).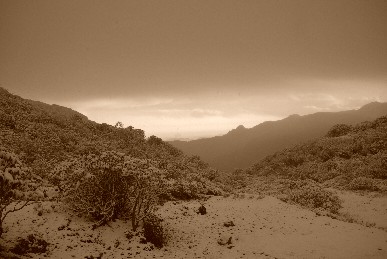 Beautiful view from Dzongri
It was cold when we reached. We had sent the porters ahead to book a trekker's hut and boy ! did we do the right thing as it started to snow (the first of the season) and in no time the entire area incl. the tents in the camping site was covered with snow. It was a great photo opp, however, the bad weather set us thinking about our trek to Goecha La. We were in luck as in the night the weather cleared and gave us some hope.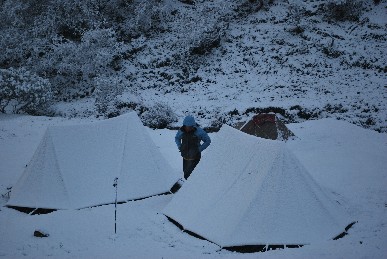 Snow covered tents at Dzongri camping site

Day 6 (14th Oct '08) – Dzongri – Thansing (3930 m) – 12 Km, 6 hours
Shurje woke us up at 4:30 am and informed us of the good weather. We woke up and left for the Dzongri peak at 5 am. The peak is 300 m from the camping site and it took us 45 min to reach there. and Boy !! it was a spectacle, no no the Kanchenjunga, Mt. Pandim peaks were awesome, its just that the place was as crowded as a Bangalore road. We had just missed the sunrise, however we took some great snaps.
View from Dzongri Peak
After a while we headed back, had breakfast and left Dzongri promptly at 8 am towards Thansing. The plan was to further go to Lamuniye (2 hours from Thansing) and camp there to get an early start to Goecha La. We headed East from Dzongri, went downhill (a steep one) to Kokchurong (3,725 m) which had a camping site and a trekker's hut and further into the rhododendron forest which was a climb till we reached the meadows at Thansing campsite. We were tired and did not have an extra tent for guide and porters to camp at Lamuniye and so we decided to stay put at Thansing (at the trekker's hut sharing with 6 other people in the room). Further, we decided to start the final trek to Goecha La at 1 am in the night. Yes, we were crazy !!!
Day 7 (15th Oct '08) : Thansing – Tsamiti Lake – Goecha La – Kokchurong – 11 hours
I woke up at 12:30 am (yes we used to sleep as early as 6:30 pm) and woke up the others.It was decided that Shurje, our guide and Gurung, our porter would be coming with us. And so like a bunch of fearless explorers we set out a 1 am. It was a full moon night and the Kanchenjunga and Mt. Pandim were bathed in the moonlight. It was quite a spectacle. It was very cold as well. The first target was to reach Lamuniye.Fortunately, the journey to Lamuniye was through the meadows i.e. plains. However, crossing small streams, where we managed to wet our shoes and socks. We reached Lamuniye in less than two hours. Not bad at all. With a small breather we set off again this time we were going uphill and we crossed Tsamiti lake (4200 m) in another half an hour. From Tsamiti lake the path become steeper (very steep in fact) and the lack of oxygen hit us. It took us another one and half hours to reach the Goecha La viewpoint 1 (4650 m). The time was 5 am. The sun had not risen yet. Within minutes the sun rose and shone on the majestic peaks of Kanchenjunga, Kabru and Mt. Pandim. The moment I waited all my life.
Majestic Kangchenjunga
(Pls click on the thumbnails for an enlarged view)
After a flurry of picture taking we discovered that my friend's socks had frozen and so had the shoelaces as they were wet. I checked the thermometer and yes it was below zero. We decided to turn back as the weather above Goecha La ( 25 m higher and 2 hour away from there) didnt look good.
Freezing scary, right ?

On the way back we took some great no. of snaps of the beautiful Tsamiti lake which was green in colour with the great algae population.
Tsamiti Lake
While heading back to Thansing, we met a lot of trekkers , who had heard of two brave trekkers who had made it to the top in the night. We were heroes. And we still maintain we were crazy.
At Thansing we stopped for Lunch and then headed to Kokchurong where we stayed for the night in the long room of the trekker's hut full of interesting grafitti.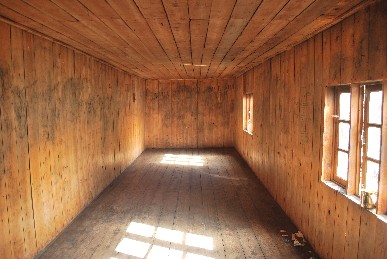 Trekker's hut at Kokchurong
Day 8 (16th Oct '08) – Kokchurong – Tsokha – 8 hours
The next morning we took a diversion in the route i.e. instead of a steep climb to Dzongri and Tsokha, we went via a think forest with all the flora typical of the region. This route would add two extra hours of walking but it was not mainly in the same plain. We were warned that the forest is covered with swamps. Fortunately for us, they had dried out.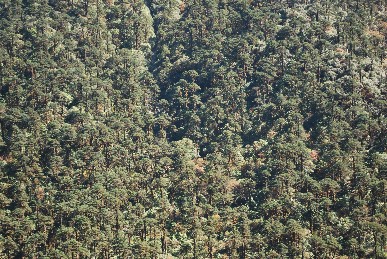 It took us five boring hours to come out of the forest and reach Phethang. After a half an hour breather we were back on our feet and went all the way downhill till we reached Tsokha. This time we stayed at the trekker's hut and surprise surprise we had beds with mattresses in a room to ourselves. Inching back to civilization.
Day 9 (17th Oct '08) – Tsokha – Yuksom – 7 hours
It was mainly downhill with few stretches of climbing. That does not mean we would do it quickly. It was hot, it was boring. However, We finally reached the civilized confines of our hotel room at Tachi Gang in Yuksom with hot water and comfortable beds waiting for us. I saw myself after 7 days in the mirror and completely baked and tanned.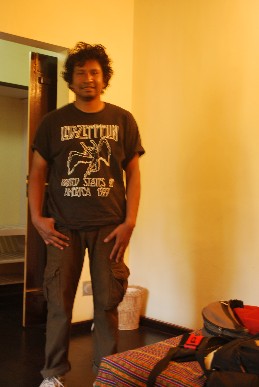 Just after the trek at the hotel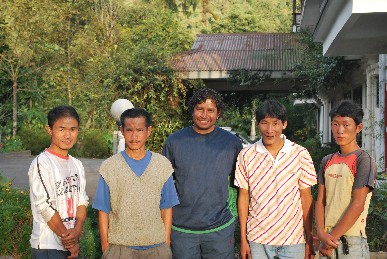 From Left : Mangal, Shurje, Hemant (me), Gurung, Sunny
Day 10 (18th Oct '08) – Yuksom – Bagdogra – Kolkata – Bangalore
The highlight of this day's journey was the Bagdogra airport. A quaint little airport with lot of character. The restaurant was extremely popular and the food was appetizing.
Back in Bangalore and I hear myself (and not just Grateful Dead) saying "What a long strange trip its been !!"
Till the next one….
Dedicated to the beautiful people of Sikkim

Download the eBook – Dzongri – Goecha La Trek: What a long strange trip its been